AA Missed Payment – Here's What To Do 2022
For free and impartial money advice and guidance, visit MoneyHelper, to help you make the most of your money.
An AA missed payment should be paid as soon as possible to avoid a policy cancellation. First, however, contact the support team and let them know if you're struggling to pay bills, and many people are. Whatever you do, don't ignore the problem because it'll need sorting!
In this post, I look at how the AA deals with missed instalments. What you should do to avoid further problems and get things back on track. I've gleaned lots of helpful information on how you can stop a missed payment from turning into an absolute nightmare!
A bit of info about the AA
The AA provides insurance cover for vehicles and other services, including breakdown cover, loans and driving lessons. Over 14 million people use the AA services, making them the largest motoring organisation in the UK. They provide cover for people from 18 years old to 99 years old!
Can I spread my AA payments over several months?
Yes, the AA lets you spread the cost by setting up 11 monthly instalments. You'll have to pay an initial amount and provide a valid debit or credit card for the following monthly instalments.
Can I delay my AA payments?
No, you can't delay any of your AA payments. The best way to resolve a payment issue is to contact the support team. You can discuss payment problems and ask for their advice.
Whatever you do, don't ignore the problem. A missed payment could be less manageable than if you default on it.
Can I change my AA payment frequency?
You may be able to change how often you pay an AA instalment. However, you must call support first to find out if it's possible. They'll review your file and tell you whether they can change your payment frequency or not.
Feeling like Chandler?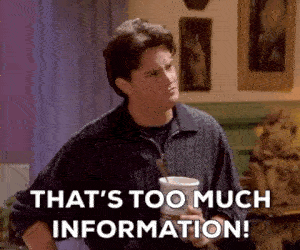 Is all this information starting to feel overwhelming? Don't panic! There's plenty of help available. You can get started below.
How the AA deals with missed payments
Contact AA support as soon as possible when you struggle to pay bills and an insurance instalment. They could offer you several options which may get you out of a hole. But call them before the payment is due!
When you miss an AA payment, they try to get the payment from you 2 weeks later. When you pay by fortnightly direct debit instalments, they add the missed payment to the next one.
You'll have to pay 'reasonable' costs and expenses the company incurs when you don't pay. In addition, there will be late payment charges found in their Terms and Conditions!
What late fees does the AA charge?
When you don't pay an AA instalment on time, you'll have to pay £12 for each unpaid direct debit or failed attempt to recover the amount. In short, when you miss too many AA payments, the amount in late fees soon adds up!
Plus, you may have to pay interest on any default payments charged 29 days after receiving a Notice of Default Sums from the provider. On top of this, if the AA can't get hold of you, they will refer your details to a 'tracing Agent'. You'll be charged for this too.
Will my details be sent to a debt collection agency?
Yes, when you default on an AA payment, your details are sent to a debt collection agency. The AA will instruct them to recover the amount you owe (debt). To avoid being contacted by a debt collector, stay in contact with the AA. Try to resolve the situation before it gets to this stage!
How to deal with a debt collection agency
If your debt is sent to a debt collection agency, don't panic. Instead, stay calm and find out about your rights. Next, find out if the debt is yours before doing anything else. If you owe the money because you defaulted on AA payments, you'll have to pay what you owe.
You have two choices. You can settle the outstanding about with:
The debt collection agency
Try to pay the AA directly
My advice is to prevent the situation from getting to the debt collection agency stage. It's far easier to deal with the problem with the AA directly. When a debt collector sends out letters, they'll ask you to pay the amount outstanding. If you ignore their letters, they'll start visiting your home!
As mentioned, a debt collector cannot do certain things, which include:
Force their way into your house
Make you pay an amount you cannot afford
Pretend they have some kind of legal authority
Be transparent and honest with a debt collection agency. It's better to sort things out than ignore the situation, hoping it'll go away!
What to do if you can't meet an AA payment
Contact AA support if you are struggling with your finances because your circumstances have changed. Next, contact a not-for-profit organisation for debt advice. When you ask for independent financial advice, things may not seem so bleak.
I've listed a few charities that provide free debt advice:
Step Change Debt Charity
PayPlan
Citizens Advice Bureau
National Debt Line
Getting advice and help rather than ignoring things will help you sort the problem out. Thus, the better the outcome will be. When you ignore a debt, things quickly escalate.
You incur late fees and other charges. You could be taken to court and be given a CCJ (country court judgement). It could ruin your credit history, and the CCJ will stay on your record for 6 years. Additionally, it'll be visible to other lenders! This could affect your ability to borrow, get a loan or a credit card.
I recommend you don't let the situation get to this stage. It'll just lead to future hassles and financial headaches. Instead, stay in contact with AA support and try to work out directly with them. It'll be worth your while!
Thanks for reading my post on an AA missed payment. I hope the information I provided helps you deal with the problem successfully!
Are you struggling with debt?
Affordable repayments
Reduce pressure from people you owe
Stop interest and charges from soaring
Get started