Anglian Water Debt – Must You Pay? 2022
For free and impartial money advice and guidance, visit MoneyHelper, to help you make the most of your money.
It can sometimes feel like everyone wants to take your money these days. There are so many bills we have to cover just to stand still. However, it can sometimes be hard to balance these payments, particularly when times are tough. What becomes one late bill can soon spiral out of control, leaving you in a difficult financial position. Often, things like water and electricity bills are the first to be forgotten, but doing so can have some fairly serious consequences. We take a look at what to do if you have Anglia Water debt by answering some frequently asked questions.
Don't worry, here's what to do!
There are several debt solutions in the UK that can be used to improve your finances. Choosing the right way to tackle your debt could save you time and money, but the wrong one could cause even more harm.
It's always best to find out about all your options from a professional before you take action.

Fill out the 5 step form to get started.
What happens if you have Anglian Water debt?
Depending on how you pay your water bill, it can be easy to miss a payment accidentally. You may get a notice that it's due every few months but then forget to settle your account. But what happens in such an instance? Anglia Water, like many utility companies, follows a fairly common set of procedures when it comes to debt:
First, they'll send a reminder notice letting you know that you've missed your payment. There might be a few of these, depending on the situation.
Next, they'll send a final reminder, which usually gives you seven days to pay.
They may also phone you during these times to try and arrange a payment or assess your situation.
If you don't get in touch or make a payment, your account will default. Effectively this means it's closed and will impact your credit score.
At this stage, they may pass your Anglia Water debt to a debt collection agency. They will then start hounding you for the money.
As a last resort, Anglia Water may try and take you to court by issuing a County Court Judgement to recover the money. This could result in a visit from the bailiffs.
Clearly, this process can escalate fairly quickly, especially if you start to ignore Anglia Water.
Are you struggling with debt?
Affordable repayments
Reduce pressure from people you owe
Stop interest and charges from soaring
Get started
Can Anglia Water disconnect my supply?
People often wonder whether their water company can disconnect the water to their house if they don't pay. While this might have been the case in years gone by, it no longer is. Domestic customers (those who aren't businesses) cannot have their supply restricted or disconnected if they owe money on their account.
What should I do if I have Anglia Water Debt?
So, if you have Anglia Water debt and you aren't sure what to do about it, where should you turn? It can be an agonising position to be in, but there are some positive steps you can take to help resolve the situation:
Follow my 'prove it' guide with letter templates and get them to prove that you owe the money.
Don't ignore them
So many people simply try to ignore their debts and hope that they go away. It can seem like the appealing thing to do, but in reality, it's not going to solve anything. Ignoring Anglia Water will mean that they keep trying to contact you about your debt. What's more, they'll eventually pass your account on to a debt collector, who will try even harder to get you to pay.
Figure out your finances
If you're struggling with Anglia Water debt, you'll want to figure out what your financial position is. Although you may not be able to pay the full amount you owe straight away, you might be able to work out how much spare cash you have each month. This gives you an idea of what you'll be able to afford going forward, which comes in useful.
Get in touch
Whether you think you might miss a payment or you've already missed several, you should always get in touch with the utility company you owe money to. Anglia Water has an extra care service that helps those who are in a difficult financial position. They have a specialised team who can help you find a solution to paying your water bill.
What options do I have for help?
Anglia Water offers several forms of help when it comes to paying your water bill. These will generally be tailored specifically to you, but only if you get in touch with Anglia Water to discuss the matter. Some of the options available include:
Discounted tariffs
Those on a lower household income may be eligible for a lower tariff. This option is useful for those who have a water meter and pay measured charges.
Payment plans
Essentially, this type of help allows you to pay back what you're able to afford over a timescale that works for you. So, rather than pay a lump sum every few months, you might be able to pay small amounts each week, fortnight or month. If you receive benefits, you might be eligible to have payment taken directly from these.
Payment pause
If things are really difficult, you might be allowed to pause payments for a brief period of time. This doesn't mean that your bill goes away, but it gives you some breathing space to get things back on track.
Assistance fund
Anglia Water has an emergency fund for those who are most in need. So, if you're struggling with money and simply cannot afford to pay your bill, there is a chance that the utility company can cover some of the cost.
Feeling like Chandler?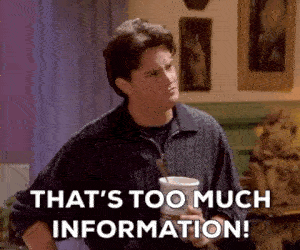 Is all this information starting to feel overwhelming? Don't panic! There's plenty of help available. You can get started below.
Where else can I get help with my water bill?
Of course, there are other places that you can get help if you're struggling with Anglia Water debt. The WaterSure scheme, for example, can help you cap your bills so you don't end up paying more than you can afford.
Another useful resource is Citizens Advice, which can give you some practical and free advice about dealing with debt of all kinds. If you have money troubles, they can put you in touch with the necessary people to make sure you can manage things. In the UK, there are also several debt charities that help people who are struggling financially. Both StepChange and National Debtline can provide advice and resources on dealing with debt.
Some of these charities may introduce the idea of using a debt solution to help you clear your debts. Many debt solutions exist in the UK, including IVAs, Debt Management Plans and more. It's worth getting a full picture of all of them, prior to going down that road, since they all have pros and cons.
Are you struggling with debt?
Affordable repayments
Reduce pressure from people you owe
Stop interest and charges from soaring
Get started