ARP Enforcement Agency Ltd – Should you Pay? 2022
For free and impartial money advice and guidance, visit MoneyHelper, to help you make the most of your money.
Have you received a letter from APR Enforcement Agency Ltd? You should only have received one of these letters if you have already received a court order asking you to pay a debt to your local council.
We discuss whether you need to pay APR Enforcement and what you should do next. Always get debt advice from a UK debt charity for personalised support.
Beating Debt Collectors
There are several ways to deal with ARP Enforcement and improve your finances.
Choosing the right way to tackle your debt could save you time and money, but the wrong one could cause even more harm.
It's always best to find out about all your options from a professional before you take action.
Fill out the 5 step form to get started.
What is APR Enforcement Agency?
APR Enforcement Agency is a company offering enforcement agent services, more commonly known as bailiff services. They provide their services exclusively to local councils in England.
If you have an outstanding debt with a council and a court order requiring you to pay, the next step may be for the local authority to ask bailiffs to recover the debt. Thus, they could ask APR Enforcement for help.
You can read more about bailiffs and what they can and can't do here.
Are you struggling with debt?
Affordable repayments
Reduce pressure from people you owe
Stop interest and charges from soaring
Get started
What debs does APR Enforcement collect?
APR Enforcement works on behalf of councils to recover debts owed to them. Therefore, they attempt to recover council debts, which may include unpaid council tax or outstanding council parking fines (PCNs).
The company works with five partnered local authorities, namely:
Fenland District Council
Breckland Council
East Cambridgeshire Council
West Suffolk Council
East Suffolk District Council.
APR Enforcement also works on behalf of Norwich City Council and South Norfolk District Council. Their website suggests they work for these two councils but are not 'partnered'.
What is an APR Enforcement Letter?
An APR Enforcement Letter is an enforcement notice that the bailiffs will send before coming to visit you at your home. This gives you an opportunity to pay the debt or contact them and discuss a payment arrangement. By sending the letter, APR Enforcement immediately add a charge of £75 to your debt.
If you do not get in touch, they will come out to your property to request payment or seize control of goods, which incurs further costs!
You can read about all the APR Enforcement charges at each stage of the debt recovery process on this page of their website.
Should you pay APR Enforcement?
You should pay the money requested by APR Enforcement Agency if you know you owe the debt and had previously received a court order asking you to pay. Your local council are only allowed to use bailiffs if a court order has been issued asking you to pay the debt.
If you have not received a court order or have no knowledge of being taken to court, you should challenge the payment request instead.
"I need to pay APR Enforcement but I can't!"
If you have received a letter from APR Enforcement asking you to pay but are experiencing financial hardship preventing you from doing so, you should contact them.
On the APR Enforcement Agency website, they state that they will try to come up with alternative payment arrangements for those in financial difficulty.
However, APR Enforcement doesn't have to accept your proposed payment plan. They can instead visit your home and take possession of your valuables to clear the debt.
What is an APR Enforcement Controlled Goods Agreement?
A Controlled Goods Agreement is a document that states the bailiffs are accepting a payment arrangement from you but have the right to seize specific assets should you stop making payments. It's used as a type of guarantee that you'll stick to the agreement.
Feeling like Chandler?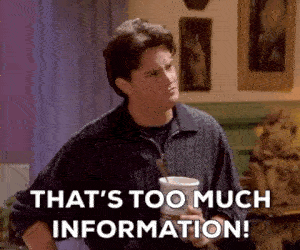 Is all this information starting to feel overwhelming? Don't panic! There's plenty of help available. You can get started below.
"I can't keep up with my APR Enforcement payment plan"
You might have agreed on a payment plan and signed a Controlled Goods Agreement, but since then your finances have declined and you can't keep up with payments. Instead of ignoring the problem, it is best to call APR Enforcement Agency Ltd and tell them what's happening.
They state on their website that they may rearrange your payment plan so they don't have to seize your valuables.
Do I have to let APR Enforcement bailiffs in my house?
You don't have to let APR Enforcement Agency bailiffs into your home. They cannot enter a locked home but they can enter unlocked and open doors. However, they are still allowed to seize assets you own outside of your property, such as a car parked on your driveway.
Even if you don't want to let APR Enforcement bailiffs into your house, you should still try to engage with them to discuss the debt or a payment plan if required. You could do this from a second-floor window or through your letterbox.
If APR Enforcement bailiffs leave empty-handed, they will try to come back and you'll be charged further fees.
What happens if APR Enforcement takes my assets?
If APR Enforcement bailiffs seize possession of some of your goods and assets, it's likely that they will be placed into storage. You may be charged fees for keeping the goods in storage. You have a further period to pay the debt or the goods are taken out of storage and sold at an auction to clear the debt.
Some valuables cannot be taken by APR Enforcement bailiffs, such as tools you might need to do your job.
Only the debt plus fees will need to be repaid. So you might get some assets back if the total owed has been realised through the sale of other goods.
APR Enforcement letter for someone else?
It's not uncommon for APR Enforcement to send a letter to an address, but the debtor no longer lives there. If you have received one of their scary letters but it's addressed to someone else, you should let them know about the mistake. They may still visit your home and ask you to prove your identity.
For more help dealing with bailiffs in the UK, take a look at our dedicated bailiff section at MoneyNerd.
Are you struggling with debt?
Affordable repayments
Reduce pressure from people you owe
Stop interest and charges from soaring
Get started