BT Debt Collection Agency – Do You Need to Pay? 2022
For free and impartial money advice and guidance, visit MoneyHelper, to help you make the most of your money.
The world can be a busy place, and our lifestyle can move at a thousand miles an hour. With so much going on, and so many different things to think about, sometimes important things like debts can slip through the cracks. When this happens, you'll get an often quite strong-worded letter from a debt collection company like BT Debt Collection.
While this can be stressful and upsetting, with some forward planning and a cool head, you can resolve these issues quickly and painlessly. We give you the low-down on what to do if you receive a letter from BT Debt Collection, and answer a few common questions about debt collectors too.
It's not your fault. Complaints to the Financial Ombudsman have risen this year from 830 to 2,006, so it's safe to say that you're not alone.
Deal with your debt today and feel amazing tomorrow.
Beating Debt Collectors
There are several ways to deal with BT debt and improve your finances.
Choosing the right way to tackle your debt could save you time and money, but the wrong one could cause even more harm.
It's always best to find out about all your options from a professional before you take action.
Fill out the 5 step form to get started.
Who is BT Debt Collection, and what do they want?
Nearly every company has a debt collection agency that they use when payments fall behind. Some of the larger companies have their own in-house debt collection department. In the case of BT, the telecommunications company, they have BT Debt Collection who carry out the initial debt recovery.
BT Debt Collection will have sent you a letter if you have fallen behind on your BT payments.
This includes all connectivity options, such as broadband, landline telephone and mobile networks.
Are you struggling with debt?
Affordable repayments
Reduce pressure from people you owe
Stop interest and charges from soaring
Get started
Are they legitimate?
When any of us receives a relatively forceful letter in the post that claims we owe money to a company we may not think we owe money to, it is a natural reaction to question whether they are speaking the truth. It's always worth checking websites like Companies House to see if they are an officially registered company.
In the case of BT Debt Collection, they are the debt collection arm of BT, and are very much a legitimate company. They have a Companies House page, making them very much a legitimate company. Their company number is 01800000, and their official registered address is 81 Newgate Street, London, EC1A 7AJ.
Feeling like Chandler?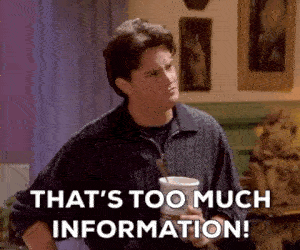 Is all this information starting to feel overwhelming? Don't panic! There's plenty of help available. You can get started below.
What are my next steps?
It's never nice getting a letter that says you owe money – after all, they often come when we're least expecting them. The worst thing you can do in this situation, though, is to ignore the letter. This won't make the debt or BT Debt Collection go away – in fact, if you leave it too long you could actually end up being taken to court and there's even the possibility of a prison sentence if things really escalate.
Here are some top tips about the next steps to take if you've had a letter from BT Debt Collection:
Keeping a diary
From the moment you get that first letter, make sure you keep an accurate diary about your process in dealing with BT Debt Collection. Note down the date and the times of the letters and the phone calls you receive from BT Debt Collection.
By doing this, if they accuse you of any shortcomings, you will have an accurate and precise record of all your correspondence with them.
Follow my 'prove it' guide with letter templates and get them to prove that you owe the money.
Gathering information
You might think that the debt isn't yours. Unfortunately, debt collection agencies like BT Debt Collection rarely send letters in error. However, it is good practice to go through all your bills and records and cross-reference all your information with what BT Debt Collection is claiming you owe.
This is really important to do, because if they have made the slightest mistake, you don't have to pay the debt. You can also see if they've added any interest to the original amount.
Paying the debt
If you have gone through these previous steps, and you're certain that the debt is yours, and you also have the financial means to settle the amount, you should pay them. By doing this, you will stop BT Debt Collection from sending you any further letters or making any further phone calls.
Not being able to pay the debt
If you aren't able to pay the debt in full, you should be active and get in touch with BT Debt Collection as soon as you can. BT Debt Collection has a very useful document that lays out the process they go through with regards to debt collection, which you can find on this page.
To summarise the options they offer if you cannot pay the bill in full:
Repayment Plan
If you are active and contact them to let them know you can't pay in full, you may be able to agree on a repayment plan, where you repay the debt in instalments.
Restricted Service
If BT Debt Collection believes that you will accrue more debt, they may restrict your service so that you can only receive calls rather than make them.
Monthly Payment Plan
You can also come to an agreement where the amount you owe is added to your Monthly Payment Plan, which means you can spread the amount you owe – however they do warn that they may ask for a payment upfront.
Call My Bill
This is a handy service that they offer which allows you to call up 0800 854 608 for free from your BT landline and find out how much you're spending on calls.
Final Thoughts
So that should give you a guide to dealing with BT Debt Collection. The best thing you can do is to gather as much information as you can regarding your situation, and to make sure you keep in touch with BT Debt Collection every step of the way.
The more forthright you are with your situation, the more likely they will be to agree to a repayment plan. If you ignore their correspondence, you could end up with them sending a bailiff to your house, or worse, getting a summons to court. Sometimes they will even petition to bankrupt you, which is understandably terrible for your credit rating.
To avoid all these eventualities, make sure you are active with regards to sorting this situation out. If you feel like BT Debt Collection hasn't behaved properly, you have every right to make a complaint about them. You should email them first of all with your complaint, and if they don't reply, you will have every right to escalate the matter to the Financial Ombudsman Service.
Are you struggling with debt?
Affordable repayments
Reduce pressure from people you owe
Stop interest and charges from soaring
Get started