Clear Debt UK IVA Reviews & Information 2022
You might have heard noises about a Clear Debt IVA and how Clear Debt can help people get out of debt. It is true that an IVA might be a fantastic solution for your money troubles, but you probably won't want to use a bad IVA company when dealing with your debt.
Clear Debt reviews aren't very impressive, and you might have a better experience elsewhere. Discover more here!
Who Are Clear Debt IVA?
Clear Debt, also known as Clear Debt IVA because of their flagship service, is a debt management company. The business charges fees to provide debt solutions and help people get out of debt. It is hoped that by paying for their services that debtors will be able to get out of debt with less stress and sometimes by paying less.
The company's website is limited and doesn't show any recent figures for the number of debtors they have helped. Back in 2016, they claim to have agreed over 1,700 IVAs for UK residents.
Feeling like Chandler?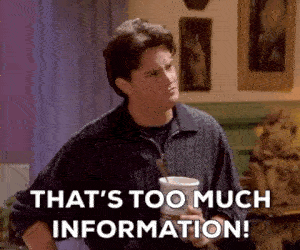 Is all this information starting to feel overwhelming? Don't panic! There's plenty of help available. You can get started below.
Clear Debt IVA and Other Solutions
Clear Debt heavily promote one of their debt solutions over the others, and this is likely because it is more profitable for them. The debt solution in question is an Individual Voluntary Arrangement, simply known as an IVA.
It could be the most profitable solution for Clear Debt, but it might also be the best solution for some debtors. If you have multiple debts that combine to total over £15,000, an IVA could save you money.
An IVA is an agreement to pay a monthly fee which is split proportionally between your creditors. You must do this for five or six years and then all debts are wiped, even if you haven't even put a big debt in your debts. Some people end an IVA as debt-free without paying back thousands of pounds.
But this isn't the only debt solution available with Clear Debt. They also provide:
The above are all debt solutions available to people who do not live in Scotland. If you live in Scotland, you need other debt solutions. Clear Debt does offer Scottish solutions, namely:
Minimal Asset Protection
Sequestration
Always do your research before agreeing to a debt solution with any debt management company!
Clear Debt Reviews
As things stand, Clear Debt has over 200 reviews on Trustpilot with an average rating of 3.0 out of 5 stars. You should also note that most of their negative and one-star reviews have been posted more recently.
Here is what some of their past customers have had to say:
"Thought they were a good company but turns out they actually lie. Told me my debts were cleared after completing an IVA in full only to come back and take money from a PPI claim which paid out 2 years after IVA closed."

[Trustpilot]
"The worst company in the UK do not give you true facts and you end up paying more than your initial debt was, stay well clear."

[Trustpilot]
Clear Debt IVA FAQs
Is Clear Debt really a scam?
No, despite what some of the reviews state and suggest on Trustpilot, Clear Debt is not a scam and neither is a Clear Debt IVA. They are a commercial company trying to make a profit in the process. They are not a charity.
How does Clear Debt work?
You must contact Clear Debt on their phone number or request a callback. You then provide them with information about your finances and debts so they can recommend a debt solution. This part of the process is free – but it should not really be classed as free debt advice because it is commercially motivated.
Will I definitely get a Clear Debt IVA?
Not necessarily. To secure an IVA, 75% of your creditors must agree to the arrangement. That means if you have two creditors and one rejects it, then the IVA will not be agreed.
How much does a Clear Debt IVA cost?
An IVA usually includes three types of fees, some of which go on for each month and are taken from your debt repayments. The overall cost is likely to be thousands of pounds (with the hope of saving you money still!). The fees associated with a Clear Debt IVA are not published publicly.
Will debt calls stop if I get a Clear Debt IVA?
When you get an IVA, you have entered into a legally binding agreement. This means a lot of things, but one thing it does mean is that creditors can no longer contact you asking for payments or making legal threats. An IVA avoids the need for these communications!
Where else can I get an IVA?
An IVA can be provided and monitored by any registered and qualified insolvency practitioner. There are hundreds of debt management companies in the UK that offer IVA services, all with different fees. It is best to look at many providers when trying to find the best IVA deal.
What If I have smaller debts or just one debt?
If you have smaller debts or one creditor you will not qualify for an IVA. But you will qualify for other debt solutions, such as Debt Management Plan that also creates monthly repayments – or some of the other debt solutions.
Would MoneyNerd recommend Clear Debt?
Clear Debt does have some things going for them. Their website is more informative than most, even if it needs some content updating, and they have lots of debt solutions to cater to more people. However, the number of recent bad reviews would put us off using them or recommending Clear Debt to others. Instead, we recommend starting a conversation with a debt charity and getting free debt advice that counts!
Clear Debt Contact Details
Address:
ClearDebt Limited
Unit 2 The Courtyard
283 Ashley Road
Hale
Altrincham
WA14 3NG
Contact number:
0161 905 8855
Website: