Commercial Domestic Investigations – Should You Pay? 2022
For free and impartial money advice and guidance, visit MoneyHelper, to help you make the most of your money.
Have you received a nasty and threatening letter from Commercial Domestic Investigations? We explain why you don't have to pay straight away and the two loopholes that could get you off the hook. Put your wallet away and read this first!
Beating Debt Collectors
There are several ways to deal with Commercial Domestic Investigations and improve your finances.
Choosing the right way to tackle your debt could save you time and money, but the wrong one could cause even more harm.
It's always best to find out about all your options from a professional before you take action.
Fill out the 5 step form to get started.
Who are Commercial Domestic Investigations?
Commercial & Domestic Investigations, also known as Commercial Domestic Investigations, is a UK debt collection agency that helps businesses to chase unpaid invoices and arrears. They are a legitimate debt collection company that is authorised and regulated by the Financial Conduct Authority (675677).
At the time of writing, they claim to have helped businesses recover a total of £13.8 million over their 30+ years of work.
Who do Commercial Domestic Investigations work for?
Commercial & Domestic Investigations offer their services to any small or large business that is seeking to recover an unpaid debt from a customer or another business. They have worked with some high-profile companies and establishments in the past, such as:
Barclaycard
Durham University
Thorn Lighting
English UK
But they could be chasing you for a debt owed to many other businesses from an array of sectors.
Are you struggling with debt?
Affordable repayments
Reduce pressure from people you owe
Stop interest and charges from soaring
Get started
Commercial Domestic Investigations reviews
The Commercial Domestic Investigations reviews on Google are left by businesses using their services. Most of these reviewers are happy because the company did manage to get the money for them. However, there are a few negative reviews that suggest they will threaten legal action but not follow through, leaving the client paying for a service with nothing to show for it.
They have one review on Trustpilot which follows a similar story:
"Our company paid £750 to recover one debt on 9th September 2021. We have had one update since then, all other contact has been sarcastic and not very reassuring that they are actually doing anything for us. If they recover the debt they will receive 17.5% of the value as well as this £750, but it appears that they are happy with the initial fee and to do nothing."
Have you received a Commercial Domestic Investigations letter?
Commercial & Domestic Investigations will start by sending you a letter informing you of how much you owe with a deadline to pay. They do have access to methods to track you and your contact details down, even if you have moved overseas.
They are likely to say that if you don't pay by the deadline that they will consider court action. This makes the letter an official Letter Before Action (LBA) and is a necessary warning before being allowed to take you to court. Although, it will be their client who takes you to court rather than Commercial Domestic Investigations.
Sometimes these threats are serious, and at other times, they can be empty threats to try and scare you into paying quickly. For example:
"We now have our case file which contains events we were never informed about. They apparently threatened immediate legal action on our behalf, but was never followed through so made the debtor believe we were not serious."
Victoria E (Google Review)
This was a review from an angry business owner stating that they never knew what was going on with their case. The fact that Commercial Domestic Investigations threatened legal action on their behalf without the client ever knowing would suggest that they do sometimes use it as a scare tactic.
But don't assume they're always empty threats!
Should you pay Commercial Domestic Investigations?
You don't have to pay Commercial Domestic Investigations just because they've sent you a letter and threatened court action. There are some steps you can take before you might have to pay – and you might get away without having to pay at all.
Below we explain your options after receiving a threatening letter from Commercial and Domestic Investigations.
Feeling like Chandler?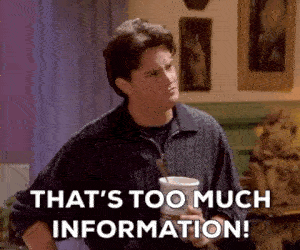 Is all this information starting to feel overwhelming? Don't panic! There's plenty of help available. You can get started below.
What to do after being contacted by Commercial Domestic Investigations
Don't ignore their letter, but instead, send them a prove the debt letter in reply. This is a letter that requests they provide evidence that you owe the money. They cannot reply simply stating that you owe it and why. They must reply with evidence that you owe the money.
For example, if they were chasing an unpaid credit card debt for Barclaycard, they could need to send a copy of the signed credit agreement you made with Barclaycard. Until they provide evidence you don't have to pay. And if they don't send evidence and you get taken to court, you can tell the judge that they have failed to meet this obligation.
When you shouldn't send a prove the debt letter…
The only time you don't need to send a prove the debt letter is when your debt has already become too old to be collected. This is known as statute-barred debt.
Many debts that have not been collected or partially paid within the last six years can no longer be claimed. Read more about this in our statute-barred guide.
Commercial Domestic Investigations proves me debt – now what?
If Commercial Domestic Investigations does send you acceptable proof that you owe the debt, you should probably pay up. You might want to speak to them about a payment plan or consider other debt solutions if you have financial difficulty.
Ignoring their letters after they've provided the proof may or may not result in legal action against you, which could escalate to bailiffs if you lose in court.
Can Commercial Domestic Investigations come to my home?
Consider Commercial and Domestic Investigations as an administration company. They have no right to come to your home, demand to enter and cannot take your possessions. They're not enforcement officers working for the court!
Commercial Domestic Investigations contact information
You can call Commercial Domestic Investigations on 08444 159200. Lines are open on weekdays only between 9am and 5pm.
Need more help with debts?
Get more help with your debts and financial issues by speaking to a confidential debt charity. Or get some bitesize tips and hints from our comprehensive debt help page.
Are you struggling with debt?
Affordable repayments
Reduce pressure from people you owe
Stop interest and charges from soaring
Get started