Creation Financial Services Debt Collection – Must You Pay?
For free and impartial money advice and guidance, visit MoneyHelper, to help you make the most of your money.
Are you being contacted by Creation Financial Services Debt Collectors about an outstanding debt? Do you owe the money but you are unable to meet the repayments? Are they asking you to repay the debt that you either don't know or that you feel you have already paid off? Are they threatening to take you to court about the outstanding debt? If any of these sound familiar, or you are having other issues, read on to find out how to deal with the situation.
It's not your fault. Complaints to the Financial Ombudsman have risen this year from 830 to 2,006, so it's safe to say that you're not alone.
Deal with your debt today and feel amazing tomorrow.
Beating Debt Collectors
There are several ways to deal with Creation Financial Services and improve your finances.
Choosing the right way to tackle your debt could save you time and money, but the wrong one could cause even more harm.
It's always best to find out about all your options from a professional before you take action.
Fill out the 5 step form to get started.
Who are Creation Financial Services?
Creation Financial Services started life as the financial services division of Selfridges in 1973. Over the years they have been through a number of rebranding exercises and a number of new owners have taken over. Creation Financial Services is now owned by BNP Paribas.
They provide loans and credit cards either using their own brand or via partnerships with other brands such as major High Street retailers, travel companies and football clubs. In addition, they also provide insurance premium finance. They are authorised and Regulated by the Financial Conduct Authority.
Because they are managing loans, credit cards and insurance premium finance on behalf of other brands they also manage debt collection when a customer fails to make the required repayments. What this means is that if a customer has bought something from a High Street retailer using credit to finance the purchase, it is likely that they will be being chased by Creation Financial Services for repayment rather than by the High Street retailer.
Address:
4th – 6th floor Wellington Buildings, 2-4 Wellington Street, Belfast, BT1 6HT
Registration Number:
01091883
Phone:
0800 783 5881
Email:
[email protected]
Website Address:
https://www.creation.co.uk
Creation Financial Services may also be known as:
Creation Financial Services Limited
Creation Financial Services Ltd
Creation Financial Services Group
Creation Financial Services Bailiffs
Creation Financial Services Debt Collectors
Creation Financial Services Debt Collection
Creation Financial Services Agency
Creation Financial Services Limited
Are you struggling with debt?
Affordable repayments
Reduce pressure from people you owe
Stop interest and charges from soaring
Get started
What is the reason for the contact by Creation Financial Services Debt Collectors?
You may or may not be aware, but the debt collection business is big, there are literally thousands of debt collection companies out there, who make money from your debt! Debt collectors like Creation Financial Services Debt Collectors can be found in a range of forms. There are the independent businesses, those which are part of the original credit company you owe the money to and there are even those who operate as sole traders. It is important to be aware of the tactics of debt collectors and the different disguises they may have.
Independent debt collection agencies and sole trader debt collectors business have the same model, which relies on purchasing debt at a fraction of the face value, which is often as little as 20% of the face value, and they make a profit by collecting all or some of the debt. In short, the more debt you have, the better off these debt collection agencies can become. They make money from your suffering, and to top it all, they don't care about your individual circumstances. In their mind, you ran up the debt and you owe it, so you need to pay it back. They don't really want to hear your excuses!
Find out if the debt is yours
Are you sure you owe this debt? If you are unsure where the debt has come from and the total value of the debt, you should seek confirmation of this. The total cost will probably be substantially higher than the original value of the debt, due to interest and charges. Get all the facts before you even consider paying it.
In order to get the confirmation, you should contact Creation Financial Services Debt Collectors and request that they issue you a copy of the original credit agreement. If they say they can't (or won't!) provide this for you, you will not need to pay the debt. They should be able to provide this, without any issues.
Feeling like Chandler?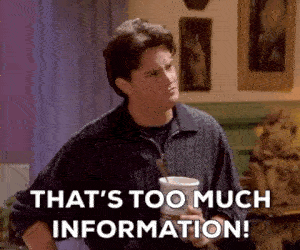 Is all this information starting to feel overwhelming? Don't panic! There's plenty of help available. You can get started below.
Should I pay this debt?
If you have received confirmation and you do owe the debt, the best thing to do is pay it off, as long as you can afford it. You should not pay though if you will be left without money to pay your rent/mortgage or other essential bills. Only pay if you can afford it. Otherwise, you may be able to reach an agreement with Creation Financial Services Debt Collectors to pay in instalments or to make a partial payment to clear your debt.
Why are they ruining my life?
Debt collectors are there to make money from the debt you have run up, and as their sole purpose, they will stop at nothing to get you to pay up. This means they may resort to hassling, bullying and threatening you, and generally using underhand tactics.
The constant pursuit of debt from Creation Financial Services Debt Collectors can be highly damaging to your life. In some cases, this is like emotional torture and can lead to distress, mental health issues and worst-case scenario, even suicide. The debt support trust report that as many as half of the people who have debt problems will consider suicide at some point. Debt issues go much further than just the debt itself. People feel ashamed of their financial situation, they may not know where to turn and the constant contact and even abuse from debt collectors can often be too much to handle.
Creation Financial Services Debt Collectors and the legal obligations
The Office for Fair Trading (OFT, 2012) put a set of guidelines in place for the debt collection business. These were designed to protect borrowers and ensure debt collectors were not resorting to underhand tactics to get their money. Some of these guidelines include:
Ensuring the fair treatment of debtors fairly and refraining from abuse, harassment or any other tactics to try and get the debt repayments.
Provide clear and transparent information, which is transparent and easy for the borrower to understand.
Show consideration towards debtors and the difficulties they are facing.
Take the debtor's circumstances into account when determining appropriate action to take.
If you feel that Creation Financial Services Debt Collectors are intimidating or harassing you or basically just failing to abide by these guidelines, you will be able to report them to the OFT and they may lose their license as a result.
Some debt collectors may go as far as to say they are from an external agency when they working as part of the company you have the outstanding debt with. This is deceit, and should not just be accepted. You should seek advice and help if the debt collectors are lying about the situation.
Do you know how Creation Financial Services Debt Collectors operates?
If you want to be able to defend yourself against debt collectors, knowledge is key! These are some things you should know about the way debt collectors operate
The agents get a bonus
The agents at Creation Financial Services Debt Collectors will probably receive a bonus based on the amount of debt they recoup, and they will probably have targets to meet. They will be expected to take in a certain amount an hour, and if they don't meet these regulations, they will probably be questioned on it. With this high pressure, you can understand why they come across as desperate to get you to make a payment, however, there is no excuse for harassment or any kind of bullying tactics to do so.
The best approach to take with regards to Creation Financial Services Debt Collectors is to understand that the threats they make are usually nothing more than empty threats. Stay strong and don't let them get to you.
They may use technology to handle calls
Although it is very tempting to just ignore the calls you receive from Creation Financial Services Debt Collectors, this won't really get you anywhere, as they will keep trying in the hope of eventually tracking you down! Many agencies even resort to using automated call technology to keep calling you frequently. It is their aim to make you so fed up that you answer the call, and hopefully, make payment to your debt!
If they do employ this tactic, make sure you take note of the frequency of the calls. If this is deemed to be excessive, it is against the OFT guidelines and you should inform the agent that you plan to report them to the Financial Ombudsman.
Change in attitude
Another tactic which is often used and can prove to be effective is the change in attitude. With this, the agent will start off by being friendly and positive, but they will soon switch their attitude when you say you can't pay up. This change in attitude can actually be even more distressing than the agent just having a poor attitude from the offset, as at least you know what to expect then! The aim of this is just to get you to the point where you feel worn down and you pay them just to get some peace. This is obviously not a good way for them to act, and according to the law, they have a responsibility to treat you fairly. You have the right to make a complaint if this is not the case.
They may even talk to someone else about your debt
If you don't answer the call, but someone else does, the agents may try to embarrass you by talking about your debt and financial problems to the other person, regardless of who they are. It may be that your partner happens to pick up your phone, or a family member or they may even speak to someone at your workplace. These are against the legislation and you have the right to report them, as they are not permitted to do this.
You can report this behaviour to the Financial Ombudsman on 0800 023 4567 or 0300 123 9123
Empty threats
You may even find that some debt collectors will issue out some threats to try and get you to pay up! They may say that they are calling from the court, or that they are a bailiff who intends to come and visit you at your home to take away your possessions. These are pretty nasty threats and they can be quite frightening, especially if you've never had to deal with such a thing before.
You should not permit them to come to your home and if they persist, you should contact the police and inform them about the threats. You should never feel unsafe within your own home.
Stand up to debt collectors
Evidence has shown that debt collectors such as Creation Financial Services Debt Collectors can really affect people's lives and cause them to feel distressed, upset and even suffer from poor mental health. In the worst cases, some people have even contemplated suicide as a result of the treatment from debt collection agents. It is not easy to stand up to Creation Financial Services Debt Collectors but if you can show strength and courage, and make them understand that you are not prepared to listen to their empty threats, you will be in a better position to deal with them. Do not allow them to wear you down, you can stand up to them. All debt problems can be dealt with – in the right way.
How to get debt help
If you are in need of debt help, there is plenty of options available to you. You can get free help from not-for-profit organisations, which will be able to give you one-to-one support. There are also commercial companies who will charge you for the service. You may want to try the free option first, especially when you are already facing difficult financial circumstances.
These are some organisations to consider:
Citizens Advice Bureau (CAB) – is one of the most popular organisations for free debt help. They also provide help on a wide range of other day to day topics you may need support with.
Christians Against Poverty (CAP) free debt help whenever you need it.
StepChange provides free online debt advice and helps people get their finances back on track.
Clearing your debt
It is entirely possible to get rid of your debt in its entirety by signing up for an Individual Voluntary Arrangement (IVA). As a formal agreement, this gives you the opportunity to pay the debt collectors a specific amount which is affordable either in full payment or monthly payments, if you can't afford to pay it all off in the one go. The remaining of your debt would usually be written off within five years. The IVA process should be carried out by an insolvency practitioner.
Another option to consider is a Debt Relief Order (DRO). There are restrictions on this though, as you need to have £75 or less remaining each month after you have taken care of your bills. You must not be a homeowner or have other assets worth over £2000.
Fighting back
It is surprising that even after all the warnings from professional bodies, the government guidelines, and other measures which have been taken to combat the behaviour of debt collecting agencies, some of them still seem to pounce on the most vulnerable in society. The behaviour of debt collection agencies can be so severe, that debtors have often been left in a poor state of mental wellbeing. You don't need to just take this though, you can fight back, especially if you seek help from the agencies which have been mentioned in this article. As much as you may want to, you can't just ignore your debt, however, you will be able to reduce the amount you need to repay and even spread the repayments over a period of time that works best for your situation.You can combat their bad behaviour by reporting them to the Financial Ombudsman, and this may cause them to lose their licence.
FAQs
Could you just ignore the debt?
Creation Financial Services buy the debt from the original creditor, so they lose money if they don't get any payments from you. You could try ignoring them, but you probably wouldn't be successful as they will keep chasing you until you do.
Are Creation Financial Services allowed to take you to court?
If you don't respond to debt collectors, they could turn up at your door. They could also apply for a County Court Judgement, and if this is successful, it will be held on your credit report.
Will you end up in jail?
Creation Financial Services could take you to court about the debt, but you won't end up in jail. If they take you to court, you will end up with a County Court Judgement letter.
Is it possible to just ignore a CCJ?
You could end up in more trouble if you ignore the CCJ. It is best to respond to this.
Can Creation Financial Services you with a warrant?
If you continue to ignore the debt collectors, and the CCJ you may find that bailiffs are sent to your house and they may remove some of your possessions to make up the debt.
Are Creation Financial Services allowed to act as baillifs?
Creation Financial Services do not have the right to ask for an arrest warrant or try to send you to prison. They can request a CCJ, and they are able to send bailiffs if you do not acknowledge the CCJ or make the payment.
Can Creation Financial Services visit your home?
Creation Financial Services are not bailiffs. They could, however, request a County Court Judgement which means that the courts could send bailiffs. You will receive warnings before they attempt this.
Can Creation Financial Services force their way into your home?
Creation Financial Services may send someone to your home to try and recover the debt, but they do not have the legal powers to do anything, so you can ignore them if you wish. On the other hand, if you have a County Court Judgement, the courts would be able to instruct bailiffs to come to your house.
Will Creation Financial Services ever stop contacting me?
Creation Financial Services will probably not stop contacting you, until you respond to them. They may even try to speak to people you know to try and recover the debt.
Does the debt expire at some point?
Creation Financial Services could realistically chase you for up to 6 years, at which time, the debt would expire.
How long are they able to chase the debt?
Under the Limitation Act 1980, a debt collection company may only chase you for 6 years. The 6 years is from the last time there was contact between you and the debt collector.
Can debts ever be written off?
As per the Limitation action 1980, you can be chased for 6 years, but that does not include a County Court Judgment being issued. The Limitation Act does not apply in this case, so they can continue to chase you for as long as they want.
Are you struggling with debt?
Affordable repayments
Reduce pressure from people you owe
Stop interest and charges from soaring
Get started