Shire Recoveries Debt Collection – Do You Have to Pay?
For free and impartial money advice and guidance, visit MoneyHelper, to help you make the most of your money.
Millions of people in the UK are struggling with issues related to debt. We all try and make ends meet, but sometimes bills can slip through the cracks and to the back of your mind.
This will then come back as a debt, which can seem frightening and stressful. However, if you know what to do, it's nothing to get too worried about.
If Shire Recoveries Debt Collection has got in touch, this article will tell you who they are, why they're reaching out to you and what you should do.
It's not your fault. Complaints to the Financial Ombudsman have risen this year from 830 to 2,006, so it's safe to say that you're not alone.
Deal with your debt today and feel amazing tomorrow.
Beating Debt Collectors
There are several ways to deal with Shire Recoveries and improve your finances.
Choosing the right way to tackle your debt could save you time and money, but the wrong one could cause even more harm.
It's always best to find out about all your options from a professional before you take action.
Fill out the 5 step form to get started.
Shire Recoveries Debt Collection
Let's kick off by answering a few questions about Shire Recoveries. Getting a letter or a call from a debt collection agency can be quite upsetting, as they often appear completely out of the blue. This information should give you some reassurance and help you work out what to do next.
Who are Shire Recoveries?
Shire Recoveries Debt Collection is a debt recovery agency. This means that if you have fallen behind on payments for a bill, the original creditor could contact Shire Recoveries Ltd in order to reclaim the money you owe. Shire Recoveries was founded in 2006, and their website says that they have 'acted on behalf of thousands of customers' and 'collected millions of pounds along the way'.
Shire Recoveries Debt Collection writes on their website that they 'aim to recover your money as fast as possible while representing your company in a professional and responsive manner' and that when they are dealing with the customers and those who owe the debts, they use 'just the right amount of communication'.
Their registered office address on their website is 1 Calico Business Park, Sandy Way, Amington, Tamworth, Staffordshire, B77 4BF.
You can give them a call on 01827 300 326 – their lines are open between 9am and 5pm from Monday to Friday. You can also drop them an email at [email protected]. You can even send them a fax if that's your preferred method of contact – 00182 768 672 is the number. Their website also has a messaging service, which you can find at the bottom of this page.
They do have a Twitter page, but it doesn't look like they've been active for a few years.
Are you struggling with debt?
Affordable repayments
Reduce pressure from people you owe
Stop interest and charges from soaring
Get started
Why is Shire Recoveries Debt Collection contacting me?
So, Shire Recoveries have sent you a letter. But why are they getting in touch? And who are they? It's unlikely that you have had any connection with them or have dealt with them in the past. Getting a letter from a company you don't know or recognise can be a bit confusing and a little worrying too.
Shire Recoveries Ltd is a debt collection agency. This means they specialise in recovering money owed to their clients by customers. Sometimes businesses may not have the appropriate resources or the skills to collect payments from people. This results in these businesses contracting agencies like Shire recoveries to act on their behalf and collect these debts.
If you have an unpaid debt with another company, it's highly likely that Shire Recoveries are reaching out to you in relation to that. They also sometimes buy debts from companies. This usually happens when a company decides a debt has gone 'bad, meaning they're struggling to collect it.
These bad debts are then bought in bulk by debt collection agencies like Shire Recoveries Ltd. This now means that instead of owing the original creditor, you owe Shire Recoveries, who will make money out of it.
Are they a legitimate company?
Fake debt collection agencies are some of the biggest scammers out there, and there are loads of stories about people handing over sums of money, thinking they have debts they never actually had. So it is good practice to treat letters from companies you don't recognise with a degree of suspicion.
However, Shire Recoveries is not a fake company, nor are they out to scam you. They're registered with Companies House, meaning they're very much official and legitimate. Their company number is 06028665, and they were incorporated on 14 December 2006.
Shire Recoveries Ltd is also a member of the Credit Services Association (CSA), and they have passed the CSA's Collector Accreditation Initiative. This is an initiative designed to ensure the way Shire Recoveries Debt Collection operates day-to-day is legal, fair and compliant. Sometimes debt collection agencies cross the line and don't follow the rules though – we will cover what to do if you have complaints about Shire recoveries later on.
Feeling like Chandler?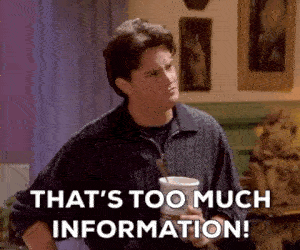 Is all this information starting to feel overwhelming? Don't panic! There's plenty of help available. You can get started below.
Who do Shire Recoveries collect for?
Shire Recoveries Debt Collection works with a wide variety of clients, for companies across the UK in a range of different industries. These include utility providers, internet servers, council tax and various other debts too. They have been reported to collect for trade suppliers on several forums.
Because of their wide range of clients, make sure you have as much relevant paperwork about your debt as possible, as this will make it much clearer about why they're reaching out to you.
How you should deal with Shire Recoveries Debt Collection
Now that we've got the basics down about who Shire Recoveries Ltd is, what they do and why they're getting in touch with you, what should you do next? The following steps will be a good guide about what to do when dealing with Shire recoveries.
They won't stop sending me letters and they keep on calling me – should I ignore them?
Debt collection agencies are well-known for being persistent. They'll keep on hounding you until the debt is paid, by any means necessary. There is, however, a fine line between being persistent and actually harassing you – and debt collection agencies are not allowed to harass you. Shire Recoveries debt collection is a member of some really well-known and well respected financial regulators. By signing up to these, they will be expected to adhere to the rules laid out by them.
You should never ignore any correspondence from debt collection agencies. It is rare that a company like Shire Recoveries Ltd contact you by mistake, and even if they have, ignoring their letters won't stop them from trying to get in touch. After a certain length of time, they can also escalate matters if you don't respond.
You do have some control over how you want to be contacted, however. You can make the request that they only contact you in writing, which is a good option as you then have physical proof of correspondence if something happens later on.
Should I just pay Shire Recoveries Debt Collection?
It could be argued that we all have to pay our debts at the end of the day. There are a few things worth knowing that might affect how you go about this though. If you can prove the debt isn't yours, or if the debt was issued illegally, you can contest it. But to do this, you need to have as much information at your disposal as possible.
If the debt is definitely yours, and you can repay it in full, then you should do this as soon as you can. You may even be able to pay slightly less if you contact the original creditor directly, and find out if you can settle with them without the input of Shire Recoveries.
Will Shire Recoveries Ltd visit my home?
Debt collection agencies don't often make home visits. The only time they would make a visit to your home is if they don't see any progress in the issue, and their letters and calls aren't being returned. If this happens, they have to send you a letter saying that they will be visiting. This letter is usually sent with a minimum of seven days' notice.
To completely avoid a potential home visit from Shire recoveries, it is a really good idea to keep in touch with them and to not ignore their letters or phone calls. It is a good idea to try and keep a timeline of contact with Shire Recoveries Ltd, so you know when they've contacted you and what steps you took in response.
Financial and Legal Matters
Knowing your rights when you deal with a debt collection agency like Shire Recoveries Debt Collection is one of the most important things when you are trying to sort this issue out. You actually have more rights than you probably realise. However, Shire Recoveries also have rights and options too, so it is also really important to know what these are as well.
Being a member of the Credit Services Association means that Shire Recoveries is expected to follow these rules – but there are stories of debt collection agencies breaking these rules. We'll talk about what to do if you have a complaint about Shire Recoveries later on.
What action can they take?
Writing letters and calling you are the most common ways a debt collection agency will contact you. But they can also potentially visit your home. If you fail to get in touch with them, they have every right to escalate matters.
Shire Recoveries Debt Collection says on their website that they use 'just the right amount of communication with [the] customer to make them understand that they must pay the money they owe'. If they think that they have no other choice, they can legally get the court involved.
Here are some of the actions they might take:
A County Court Judgment (CCJ). This is when the courts demand you pay back what you owe
Add additional fees or charges to the amount already owed. This cannot be too excessive, however.
Issue a statutory demand. A statutory demand is often one of the first steps towards bankrupting you, but these are often only for debts over £5,000.
Bailiff involvement. If granted by the court, bailiffs can come and claim your possessions to reclaim the cost of the debt.
You want to avoid any of these things happening. They can be really stressful at the time, but they will also affect you in the long term too, and your credit rating could actually end up being damaged in the process.
What rights do I have?
Shire Recoveries Ltd is a member of the Credit Services Association (CSA), and they have passed the CSA's Collector Accreditation Initiative as well. This means that there is a strict code of conduct they need to follow. If you can prove that they aren't following these rules, you can make a complaint about Shire Recoveries. Some of the rules they have to follow include:
Not calling you up at unreasonable times during the day
They can't make a home visit before 6am or after 9pm
Not discussing your debt or your payments with someone in your family or workplace
Not taking payments without your explicit permission
Not adhering to your contact preferences
These are just some of the rules that Shire Recoveries Debt Collection have to respect, as outline in the full CSA Code of Practice. If you have evidence that they haven't followed these regulations, it can void your debt, so be sure to keep track of all your correspondence with Shire Recoveries Debt Collection to make sure that they're obeying the rules.
What do I do if I can't afford to pay Shire Recoveries Debt Collection?
Sometimes we're not able to pay our debts. This can be a really hard fact to face up to, and you can feel overwhelmed and embarrassed by it. But try not to worry too much – you're not the first, and you won't be the last. There are a few different options open to you if this is a reality for you.
First of all, you should contact Shire Recoveries Ltd and explain your situation. If you do this, they will be more likely to help you out or at least offer advice. But they can't do this unless you tell them what's going on.
By keeping them updated with what's going on, they could be more likely to agree to a repayment plan. This means instead of paying the full amount in one go, you make a series of instalments that contribute to the full amount. They have a handy 'Online Payment' section on their website too.
There are several different initiatives in place that are designed to help with your debts too. Debt consolidation loans and debt management plans can both help you settle your accounts.
How do I make a complaint about Shire Recoveries?
You have every right to make a complaint about Shire Recoveries Ltd. You will have to prove that they haven't abided by the rules that they agreed to follow in the Credit Services Association (CSA), and show any relevant paperwork too. They have a dedicated page on their website outlining the complaints process. If you want to escalate your complaint about Shire Recoveries, you can contact the Financial Ombudsman service.
What kind of reviews have Shire Recoveries Debt Collection got?
Debt collection agencies never have the most glowing reviews. After all, they're not the most popular sort of company. There aren't any official Shire recoveries reviews from Trust Pilot for instance, but there are some posts on forums that don't paint Shire Recoveries Ltd in the best light.
Final Thoughts
That's just about everything you need to know with regards to Shire Recoveries Debt Collection. If you get a letter or a call from them, it can be really overwhelming, stressful and confusing. But don't worry. If you follow these tips, you should be able to sort it all out quickly and easily.
Are you struggling with debt?
Affordable repayments
Reduce pressure from people you owe
Stop interest and charges from soaring
Get started