DG Solicitors Debt Collectors – Do You Need to Pay?
For free and impartial money advice and guidance, visit MoneyHelper, to help you make the most of your money.
Are DG Solicitors Debt Collectors trying to speak to you about an outstanding debt you have? Do you not recognise them, or the debt they are demanding repayment for? If these sound familiar, there is help and advice available. Read on to discover what you can do to fight back against debt collectors!
It's not your fault. Complaints to the Financial Ombudsman have risen this year from 830 to 2,006, so it's safe to say that you're not alone.
Deal with your debt today and feel amazing tomorrow.
Beating Debt Collectors
There are several ways to deal with DG Solicitors debt collectors and improve your finances.
Choosing the right way to tackle your debt could save you time and money, but the wrong one could cause even more harm.
It's always best to find out about all your options from a professional before you take action.
Fill out the 5 step form to get started.
Who are DG Solicitors Debt Collectors?
DG Solicitors is a registered debt collector in the UK. The company provides professional debt collecting services to customers throughout the country and also offers bankruptcy advice and debt management.
Are you struggling with debt?
Affordable repayments
Reduce pressure from people you owe
Stop interest and charges from soaring
Get started
Why are DG Solicitors Debt Collectors harassing you?
There is an abundance of debt collection agencies out there, and if you are in debt, you are probably all too familiar with this. Debt collection agencies can be extremely persistent when trying to reach you, and they may go to some extraordinary lengths to get you to start making payments to your account.
As independent collection agencies buy the debt from another company, you may not be familiar with them, and you probably don't owe them directly, but this doesn't mean you can run and hide from the debt, you probably still owe it.
How do you know if you owe it?
That being said, you should not just pay the debt, on the off chance that you do owe it. You should make sure it is actually your debt first. It may be that the value of the money seems different to what you believe you owe, and that may be because there has been interest added on. If in doubt, ask the debt collection agency to provide you with a copy of the agreement. If they can't do this, you should think twice about paying up.
Feeling like Chandler?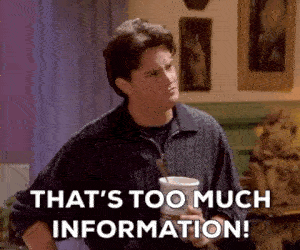 Is all this information starting to feel overwhelming? Don't panic! There's plenty of help available. You can get started below.
Will paying debt leave you short?
It can be difficult enough to keep up with day to day payments, without throwing debt into the mix, and this is when debtors tend to just run for cover and hide from their debt. This isn't the most sensible option, as the debt won't just go away, you will still owe it, regardless of how far you run!
How to deal with debt collectors
Debt collectors often use very questionable tactics to get you to pay your debt off, and although you owe it, they should not harass you for it. In fact, there is legislation out there that protects you from such behaviour.
The best way to deal with debt collectors is to speak to them calmly and by explaining your situation to them. They should not make you pay if you can't afford to, so only make payments if it won't leave you out of pocket or other day to day bills and expenses. There is no doubt that dealing with debt collectors can be extremely distressing and upsetting, regardless of your situation – and you are not alone if you are feeling like they are getting you down.
DG Solicitors Debt Collectors – what the law says
Guidelines around debt collectors and their treatment of debtors have been published by The Office for Fair Trading (OFT, 2012) and these include:
Ensuring they treat debtors fairly.
Always being open and honest about the debt, with clear, concise information.
Understand the difficulties faced by debtors, and show empathy.
Take the circumstances of the debtor into account when working out a payment plan.
If you are feel that DG Solicitors Debt Collectors are not following the guidelines, you can make a complaint about them.
You can use this online complaint form to make a complaint about unfair practices.
Make sure what the debt collectors is saying is honest and that they are working legitimately on behalf of the original company you owe the debt to.
How to pay back the debt from DG Solicitors Debt Collectors
If the debt collection company are contacting you about the outstanding debt, and you're not sure what to do, these are some things to consider:
Pay off the debt
If DG Solicitors Debt Collectors are hounding you for money, and you are able to pay it, the best thing to do is just pay it and get rid of it. It will also save you the hassle of trying to fend them off!
If you can't pay though, you can set up a repayment plan where you make monthly payments until the debt is cleared.
Make a complaint
If DG Solicitors Debt Collectors are contacting you and you feel that they are harassing you to pay more, or they are just contacting you too much about the debt, you can make a complaint.
If you are unhappy with the frequency of the calls or the content of what they are saying, you can report them to the Financial Ombudsman, as they may be breaking the OFT guidelines.
You can contact the Financial Ombudsman by phone on 0800 023 4567 or 0300 123 9123
Coping when they get annoyed
It can be difficult to deal with agents who come across friendly and reasonable at first, but then the mood turns without warning, when they understand you can't afford to make payments to the debt.
The main thing is to try to stay strong and don't make payments if you can't afford them. You shouldn't leave yourself unable to pay priority bills. If the debt collection company is using underhand tactics, you can report the behaviour to the OFT using this online complaint form.
Are they allowed to speak to my partner about my debt?
Unless you have gave them explicit permission, they are not allowed to speak to anyone else about your debt, even if it is a partner or family member. This could be viewed as illegal behaviour and a breach of both OFT guidelines, and other privacy laws.
You have the right to report them to the Financial Ombudsman on 0800 023 4567 or 0300 123 9123 for this kind of behaviour.
They want to come to see me
If the agents have advised that they will come to pay you a visit, and not for a cup of tea, this could be viewed as threatening behaviour. In this case, you should definitely report them, and you may even want to speak to the police about such behaviour.
You should not allow them to come to your home, and if they insist on this, and you feel like you could be in danger, especially if you live alone, you should contact the police and inform them.
Don't let them get to you
DG Solicitors Debt Collectors may be relentless in trying to get you to pay up, but you should try not to let them get to you. Remember, this is not a personal attack, they are just doing their job, although it can be extremely difficult to deal with. They do not have the right to be abusive though.
How to cope with debt
You are not alone if you are struggling with debt, many people find themselves in the same situation, and there is help out there. You can get help from a commercial debt management companies or a not-for-profit organisation. Obviously the not-for-profit is the most favourable option. These are some of the options:
Citizens Advice Bureau (CAB) a well known organisation who offer debt help and advice, as well as help with other day to day issues.
Christians Against Poverty (CAP) free debt help and support.
StepChange provides free online debt advice and help people get back control of their debt.
Is there any way to get rid of debt?
Of course, the best way to deal with your debt is to pay it off, but if this is not possible, you may want to consider an IVA.
An Individual Voluntary Arrangement (IVA) is a formal agreement you reach to pay off your debt. You will be able to write off a substantial part of your debt through an IVA, making it more affordable. The downside to this is that you may not be able to gain access to credit for a number of years after – so you should enter into this only if necessary.
You can find a local licenced IVA insolvency practitioner here.
Another option is a Debt Relief Order (DRO). You can only get access to a DRO if you are left with £75 or less a month after paying bills and other expenses.
You must use an authorised debt advisor for this option. This is a list of authorised debt advisors.
What next?
Debt collectors are renowned for making debtors miserable, and they often resort to abuse and harassment in order to try and get their money back. Despite the fines and legislation issued by the government, this behaviour, unfortunately, still continues to be a problem. Make sure you don't end up paying more than you can realistically afford, even if the debt collection agent is trying to persuade you otherwise. If you are struggling to cope with the contact from debt collectors, you have the right to report them to the Financial Ombudsman. In some instances, they may lose their licence as a result of this behaviour.
Are you struggling with debt?
Affordable repayments
Reduce pressure from people you owe
Stop interest and charges from soaring
Get started