Can I do an IVA myself? 2022 Guide
Can I do an IVA myself? The application process for an IVA can be confusing and expensive, which has caused lots of people to ask if they can organise an IVA on their own. We answer this question while looking at other aspects of the IVA process here. Read on if you have been asking: can I arrange an IVA myself?
What is an IVA and how does it work?
An Individual Voluntary Arrangement (IVA) is a formal debt solution that commits you to make a single monthly repayment for five or six years. The payment is fairly divided between your creditors. After the IVA term ends, any unsecured debt is wiped, although you may be asked to borrow against your home to clear more of the debt. Or you will be asked to extend the IVA for another year.
Can you do an IVA on your own?
As the name suggests, an Individual Voluntary Arrangement is only possible for one person. There are no joint IVAs so you have to do an IVA on your own. But it is possible to link two IVAs together. These are known as 'interlocking IVAs'.
Don't worry, here's what to do!
There are several debt solutions in the UK that can be used to improve your finances. Choosing the right way to tackle your debt could save you time and money, but the wrong one could cause even more harm.
It's always best to find out about all your options from a professional before you take action.

Fill out the 5 step form to get started.
Can I do an IVA myself?
You cannot set up an IVA by yourself. An IVA must be organised and set up using an insolvency practitioner (IP), who usually works for a debt management company or financial services company. Only an IP has the credentials to arrange an IVA with creditors.
Another reason you cannot set up an IVA yourself is that you need to receive debt advice before making an application. This is to make sure an IVA is the most suitable debt solution based on your situation and finances.
How do I get an IVA approved?
For your IVA to get approved, at least 75% of your creditors must agree to the proposal set out by your insolvency practitioner, which will be based on your personal finances and what you can afford.
For example, if you have four creditors and three of them agreed to the IVA proposal, then the IVA will be approved. If approved, all your creditors that voted on the IVA proposal will be added to the IVA, including the one(s) that rejected the proposal.
Can I set up an IVA online?
You can start your IVA journey by engaging with companies online, initially to get an individual assessment to make sure an IVA is the right debt solution for you. But other aspects of the application process may need to be done offline, such as supplying your insolvency practitioner with documents. Thus, the whole IVA process is not likely to be possible online.
Feeling like Chandler?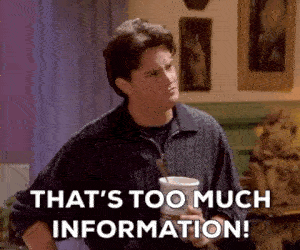 Is all this information starting to feel overwhelming? Don't panic! There's plenty of help available. You can get started below.
What paperwork do I need for an IVA?
The paperwork for an IVA can usually be split into five categories, namely identification, income, property, debts and explanations/statements. One of the most important categories is income. You must provide payslips to show how much money you have coming in each month.
You'll need to supply sufficient documentation so the insolvency practitioner can assess you for an IVA and make a suitable proposal to your creditors. They use your finances to propose a monthly payment, proving you are doing your best to repay the debts.
Are IVAs a good idea?
IVAs are the most suitable and advantageous method to get out of debt for some people. To know if an IVA is right for you, you'll need to receive debt advice. The debt adviser will assess your personal situation to advise you on what to do next.
You can now get free debt advice from a range of UK debt charities. It's best to get in touch with your personal finances to hand.
How much does an IVA cost?
There should be no application costs for an IVA. You'll only pay fees if your IVA is accepted. These fees are taken from your monthly payment and include a nominee's fee, supervisor's fee and expenses. Because they are taken from the payment to creditors, it is the creditors that front these costs if you never clear all your debt during the IVA.
The nominee's fee is for arranging a successful IVA and can cost from £1,000 to £2,800 on average, whereas the supervisor fee is around 15% of your monthly payment. The supervisor may also charge expenses for postage etc, which can amount to a few hundred pounds.
Creditors can try to claw back these fees from you if you receive a financial windfall during the IVA.
Can I do an IVA myself? (Quick recap)
An IVA is for one person only, but you cannot apply for an IVA by yourself. To apply for an IVA with your creditors, you must engage the services of an insolvency practitioner, who will usually work independently or for debt management and finance companies.
Thanks for reading this IVA guide. We're sure you'll find answers to your other IVA questions on the rest of the IVA MoneyNerd hub. See what else we've posted now!
*Note: This is a real life example based on a customers' savings data in October 2020.