Debt collection is a huge industry nowadays. Some estimate that it is worth several billion pounds, and with the amount of debt collection agencies out there, there's no doubting that debts and debt collectors are a part of the world we live in. That being said, it's never nice to get a strongly-worded letter from someone demanding that you pay a sum of money. If you've received a letter from eBay debt collection, you may be feeling a bit put out.
We go through what to do next if you've received a letter from eBay debt collection, solutions, and answer some of the more commonly asked questions about debt collectors.
It's not your fault. Complaints to the Financial Ombudsman have risen this year from 830 to 2,006, so it's safe to say that you're not alone.
Deal with your debt today and feel amazing tomorrow.
eBay Debt Collection
Pretty much all of us have heard of or know about eBay nowadays. With a reported 182 million users and an astounding 1.3 billion listings on eBay, it's a pretty big deal. And with a reported $22 billion worth of goods being bought and sold in a three month period at the end of 2019, there's a lot of money involved too.
With these huge sums of money involved, it's quite normal to expect some financial issues. eBay debt collection will end up reaching out to you if you fail to keep up with your payments.
Don't worry, here's what to do!
You could get rid of debt collectors by writing off some of your debt.
There's 7 debt solutions in the UK, choosing the right one can take years off your debt, but the wrong one can be expensive and drawn-out.
Start our calculator to find your best debt solution:
Owing the debt
When you sell an item on eBay, you have to pay a small fee to list it on their website. If your item doesn't sell, when the bidding time expires, it'll be relisted on the website, again for a small fee. If, however, you don't pay this fee, you will be contacted by eBay debt collection and be asked to settle your payments.
The number of items you are currently selling in your eBay 'shop' will dictate how much you have to pay. If you don't have very many items up for grabs, then you won't have to pay very much. If you have several hundred items, however, this can add up.
Are they a trustworthy company?
Getting any sort of correspondence from any company can be a cause for worry and suspicion – even if it is from a company as recognisable as eBay. There are always people out there who would leap at the opportunity to scam the vulnerable and claim they owe debts that they don't actually owe.
As a first step to dealing with eBay debt collection, you should make sure that all the information in their correspondence matches with official records. eBay may be one of the biggest household names about at the moment, but this also gives scammers the chance to pretend to be contacting you from eBay and making you fork out large sums of money you don't actually owe.
Feeling like Chandler?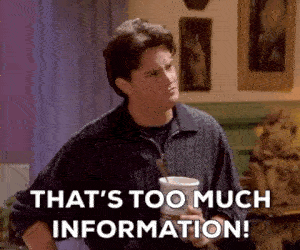 Is all this information starting to feel overwhelming? Don't panic! I've put together a 4 question calculator so you can quickly and easily find the best debt solution for you.
Answer the four questions now.
Companies House
One of the most common and best ways of making sure you're dealing with a trustworthy company is checking if they have a Companies House page. All legitimate businesses in the UK will have a Companies House page, and eBay is no different.
As you'll see after searching 'eBay' in the search bar, there are dozens of companies that use the name 'eBay' on the system. The official Companies House page can be found here, however.
eBay (UK) Limited is the official name of the company, and the eBay debt collection arm will fall under this. They have a company number of 03726028, and their registered office address is 1 More London Place, London, United Kingdom, SE1 2AF. This makes their correspondence legitimate, and you must take them seriously.
eBay Debt Collection – Next Steps
So now we have the basics about eBay debt collection, we'll go into what your next steps should be. It's never nice receiving notices about owing money to anyone, but with a bit of planning, and an active outlook, and you can deal with them quickly and easily.
Follow my 'prove it' guide with letter templates and get them to prove that you owe the money.
Gathering information
eBay debt collection have been reported to contact you about your account using emails more often than not, and only resort to using letters and phone calls if you continue to ignore them.
Make sure that you go through all the emails you can find from eBay and match up the amounts in the old emails with the sums in the debt collection emails. If they are different amounts, you may not have to pay up.
Keep a diary
The next step you should take in dealing with eBay debt collection is to keep notes on all the emails, letters and calls they make. Take down the dates and times of their correspondence, and if you get the chance to get the names of anyone you speak to, be sure to note this down too.
If they cause a fuss further down the line, you'll have plenty of evidence at your fingertips to prove that you have behaved during your dealings with them.
FAQs
Below, we will answer some of the more frequently asked questions about eBay debt collection and debt collectors in general.
Should I pay them?
Yes. If you have the funds available to pay them in full, and you are certain the debt is yours, you should pay them as soon as you can. This will stop any further emails, letters or phone calls from them immediately.
What if I can't pay them?
And what if I don't pay them?
If you refuse to pay them outright, they may have grounds to take you to court, and you could even end up with the threat of prison. So it's best to keep in touch with them and try your utmost to sort your debt out.
Can I make a complaint about eBay debt collection?
Yes. If you don't think that eBay debt collection have behaved in a suitable manner, you should email them with the nature of your complaint. If they don't respond, you can escalate the matter to the Financial Ombudsman Service.