HMRC Debt Management Letter – Complete Guide
For free and impartial money advice and guidance, visit MoneyHelper, to help you make the most of your money.
With so many scams going around online, and even in the post, it may be tricky to separate fact from fiction. On social media, in emails, and even letters – we've all had some sort of experience with scammers looking to cheat us out of money we don't owe.
But what about when you get one of those official-looking brown envelopes through the letterbox? Often you'll know that it is HMRC who use that exact kind of envelope.
If you open one of those up and find an HMRC debt management letter, and you are at a loss for your next steps, then look no further. We take a look at what to do if you've received an HMRC debt management letter.
Beating Debt Collectors
There are several ways to deal with HMRC debts and improve your finances.
Choosing the right way to tackle your debt could save you time and money, but the wrong one could cause even more harm.
It's always best to find out about all your options from a professional before you take action.
Fill out the 5 step form to get started.
HMRC Debt Management Letter
Even if it is a letter from HMRC, you still may be confused as to who they are and what they want. Why are they getting in touch? And what is an HMRC debt management letter? First of all, we'll have a look at HMRC.
Who are they?
HMRC, short for Her Majesty's Revenue and Customs is a department of the UK Government responsible for the collection of taxes, the payments of some state support and the regulation of things like minimum wage and National Insurance. So pretty much anything official to do with money.
Are you struggling with debt?
Affordable repayments
Reduce pressure from people you owe
Stop interest and charges from soaring
Get started
Why are they getting in touch?
There are a variety of different letters that HMRC could send to you, but we're focussing on what happens if you receive an HMRC debt management letter. This particular letter will have been sent from the HMRC's department of Debt Management and Banking. This is a service run by HMRC to help taxpayers with debts.
Not only will they contact you if you are behind on your payments, but you can also contact them if you know that you can't make one of your HMRC payments.
If you haven't been keeping up to date with any payments that involve HMRC, then you will likely receive an HMRC debt management letter, asking you to settle your debt and pay them. Quite often, you'll get an HMRC debt management letter if you haven't been settling your PAYE or National Insurance payments.
How will they contact me?
When companies need to collect debt, they often use a variety of different methods of contacting you. They'll send you letters, often quite strongly-worded, with regards to your unpaid debt, and after some time, they might end up making a decision to send out debt enforcement.
The department of HMRC Debt Management and Banking will start things off by doing exactly that and sending you an HMRC debt management letter. This will lay out exactly who or what you owe the debt for, as well as the amount you need to pay, and relevant contact information.
If these initial HMRC debt management letters are ignored, they will escalate to something called a 'Notice of Enforcement' – as the title makes clear, this announces HMRC's imminent intent to enforce recovery of their debts. They then may escalate it one step further if you continue to ignore them, and send bailiffs to your home.
Feeling like Chandler?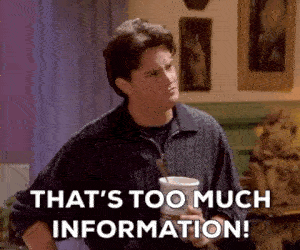 Is all this information starting to feel overwhelming? Don't panic! There's plenty of help available. You can get started below.
What to do next
So that's some basic background information about your HMRC debt management letter. But what do you do next? Follow these steps to find out how to deal with them quickly and easily.
Contact them
One of the first things you should do if you realise that you can't pay HMRC, or if you receive an HMRC debt management letter, is to get in touch with them yourself.
A quick look at their 'Contact HM Revenue & Customs' section on their website shows an extensive list of different contact details. We'll go through the ones that relate to your HMRC debt management letter.
If you want to call them, you can reach them on this number: 0300 200 3887. Their phone lines are open from 8am to 8pm, Monday to Friday, and 8am to 4pm on Saturdays.
They don't have a postal address available – however, the HMRC debt management letter they have sent might give you more options.
Gather information
Make sure you are well prepared if you are going to contact HMRC debt management. Speaking with someone from HMRC debt management is the first step in negotiating an agreement.
Whether they have sent you an HMRC debt management letter demanding payment, or you are contacting them about future payments, you should gather the following bits of information and have them to hand:
Your tax reference
Your name and address
Any reference on the letter (if you are responding to their correspondence)
Details about why you are struggling to pay
'Time to Pay' arrangement
If HMRC finds no signs of wrongdoing with your case, and you've responded to the HMRC debt management letter without too much delay, they may be open to negotiating a repayment scheme. Officially, they call this a 'Time to Pay' arrangement.
This is a structured payment plan to repay the money you owe over a period of 12 months or less in monthly instalments. If you end up missing one of these payments, your account will go into default, and they may outsource your debt to a private debt collection agency.
Final thoughts
So that's our quick guide as to dealing with an HMRC debt management letter and what you might be able to do. It can be a stressful experience admitting that you may not be able to pay your taxes or settle your debts, but with some forward planning, you may be able to sort it out quickly and easily.
If you are continuing to struggle with managing your finances, there are several charities and services that you can reach out to, who offer services to help you with things like an HMRC debt management letter.
The following websites will have information that should be able to help you manage your finances and offer support with your debts:
Are you struggling with debt?
Affordable repayments
Reduce pressure from people you owe
Stop interest and charges from soaring
Get started