Housing Benefit Overpayment Appeal Letter Sample 2022
For free and impartial money advice and guidance, visit MoneyHelper, to help you make the most of your money.
I've put together a housing benefit appeal letter sample for you to use if you've been overpaid. In this article, I'll be sharing information on what you can do if you're struggling to pay the overpayment and what you can do if you want to appeal.
What Happens If You've Been Overpaid Housing Benefit?
You'll be contacted by the council to inform you that they believe you've been paid too much. Your payments are usually stopped until the overpayment has been cleared if you've been overpaid housing benefits.
You should get a letter telling you why you've been overpaid, but sometimes the letter might get lost in transit. Call the council yourself if your housing benefit payments stop and you don't hear from them. Ask the council why your payments have stopped. If it's due to overpayment, ask them to send a letter to confirm. Make a note of the date and time of the call and remember to ask for the name of the person you're speaking to.
I Don't Agree with the Housing Benefit Decision
When you've received a letter stating housing benefit overpayment, I recommend you first check with the council that all the information they have is correct. They may have incorrectly calculated your income (you could be earning less than what they are basing their calculation on). You might also be overcharged if they think:
You have a spare bedroom
If someone else is responsible for part of the rent
How to Challenge the Housing Benefit Decision?
Ask the council to review your claim. At this point, the claim can be changed possible in your favour. You may be asked to send further evidence and you usually have one month to provide this. After this review, you'll be told if your entitlement for housing benefits has changed with the new information, or if you can appeal to the tribunal.
Feeling like Chandler?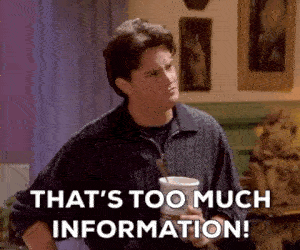 Is all this information starting to feel overwhelming? Don't panic! There's plenty of help available. You can get started below.
Do Housing Benefit Overpayments Always Have to Be Paid?
[https://www.gov.uk/government/publications/benefit-overpayment-recovery-staff-guide/benefit-overpayment-recovery-guide]
There are some circumstances where a housing benefit overpayment doesn't need to be paid:
The overpayment is due to an official error
It was impossible for you to know that you were overpaid
It was not possible for your landlord to know you were overpaid
Contact a debt advisor who will be able to help determine whether the overpayment will need to be paid. Free debt advisors are there to help you in this situation, some to consider reaching out to include:
Can You Appeal If You've Been Overpaid Housing Benefit?
You can appeal if you disagree with the overpayment. With the appeal, you'll challenge the decision made by the council. The appeal timeframe is usually one calendar month after you learn about the overpayment in a decision letter. If one month has passed you may still be able to appeal if you have a good reason for not doing so earlier, such as illness.
Does it Cost Money to Appeal Housing Benefit Overpayments?
It doesn't cost any money to put in an appeal. It is possible to appeal yourself but do remember debt advisors can provide you with help if you need it. To appeal you'll need to let the council know that you're appealing and send supporting documents and evidence to support your claim. You will need to share your reasons for appealing with an independent tribunal if the council disagrees with your claims.
How to Write a Letter to Appeal Housing Benefit Overpayment
You might have a few options on how to submit your appeal, depending on your council and their operations. Visit GOV.UK to find a list of all the local councils if you're having trouble finding yours. Some may have an online form, an email address you can send an appeal email to, and a postal address.
Use the housing benefit overpayment sample letter I have put together as your template. It's a useful starting point and will help you to put together your case moving forward.
Don't worry, here's what to do!
There are several debt solutions in the UK that can be used to improve your finances. Choosing the right way to tackle your debt could save you time and money, but the wrong one could cause even more harm.
It's always best to find out about all your options from a professional before you take action.

Fill out the 5 step form to get started.
How Long Do Housing Benefit Overpayment Appeals Take?
The appeal process can take anywhere between 3 and 8 months to get a decision from the first-tier tribunal. You don't have to attend the tribunal if you don't want to, but you will be asked if you'd like to attend. If you decide against attending, your letter and supporting documents will be examined by the judge, along with the response from the council. The outcome of the appeal is normally decided on the day of the tribunal.
Civil Penalties and Housing Benefit Overpayment
Please be aware that not all overpayments are believed to be fraudulent. Errors can be genuinely made by claimants. However, if you're found to have caused the overpayment you may be asked to pay a civil penalty. This happens when you fail to disclose information that resulted in you receiving more money than you're entitled to.
Fraud and Housing Benefit
If the council discovers a fraudulent benefit claim the housing benefit and any other benefits probably claimed will have been overpaid. In this circumstance, the overpayment will need to be paid back. Additionally, the council may prosecute for fraud.
How Can I Pay Back My Housing Benefit Overpayment?
If you need to pay back housing benefit overpayment after the appeal, you do have a few options. The council will let you know how they would like it to be paid. For example, you may:
Have a reduction in the amount of housing benefit you're paid until the overpayment is cleared
You may have a regular payment taken from your employment or benefit payments
Pay the council directly using online banking
If you can't afford to pay, I recommend using the simple budgeting tool to work out your incomings and outgoings. This will help you prove to the council that you are struggling to afford living expenses. Approach the council and show them proof of your finances and request reducing the repayments to a more affordable rate.
Use the housing benefit overpayment appeal sample letter when you disagree with the benefit decision made by the council. If you are struggling to cope with benefit overpayments and other debts, I advise reading the articles below. Remember, you're not alone, there are debt advisors and different debt solutions to consider.
Are you struggling with debt?
Affordable repayments
Reduce pressure from people you owe
Stop interest and charges from soaring
Get started