How to Deal with DCBL 2022
For free and impartial money advice and guidance, visit MoneyHelper, to help you make the most of your money.
Have you been searching for the best way how to deal with DCBL? These guys might have appeared on Netflix, but it doesn't give them any extra legal rights. We explain what to do when you receive a Letter Before Action or a Notice of Enforcement letter from DCBL.
Beating Debt Collectors
There are several ways to deal with DCBL debt collectors and improve your finances.
Choosing the right way to tackle your debt could save you time and money, but the wrong one could cause even more harm.
It's always best to find out about all your options from a professional before you take action.
Fill out the 5 step form to get started.
Who are DCBL?
Debt Collection bailiffs Limited (DCBL) is a debt collection agency and enforcement agent service. This means they provide services at different ends of the debt recovery process.
As a debt collection agency, they contact businesses and individuals on behalf of other companies before going to court, asking them to pay and usually threatening legal action if they don't. They charge a fee or receive a commission for this work.
And as enforcement agents, otherwise known as bailiffs, they go to debtor's homes with a court order to enforce debts. This may include getting the full payment, agreeing on a payment plan or seizing goods to be sold at an auction to clear the debt.
Are you struggling with debt?
Affordable repayments
Reduce pressure from people you owe
Stop interest and charges from soaring
Get started
Are DCBL high court enforcement?
Yes, DCBL are High Court enforcement agents, meaning they enforce debt collection for the High Court. Their High Court enforcement agents have even featured on a TV show and a Netflix series called Can't Pay? We'll Take it Away.
On their website, they claim to recover around £75 million each year for the High Court.
Who does DCBL work for?
Other than working for the High Court and County Court, DCBL work for a vast number of small and large businesses in the UK. Their debt collection and enforcement services are available to anyone who needs them, so you could be chased by DCBL if your creditor decides to use their services. They frequently work to collect unpaid parking fines as well.
Do DCBL take people to court?
As mentioned above, DCBL sometimes chases debts for clients that have yet to be discussed in court. They may threaten that their client will take legal action against you, and it would be the company or their solicitors that could take you to court. Sometimes they may make legal threats but these are just made to scare you into paying.
Feeling like Chandler?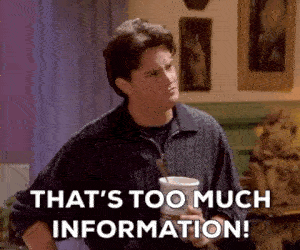 Is all this information starting to feel overwhelming? Don't panic! There's plenty of help available. You can get started below.
Can I ignore letters from DCBL?
You should never ignore any letters from DCBL, even when you think they have the wrong person. There are things you can do to challenge DCBL.
We explain how to react based on the letter you received further below.
How do DCBL collect debt?
DCBL collect debts that haven't been subject to a court order by asking you to pay. They'll send letters, emails, text messages and they may repeatedly call you.
They collect debts that are subject to a court order by giving you a chance to pay or arrange a payment plan, before coming to your home to repossess goods.
How to deal with DCBL
The best way to deal with DCBL differs depending on if they're chasing a debt that has yet to go to court, or if you've already been asked to pay by a judge/court order. But the golden rule is to never ignore their communications in either situation. There are things you can do in both cases to improve your position.
In the former situation, you'll have been sent a debt letter asking you to pay or to expect court action. This is called a Letter Before Action. And in the latter situation, you'll first receive a Notice of Enforcement letter. We explain how to deal with each of these letters below.
How do you handle a DCBL letter?
DCBL Letter Before Action
When you receive a Letter Before Action, it's important not to ignore the letter. This is because DCBL or their client could really take you to court. Instead, you should ask them to prove you owe the debt. You should do this even if you think there has been a mistake because they'll realise it themselves when they can't prove you owe the money.
Write back to them asking for proof. You can use our free prove-it letter template to save time. You're not obligated to prove the debt until they supply you with adequate proof, which should be a copy of the signed agreement or contract you defaulted on. You don't have to pay until they provide the evidence. And if they take you to court without answering your request, you should inform the judge.
DCBL harassment
If you think DCBL is harassing you with too many calls or calling at unsociable hours, you can provide them with your contact preferences. And if they ignore these preferences, you can make a complaint. If they don't respond to the complaint or continue to harass you, your complaint can be escalated to the Financial Ombudsman Service (FOS).
DCBL Notice of Enforcement
A DCBL Notice of Enforcement is a letter that gives you seven days to get in touch with DCBL to pay a debt that is subject to a court order. They'll start by asking you to pay the full amount, but you can usually agree to a payment plan. If you don't pay within seven days, the letter is giving you notice that DCBL enforcement agents will come to your property. They add a £75 charge to your debt for sending this letter.
It's best to get in touch with DCBL at this stage and don't let it escalate to them paying you a visit. There are lots of reasons for this, including an additional £235 (minimum) charge when they come out.
Struggling with debt and need help?
If you want more support dealing with bailiffs or help to get out of other debts, we recommend getting in touch with a UK debt charity. They can provide personalised support and professional advice at no cost. You can also get useful hints and information from our debt help guide.
Are you struggling with debt?
Affordable repayments
Reduce pressure from people you owe
Stop interest and charges from soaring
Get started