Littlewoods Debt Collection Payment Plan – Must You Pay?
For free and impartial money advice and guidance, visit MoneyHelper, to help you make the most of your money.
Debt collection is a huge business, and nearly all of us have experienced it in some form or another. One of the biggest debt types out there today is a type of debt called catalogue debt. The Citizens Advice charity recently said that in 2013 alone, they received over 60,000 phone calls for help regarding catalogue debt. Littlewoods Debt Collection is a prime example of catalogue debt collection. In this easy guide, we explain what to do if Littlewoods Debt Collection has sent you a letter, and how you might be able to beat them.
It's not your fault. Complaints to the Financial Ombudsman have risen this year from 830 to 2,006, so it's safe to say that you're not alone.
Deal with your debt today and feel amazing tomorrow.
Beating Debt Collectors
There are several ways to deal with Littlewoods debt and improve your finances.
Choosing the right way to tackle your debt could save you time and money, but the wrong one could cause even more harm.
It's always best to find out about all your options from a professional before you take action.
Fill out the 5 step form to get started.
Littlewoods Debt Collection have sent me a letter – what do I do?
Your first reaction to getting a letter through the post saying that you owe money is undoubtedly going to be panic. The amount you owe, whilst no doubt a big deal to you in your position, can easily be sorted out. First of all, let's take a look at who Littlewoods Debt Collection is, and whether they are legitimate.
Is Littlewoods Debt Collection legitimate?
Littlewoods Debt Collection is the debt collection arm of Littlewoods Ltd. They don't have a Companies House page themselves. However, Littlewoods Ltd does, with a company number of 00262152.
Their registered office address is First Floor, Skyways House, Speke Road, Speke, Liverpool, L70 1AB. This makes them a legitimate company, and therefore you must take the debt they are describing in their letter seriously. As we mentioned earlier, Littlewoods Debt Collection will be following up on catalogue debts.
Are you struggling with debt?
Affordable repayments
Reduce pressure from people you owe
Stop interest and charges from soaring
Get started
What are catalogue debts?
Catalogue debts are debts that usually come about after a company offers a 'have now, pay later' scheme. These may seem like an easy way of getting what you want, but what happens is that you're expected to spread out the repayments using a payment plan to the company on either weekly or monthly terms.
If you make these payments on time, it's a very convenient way to shop. It is very easy to accidentally miss these payments however, and if this happens, problems arise. This is when Littlewoods Debt Collection would step in.
Feeling like Chandler?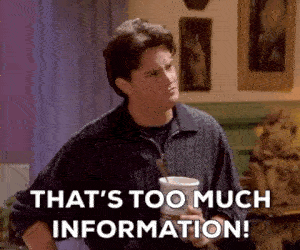 Is all this information starting to feel overwhelming? Don't panic! There's plenty of help available. You can get started below.
What are my next steps?
Sometimes, you may realise that you won't be able to make one of your payments in your payment plan. When this happens, you should reach out to Littlewoods before they've even taken motions to get Littlewoods Debt Collection on your case.
By doing this, you will get the chance to explain why you can't repay at that time, and perhaps even negotiate a lower repayment amount as you proceed. We all let things fall through the cracks though, especially in these troubled times, so if you do receive a letter from Littlewoods Debt Collection, here's what you should do.
Follow my 'prove it' guide with letter templates and get them to prove that you owe the money.
Information
The letter Littlewoods Debt Collection should have all the details of the debt that you owe on it. Unfortunately, debt collection companies don't often make mistakes, so it's likely the debt is for you.
What you should do at this point is gather as much information and correspondence as you can find about the issue, and cross-reference each payment and amount to make sure that it is all correct. If it isn't, you don't have to pay Littlewoods Debt Collection.
Evidence
As you proceed with your dealings with Littlewoods Debt Collection, it may seem really daunting and worrying. It's never nice dealing with situations like this, but it's part and parcel with modern life.
You should keep a concise record of all conversations you have with Littlewoods Debt Collection – note down the date of their letters and phone calls, and try and get the names of all the people you speak to. If you do this, if there's any confusion down the line, you'll have all your bases covered.
Payment
If you are certain that the debt is yours, and you have the money to pay Littlewoods Debt Collection, then you should pay them in full, as quickly as you can. The sooner that you pay the debt, the sooner they will stop sending you letters and calling you – and debt collection agencies like Littlewoods Debt Collection are notorious for their persistence.
If you are not able to pay the full amount in one go, contact them anyway, and you may be able to arrange a repayment scheme that will suit your income.
FAQs
So that's the basics as to who Littlewoods Debt Collection is, and what to do if they contact you. Below, we go through some more of the most common questions regarding Littlewoods Debt Collection, and debt collectors in general.
Can Littlewoods Debt Collection fine me for not paying?
Yes. Littlewoods reserve the right to impose a charge to cost the cover of any action they might take and are entitled to debit your account with any costs incurred by them. This is only in respect of any missed or insufficient payments though.
Can Littlewoods Debt Collection visit my home?
Yes. Littlewoods Debt Collection has the right to visit your home if you make no motions to rectifying your debt. They do not have the power to remove or requisition any of your property, however.
Are debt collection agencies and bailiffs the same thing?
No.
Bailiffs
are usually hired or used by debt collection agencies when they see no other path to take, usually if the person who owes the debt has not been forthcoming in repaying. Bailiffs have the power to remove your possessions to settle whatever debt you have.
How can I complain about Littlewoods Debt Collection?
Often debt collection agencies use quite forceful and unpleasant tactics to get you to pay the debts. While these can be distressing and upsetting, their actions aren't
illegal
. If, however, you believe that Littlewoods Debt Collection have behaved in a way that was unacceptable, you can raise a complaint with them. If they ignore this, you would be able to escalate this complaint to the
Financial Ombudsman Service
.
Are you struggling with debt?
Affordable repayments
Reduce pressure from people you owe
Stop interest and charges from soaring
Get started