Max Recovery Limited Debt – Must you pay in 2022?
For free and impartial money advice and guidance, visit MoneyHelper, to help you make the most of your money.
Dealing with debts and debt collectors is more common than you think – especially in these strange times.
When utility bills become the priority, other payments may be forgotten. This often leads to a letter from a debt collection agency or a debt collector, such as Max Recovery Limited.
While debt collectors have a bad rep, and the tactics they use to pursue the repayments can be a cause for stress, we all have to pay our debts. We will have a look at your next steps if you've been contacted by Max Recovery Limited.
It's not your fault. Complaints to the Financial Ombudsman have risen this year from 830 to 2,006, so it's safe to say that you're not alone.
Deal with your debt today and feel amazing tomorrow.
Don't worry, here's what to do!
You could get rid of Max Recovery Limited by writing off some of your debt.
There's several debt solutions in the UK, choosing the right one can take years off your debt, but the wrong one can be expensive and drawn-out.
Fill out the 5 step form to get started.
Max Recovery Limited – what you need to know
We will start off by answering some of the most common questions with regards to Max Recovery Limited.
Getting a letter from any debt collection agency can be a cause for confusion and can also be a bit scary – hopefully, these top tips will put your mind at ease.
Are you struggling with debt?
Affordable repayments
Reduce pressure from people you owe
Stop interest and charges from soaring
Get started
Who are Max Recovery Limited?
Max Recovery Ltd is a debt purchaser with a particular focus on bankruptcy. Trust deeds, sequestration and insolvency.
Officially they are classed as a debt collection agency; in the case of Max Recovery, they 'buy' debts from lenders. They collect debts for many well-known banks, brands and organisations. These include:
HMRC
EE
Virgin Media
Npower
O2
United Utilities
Council tax
Utility providers (gas and electricity companies for example)
Parking tickets
Catalogue debts
Established in 1992, they are a subsidiary company of J.P. Morgan and were incorporated in 2003. They don't have an official website, but the Companies House website lists their company number as 04994176.
Their official registered office address 25 Bank Street, Canary Wharf, London, E14 5JP. They have a customer support team based up in Leeds as well.
You can also get in touch with them via the phone at 0113 389 3938, or via email at [email protected].
Why is Max Recovery Limited contacting me?
Have you received a letter from this debt collector? I'll buy it off you for £5
It can be confusing to get a letter from an unknown company, and it's never nice to have this letter demanding money from you. So why are the debt collectors Max Recovery Limited getting in touch? Well, this could be for several reasons.
Max Recovery Limited are a debt collection agency. This means that they collect debts owed to individuals, businesses and organisations.
If you've ignored calls or letters from companies you might owe money to, they will likely hand over the process of recovering this money to a company like Max Recovery.
Max Recovery Ltd also specialise in bulk-buying debt from larger companies. This means that these companies don't have to waste time and energy pursuing these debts, and often sell them off at a low price to companies like Max Recovery.
This basically means that, instead of owing the original lender, you now owe Max Recovery Limited.
So what does this mean?
Their letters may be confusing as you may not recognise the debt amount. It may also seem strange to have to owe a company you may not have dealt with in the past this amount of money.
However, this doesn't mean that they're not legitimate or out to scam you. They now legally own the debt, so instead of owing the original company, you now officially owe Max Recovery Limited.
Max Recovery has been known to contact via the phone and with letters.
Feeling like Chandler?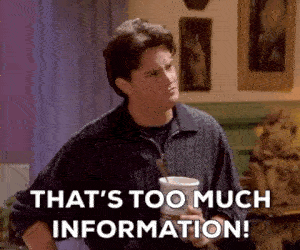 Is all this information starting to feel overwhelming? Don't panic! There's plenty of help available. You can get started below.
Is Max Recovery Ltd a legitimate company?
Receiving correspondence from any company or individual you don't recognise is always a cause for concern – with scams becoming more and more elaborate, you should always approach these sorts of letters or calls with caution.
It can also be a cause of stress and panic when a letter from an unknown company arrives – but Max Recovery Limited is indeed a legitimate company. As mentioned earlier, they're registered with Companies House.
You can find their website here. Also, there's some more information here on their parent company, J. P. Morgan's website.
They're also a member of the CSA (Credit Services Association). This means they have passed the Collector Accreditation Initiative, meaning that they have to follow certain rules and regulations when dealing with you.
Who do they collect for?
As said earlier in the article, Max Recovery Limited buy debt from large banks, brands and other companies, if the original company believes that the debt has gone 'bad' – this means you no longer owe who you think you owe, as Max Recovery Limited now owns the debt.
How should you deal with Max Recovery Limited?
So that's an overview of who Max Recovery Ltd is. But how should you go about dealing with them? Here are some frequently asked questions so you know exactly where you stand and what action you can take, which will hopefully save you loads of stress and help you sort out this outstanding debt.
Should you ignore their phone calls or letters?
Debt collection and persistence, unfortunately, go hand-in-hand. What's more, getting loads of letters and calls each week might discourage you from dealing with them properly, especially if you don't recognise who's asking you for money. Unfortunately, debt collectors like Max Recovery Limited are allowed to be persistent in their dealings with you. However, they legally cannot harass you, and it's often a fine line between persistence and harassment.
At the end of the day, you should never ignore a debt collection agency contacting you – they usually don't contact you by mistake. So, when you get a letter or a call from Max Recovery Ltd, check all the relevant information you might have about the issue, and get in touch with them as soon as you can. Ignoring them won't stop them, and could lead them to escalate the matter.
You can make specific contact requests, which they should abide by. For example, you can ask them to deal with your case primarily in writing.
You've just got a letter from Max Recovery Limited – what should you do?
It can be stressful getting a letter from a debt collection agency, especially from a company you didn't even know you owed money to. However, it's nothing to panic about. Knowing your rights, as well as theirs, can help you reach a quick and painless resolution.
First of all, check through the letter and see if the original debt they are recovering if mentioned. As mentioned earlier, Max Recovery Limited both collects debts on behalf of companies and buys 'bad' debts. As such, you will either owe Max Recovery Ltd or another company they're representing.
It's likely you will have correspondence from the original company chasing up on the money you owe, so it's really important to cross–reference these with the letter from Max Recovery.
You can also get them to prove your debt, with a 'prove the debt' letter. If they can't prove that the debt is yours, they have no choice but to mark it as settled. You can find a good template for a similar styled letter here.
What rights do you have?
Max Recovery Limited are a member of the Credit Services Association (CSA), which means there are some strict rules and regulations about how they go about their dealings day-to-day. Not only do they agree to the terms laid out in the CSA conditions, buy they are also expected to work within these rules. Some of these rules cover the following things:
They're not allowed to call you at unreasonable times of the day
They're not allowed to discuss your finances with a family member or employer
They can't take payments without your permission
They can't pressure you into paying off a debt by borrowing more money
They can't contact you in a way that doesn't meet the preferences you've already agreed with them
Knowing your rights is really important, as there is evidence of debt collection agencies disobeying these rulings without the receiving party realising that the agency was doing wrong. It's good practice to carefully keep track of all correspondence with debt collection agencies such as Max Recovery Ltd.
What rights do they have?
Max Recovery Limited also has rights, and as a debt collection agency, their legal powers are no different from the original creditor who they either represent or have bought the debt from. They have every right to chase you (within reason) for payment of the debt, but they are not allowed to harass you.
Max Recovery Limited could also send debt collection field agents to your home if you fail to pay or ignore their correspondence. It is worth knowing that if this happens, these agents are not bailiffs, and it is against the law for them to claim to be. They are not allowed to enter your home without your specific permission, and they are obliged to leave if you ask them to.
Should you pay the debt?
In short – yes. If they have proof of your debt, laid out in a 'prove the debt' letter or your paperwork and correspondence lines up with your understanding of the debt, and you are financially capable of paying it, then you will need to pay. The quicker you contact them with a payment agreement, the sooner the letters and phone calls will stop.
What if you can't pay the debt?
Admitting that you may not be able to pay off your debt can be really hard to deal with, but there are certain measures in place that could really help you out with paying.
First and foremost, ensure that you have kept in touch with Max Recovery Ltd and you keep records of when and how you have contacted each other. If you're open and honest with them from the off, they will be more understanding of your situation and will hopefully help you to come to some sort of resolution.
Reviews on several forums say that Max Recovery Limited reps are quite compassionate and personable in contrast to other companies, so as long as you're open and forthright with them, they'll try and help you too.
If you are facing problems with repayment, you should contact the debt collection agency as soon as you can to explain your current financial situation. This sort of honesty will work in your favour, and between you and Max Recovery Ltd, you could come up with a suitable payment plan and a timescale. Taking this initiative should also avoid you needing to pay unreasonable charges or interest rates as well.
What are some initiatives you can use to help repay your debt?
Another option in place that would help to pay your debt is either a debt consolidation loan or management plan. These will not only contribute affordable monthly payments, but also they also help to pay off all outstanding debts you have at the same time. To find out more information, it's worth having a look at our debt options page.
There is also the option to write off your debts with Max Recovery Limited using an individual voluntary arrangement (IVA). This consolidates all your debts into one and means you make monthly payments for a set time period, after which, any remaining debt is legally written off. You can find more information about IVA's here.
There are some really good websites that offer free and to-the-minute advice about what you can do if you are having difficulties with your debts. These include:
National Debtline
Step Change
Citizens Advice
Final Thoughts
If Max Recovery Limited have sent you a letter or have called you up, then the advice we've outlined will help you formulate a game plan. Hopefully, you can then take steps to sort it out quickly and easily.
It's never nice to get letters that can come across as vaguely threatening that demand money from you, but if you ensure you've got all the right information and paperwork to hand, you will be able to resolve the matter.
If Max Recovery Limited haven't behaved respectfully or seemed to have followed the code as laid out in their governing body, the Credit Services Association, then you have a right to make a formal complaint about them.
If you feel they have mistreated you or gone against their code of conduct, start off by sending them a letter directly and explain your complaint. Failure to acknowledge this correspondence means that you can step it up a gear, and refer the case to the Financial Ombudsman Service.
Are you struggling with debt?
Affordable repayments
Reduce pressure from people you owe
Stop interest and charges from soaring
Get started