Npower Debt Collectors – Can You Write It Off?
For free and impartial money advice and guidance, visit MoneyHelper, to help you make the most of your money.
Debt collection is a huge industry in this day and age. Some figures value it as being worth several million pounds – not a sum to be sniffed at all. With such a large industry, it's likely that you will know someone who has had dealings with a debt collection agency.
Debt collection agencies don't often get glowing reviews, but with some forward planning and a cool head, you can deal with debt collection agencies like Npower debt collectors quickly and easily.
We tell you what to do if the Npower debt collectors have gotten in touch, and answer some of the more commonly asked questions about debt collection companies in general.
It's not your fault. Complaints to the Financial Ombudsman have risen this year from 830 to 2,006, so it's safe to say that you're not alone.
Deal with your debt today and feel amazing tomorrow.
Beating Debt Collectors
There are several ways to deal with Npower debt collectors and improve your finances.
Choosing the right way to tackle your debt could save you time and money, but the wrong one could cause even more harm.
It's always best to find out about all your options from a professional before you take action.
Fill out the 5 step form to get started.
Npower Debt Collectors
All of us will use a utility supplier – these are the companies that keep our houses warm and the lights on. There are dozens of utility suppliers across the UK, but one of the biggest ones in the country is Npower.
Npower is sometimes described as one of the 'Big Six' energy companies, and serve around 5 million residential and business accounts with electricity and gas.
It can be really easy to accidentally let some of your payments slip between the cracks – especially at the moment when there's so much going on. If this happens, then Npower debt collectors will reach out to you with regards to your overdue bills.
Are you struggling with debt?
Affordable repayments
Reduce pressure from people you owe
Stop interest and charges from soaring
Get started
Who are they?
Reports from others who have had the same issue – in that they may have missed a payment to Npower – have found that for a while Npower debt collectors used an in-house debt collection agency called Collections Direct.
Collections Direct is not a real company, it should be noted. Letters from Collections Direct contain in small print at the bottom of the letter that they are a trading name of Npower.
Npower has admitted that Collections Direct is part of its 'internal collections process' which they say they use once 'it's exhausted all other methods'. These methods would be concerning the amount of times that they have tried to contact you.
They have also been known to use several different debt collection agencies to recoup their costs if their initial letters and correspondence don't come to fruition. These have included companies such as Wescot and Arvato Financial Solutions.
What kind of reviews do Npower debt collectors have?
Debt collection agencies are famous for being persistent. There even came a point in time where it was generally thought that debt collection agencies like Npower debt collectors were overstepping the mark, and new legislation was bought in to try and keep them behaving respectfully.
Looking at the reviews of companies like Npower, and, in particular, the reviews of Npower debt collectors, can tell you a lot about a company.
The reviews that they've received are not glowing. In 2014, Which? found that they were the most complained-about energy company, and their Trustpilot reviews are not great either.
Feeling like Chandler?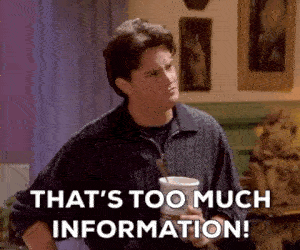 Is all this information starting to feel overwhelming? Don't panic! There's plenty of help available. You can get started below.
Are they trustworthy?
All the information we've discussed so far would make anyone a little sceptical of Npower and Npower debt collectors in general. After all, there are all sorts of people out there looking to scam you and trick you into paying debts you may not owe.
One of the first things you should do when you get a letter claiming you owe money is to check if they are legitimate. The best way of doing this is by checking if they have a Companies House page.
In the case of the in-house Npower debt collectors, Collections Direct, there is no Companies House page. However, Npower does have one, (which you can find here) making them a legitimate company.
The company number for Npower is 03653277, and their official registered office address is Windmill Hill Business Park, Whitehill Way, Swindon, Wiltshire, SN5 6PB. They were incorporated on the 21st October 1998. This means you should take their letters seriously.
Npower Debt Collectors – next steps
So now you have the basics about Npower and Npower debt collectors. If you've received a letter from them, you may well be feeling a bit worried. But with some prior planning, you'll be able to deal with them painlessly. We take you through the next steps you should manoeuvre.
Gather information
As soon as you receive the letter from the Npower debt collectors, you'll want to make sure that you do actually owe the sum they say you owe. Gather as much correspondence you might have received from Npower and cross-reference all the figures and sums you can find. If the amounts are incorrect, you will not have to pay the debt.
You should also start keeping a log of when the letters have been sent, and when they phone you up. It is also worth trying to take down the names of everyone you speak to. If problems arise further down the line, you'll have plenty of information and proof.
Prove the debt
If you don't believe that the debt is actually yours, you can send the Npower debt collectors a 'Prove the Debt' letter. This stipulates to them, in writing, that you wish to have hard proof of the debt. You can find a good template for a 'Prove the Debt' letter following this link.
Follow my 'prove it' guide with letter templates and get them to prove that you owe the money.
Paying them
If you are certain the debt is yours, and you have the necessary funds, you should pay the Npower debt collectors. This will immediately stop any further letters or phone calls they might make.
If you don't have the necessary funds to cover the debt, get in touch with them as soon as you can and let them know. They may be open to arranging a repayment scheme where you pay back the debt in monthly instalments.
Final thoughts
That's a brief guide with what you should do if the Npower debt collectors get in touch with you. With some forward planning, and a calm outlook, you'll be able to deal with them with relative ease.
If you believe they haven't behaved in a respectful or appropriate manner, you have every right to make a complaint about them. You should email them directly about the nature of your complaint. If they don't respond to this, you can escalate the matter to the Financial Ombudsman Service.
Are you struggling with debt?
Affordable repayments
Reduce pressure from people you owe
Stop interest and charges from soaring
Get started