One Source Enforcement Services – Should You Pay? 2022
For free and impartial money advice and guidance, visit MoneyHelper, to help you make the most of your money.
Having to deal with One Source Enforcement Services can be scary. MoneyNerd is here to provide information on where you stand and what you can do in this situation. We'll also answer whether you really have to pay One Source Enforcement Services.
Beating Debt Collectors
There are several ways to deal with debt collectors like One Source Enforcement Services and improve your finances.
Choosing the right way to tackle your debt could save you time and money, but the wrong one could cause even more harm.
It's always best to find out about all your options from a professional before you take action.

Fill out the 5 step form to get started.
What is One Source Enforcement Services?
One Source Enforcement Services, also known as One Source, is a debt enforcement agency. You may commonly know them as bailiffs, although this term has become outdated within the industry.
The company will enforce unpaid debts, which may have previously been ordered to be paid by a judge. They do this by requesting payment or making visits to your home, which may result in payment plans or the seizing of goods to be sold at an auction.
Who do One Source Enforcement Services work for?
One Source Enforcement Services typically work on behalf of local authorities and government departments. They may be chasing you for unpaid council tax, Penalty Charge Notices and business rates. Or they may be chasing you for commercial debts.
Their enforcement agents are not self-employed like some similar companies. Many of their in-house staff have worked in local councils and government positions in the past.
Are you struggling with debt?
Affordable repayments
Reduce pressure from people you owe
Stop interest and charges from soaring
Get started
One Source Enforcement Services reviews
There aren't many online reviews on One Source Enforcement Services online. Those that are present paint the company in a negative light. Here's what a couple of reviewers had to say:
"They don't care! I understand now how people choose to take their own lives due to their bullying tactics. I cannot believe that Waltham Forest Council would enlist the services of such shark-like operations!"
"New world criminals! Power abuse, threatening behaviour!"
M L Cucuteanu (Trustpilot)
One Source Notice of Enforcement
The first time you hear from One Source Enforcement Services will be through a Notice of Enforcement letter. This is a letter that explains the company is chasing the debt on behalf of the court or local authority. It will ask you to pay via their website. They will provide details of how to pay or to get in touch to discuss a payment plan if you're experiencing financial insecurity.
It's called a Notice of Enforcement because it gives you seven days to pay, and if you don't, the company's enforcement agents will come to your property. One Source Enforcement Services add a £75 fee to your total debt when they send this letter.
How to stop a Notice of Enforcement?
The only way to stop bailiffs from getting involved and a subsequent Notice of Enforcement is to pay the debt before it gets to this stage. Make a payment or agree on a payment plan once a judge has asked you to pay. One Source Enforcement Services will only get involved if you're ignoring previous (court) requests to pay.
You can stop One Source agents from coming to your door if you're disabled, elderly, pregnant, a single parent, or have a mental illness. Speak to Citizens Advice to see if you are classed as a vulnerable person, and let One Source Enforcement Services know if you are.
Feeling like Chandler?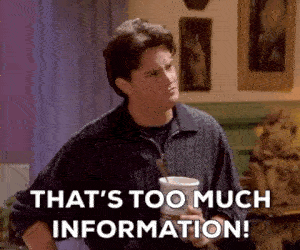 Is all this information starting to feel overwhelming? Don't panic! There's plenty of help available. You can get started below.
What happens if you ignore a Notice of Enforcement?
If you ignore a Notice of Enforcement the enforcement agents can come to your home after seven clear days have passed. They may arrive early to make sure you're home.
Once at your property, they will ask you to make a full payment and may still consider accepting a payment plan with a lump sum upfront. However, they are no longer obligated to accept a payment plan. They may decide that repossessing your valuables has a better outcome for the court or their client.
If they decide to seize goods, these may be eventually sold at an auction to clear the debt – which will be increased by at least £235 upon the first visit.
Do you have to let debt collectors in?
You don't have to let debt collectors or bailiffs into your home. Only enforcement agents have the right to repossess assets and goods once a judge has ordered you to pay (when required). But you still don't have to let them inside.
An enforcement agent is allowed to enter an open or unlocked door, but they cannot force their way inside or climb through an open window. For this reason, you might want to only communicate with One Source Enforcement Services agents via the letterbox or an upstairs window.
Should you pay One Source Enforcement?
You should pay One Source Enforcement Services as soon as you receive a Notice of Enforcement letter – unless told otherwise by debt charities. This will stop them from coming to your home and prevent any more enforcement agent fees from being charged.
Always speak with One Source Enforcement Services if you are experiencing financial difficulty. They are more likely to accept a payment plan at an earlier stage.
Do bailiffs ever give up?
Bailiffs rarely give up and only tend to do so when the person they're trying to collect from is classed as vulnerable, as it stops them from attending the debtor's property. They may also give up if the debtor has no means to pay and no assets they can seize.
But they may come back later when your circumstances have changed. If they have to keep coming back, the expensive bailiff fees will keep adding up.
One Source Enforcement contact number
The One Source Enforcement Services contact number is 0203 373 3588. There isn't a One Source Enforcement Services email address, but you can use the contact form on their website here.
Access free debt help
Stop any other credit and debts escalating to this stage by speaking with a debt charity for debt and budgeting advice. We've also rounded up some guidance and top tips on our debt help guide. Read it for free today!
Are you struggling with debt?
Affordable repayments
Reduce pressure from people you owe
Stop interest and charges from soaring
Get started