Payment Break Plan – In-depth Guide, Tips & More
For free and impartial money advice and guidance, visit MoneyHelper, to help you make the most of your money.
What is a payment break plan? If a stitch in time saves nine, then one of these repayment breaks could save you from significant debts and even being chased to the courts.
We discuss everything about getting breathing space from your creditors. Read our in-depth guide below to uncover what you need to know regarding payment holidays.
What is a payment break plan?
A payment break plan is an agreement with your creditor to freeze repayments for a set period of time. It is a short-term solution to give you temporary breathing space and avoid you from getting into bigger debt that can have more serious consequences.
You may decide to do this because of unforeseen financial hardship. The most common reason to ask for a break plan is due to unexpected unemployment. Other reasons may be due to an unforeseen large expense or the death of a partner causing your household income to reduce. During the repayment break, you may or may not have to keep paying interest on your outstanding balance. Always consult the exact terms and details of your repayment break directly with your lender. Your terms can be different to another person's with the same lender.
There was also a scheme offered many years ago by Monument and SkyCard credit card users with the same name but often shortened to PBP. This scheme allowed consumers to freeze their credit card for two to two-and-a-half years for serious hardship, such as a partner passing away or long-term unemployment. However, customers still had to pay monthly fees included and it wasn't well-received in the news or by industry experts.
Beating Debt Collectors
There are several ways to deal with debt collectors and improve your finances.
Choosing the right way to tackle your debt could save you time and money, but the wrong one could cause even more harm.
It's always best to find out about all your options from a professional before you take action.
Fill out the 5 step form to get started.
Am I entitled to a payment break plan?
Your lender is not forced to give you a break from making repayments, but often they will because sending you into debt is not beneficial to either party. Sometimes these relief periods are included in contracts and you are entitled to use them if you need to.
During the height of the COVID-19 pandemic, all registered and legal lenders – i.e, those regulated by the Financial Conduct Authority – were asked to grant payment deferrals for up to six months. However, consumers were only entitled to this during these trying times and the date to take advantage of it has now passed.
Can I take a break from credit card payments?
It is possible to get a payment break from your credit card company. If you are struggling to repay your credit cards and are accumulating too much credit card debt, you should consider speaking with your lender. A break on repayments is one possible option, or they could offer to reduce your repayments so you only repay what you can currently afford.
Another option is a credit card balance transfer, which we discuss in our free Clear Credit Card Debt Loophole guide.
When else can a payment break plan be used?
Customers might be able to get a repayment break plan from financial lenders offering other types of credit. Payday loan providers and even mortgage lenders are known to offer repayment breaks for customers who are struggling in the short term. You may even be able to get a break from your bank if you are paying ongoing bank account overdraft fees. But remember, there is nothing forcing them to agree.
To ask them for a repayment break, you should contact the lender over the phone or write them a letter with details of how your current budget cannot meet the current repayments without causing financial difficulty.
Feeling like Chandler?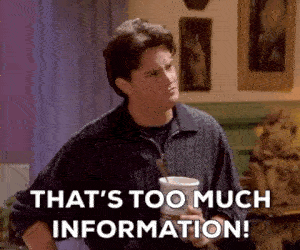 Is all this information starting to feel overwhelming? Don't panic! There's plenty of help available. You can get started below.
How long does a payment break plan last?
Because a break in payments is at your creditor's discretion, there is no fixed amount of time you can be granted the break. However, most breaks given by credit card and loan providers last between a couple of weeks and six months.
It is unusual to be offered a break beyond this timeframe, such as the 2+ years in the PBP scheme mentioned at the start of this article. It's also harder to be given a second break with the same lender if the consumer has used this service before.
Is a payment break the same as a payment holiday?
Some people like to use the term payment holiday or repayment holidays instead of payment break. In most instances, these mean exactly the same thing – a period of time where you don't have to repay your creditors. In all instances, the interest still needs to be repaid. You should clarify this before agreeing to the payment holiday.
How many times can you have a payment holiday?
Most creditors will only grant one payment holiday, but it is not impossible to be given more, especially if a significant period of time has passed between these repayment holidays or the last one was proven to be effective for everyone.
In a nutshell, just like how there is no fixed period you can be given the holiday for, there is no fixed number of times you can get one. Responsible lending requires lenders to recognise when the consumer is better off using another debt solution, so you may be rejected a second repayment holiday and asked to consider your other options. You might be disgruntled by the decision, but it could benefit you over the long term.
What happens to your credit record?
A credit report is a history of the way you handle your finances. Many people wonder if a payment holiday will affect their credit file – and it's good news.
One of the biggest credit reference agencies, Experian, explained that a payment holiday does not harm your credit file. Your lender will only report missed repayments to be marked on your file when they are genuinely missed. However, if the lender has agreed you do not need to make repayments, then there will be no missed payments and nothing will be reported.
However, Experian also states that it is best to check your credit file once the agreed holiday has begun to make sure that your score isn't being incorrectly decreased. You can do this online and there are usually free trial periods so you don't have to repay. Just remember to cancel if applicable!
My request was rejected, what now?
If your request for a repayment break plan has been rejected, you can try again stressing why it would help you. If you didn't provide evidence of your budget, it might be worth doing so with a budget and statements on your next attempt.
Another option is to ask for all interest payments to be taken off your account for an extended duration. The Credit Association encourages lenders to agree to this, even though they do not have to abide. Again, you can make this request in a letter, and we've made it easy with our free freeze interest letter template.
Click the link here to access this letter now! Every credit customer can ask for interest to be frozen with these letters!
Access further support!
There are further options to explore, all explained on the MoneyNerd website.
Our posts cover the legal ways you can get out of debt effectively. We can explain how you may be entitled to a refund and money back when creditors have broken the rules. Moreover, excellent support is available through the many UK debt charities offering clarity to confused and anxious debtors.
Drop back soon!