Robinson Way Complaints – Guide and Tips 2022
For free and impartial money advice and guidance, visit MoneyHelper, to help you make the most of your money.
Robinson Way is persistent in trying to get people to pay a supposed debt. But they must follow the law when recovering debts, and if they don't, you can complain. We take a look at the Robinson Way complaints process and how you can escalate a Robinson Way complaint when they're harassing you.
Beating Debt Collectors
There are several ways to deal with Robinson Way and improve your finances.
Choosing the right way to tackle your debt could save you time and money, but the wrong one could cause even more harm.
It's always best to find out about all your options from a professional before you take action.
Fill out the 5 step form to get started.
What is Robinson Way?
Robinson Way is a debt collection agency in the UK. They track down and contact people for payments on their arrears and debts owed to other companies. These other companies outsource the task of recovering debts to Robinson Way in return for a fee. Or for a commission on payments made by the debtors.
Is Robinson Way legitimate?
Robinson Way is a legitimate debt collection company that is authorised and regulated by the Financial Conduct Authority. This means they must abide by strict codes of practice to operate. And it allows members of the public to easily complain about Robinson Way when they don't uphold industry standards.
Are you struggling with debt?
Affordable repayments
Reduce pressure from people you owe
Stop interest and charges from soaring
Get started
Are Hoist and Robinson Way the same company?
Robinson Way is owned by Hoist Finance UK Limited, which is another debt collection business. Robinson Way is therefore a trading style or a subsidiary of Hoist Finance UK.
Who does Robinson Way collect for?
Robinson Way collects debts for a wide range of companies, spanning a range of industries. They might collect for credit card businesses, payday loan companies, energy suppliers and many more.
Robinson Way harassment
Robinson Way has been accused of unethical behaviours and harassment to try and get payments from debtors. Here are some online reviews and comments that give a glimpse of the tactics Robinson Way are using:
"Contacted me repeatedly (and I mean repeatedly!) for a debt I don't owe, even after a complaint to the Financial Ombudsman. They admit it's a case of mistaken identity but they will not stop."
"This company prey on elderly people, despite being emailed requested information of proof of address they continue to harass my 80 year old mum for a debt by a previous tenant who has not lived there for nearly 2 years."
Many of the comments online suggest that Robinson Way keep sending payment requests to the wrong people. This suggests that they use a scatter-gun approach to finding the correct debtor by sending multiple letters and hoping the correct debtor will come forward and pay. But this can be worrying for the people who wrongfully receive these letters.
Robinson Way complaints process
Most people who want to complain about Robinson Way want to do so because they think the company has the wrong person, or that the company won't stop calling them – or both.
You should gather as much evidence as possible when complaining about harassment, such as call logs or call recordings. You should first submit a complaint directly to Robinson Way, which you may be able to do with an email or letter. Make sure you make your complaint in writing and keep a copy. Never sign the letter.
If Robinson Way doesn't respond to your complaint in good time or doesn't change their behaviour, you can escalate the complaint.
Feeling like Chandler?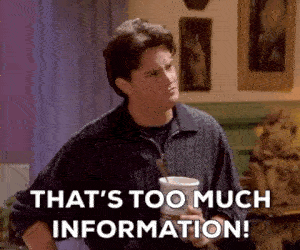 Is all this information starting to feel overwhelming? Don't panic! There's plenty of help available. You can get started below.
Escalating Robinson Way complaints
You can escalate Robinson Way complaints to the Financial Ombudsman Service (FOS). You'll need to submit the complaint and all evidence to the FOS. The Ombudsman is an independent body that will look over your complaint. They'll then decide if Robinson Way has broken rules and could punish them, including issuing them a fine.
Dealing with Robinson Way debt letters
Another way to deal with Robinson Way and their debt letters threatening court action is to request proof you owe the debt. This is a good idea if you think they have the wrong person. It'll likely lead them to realise they have the wrong person and not bother you again, just like Nick's experience here:
"Received out of the blue emails telling me I had a debt of nearly £5000 with HSBC. I did not have a debt with HSBC. Contacted this company asking that they send details of this debt and proof I owed it. Never heard another thing from them."
Even if you know about the debt they're referring to, it can still be fruitful to request proof. You're not obligated to pay until they send a copy of the agreement on which you have defaulted. Sometimes they might not reply with the proof for different reasons, including not having access to the proof anymore.
The statute barred loophole!
There is a time when you shouldn't ask for proof you owe the debt. When you know about the debt they're chasing, you should first look to see if the debt can be enforced. Many older debts of at least six years cannot be enforced, which means they cannot go to court and you can never be forced to pay.
If your debt is too old to be collected, you simply have to let Robinson Way know and tell them you won't be paying. Note, that your credit score will still be affected by unpaid statute-barred debts.
Robinson Way complaint support – FREE!
Find more tips about dealing with debt collectors on MoneyNerd's debt help hub. And get personalised advice and support from a UK debt charity like StepChange. There are lots of resources to help you fight back.
Are you struggling with debt?
Affordable repayments
Reduce pressure from people you owe
Stop interest and charges from soaring
Get started