Rossendales Debt Collectors – Must You Pay? 2022
For free and impartial money advice and guidance, visit MoneyHelper, to help you make the most of your money.
What do you do if Rossendales Debt Collectors are on your case? Do you just pay up,or should you look into it a bit further? This article will explain more about this debt collection agency, and how to deal with them in relation to your debt.
It's not your fault. Complaints to the Financial Ombudsman have risen this year from 830 to 2,006, so it's safe to say that you're not alone.
Deal with your debt today and feel amazing tomorrow.
Beating Debt Collectors
There are several ways to deal with Rossendales debt collectors and improve your finances.
Choosing the right way to tackle your debt could save you time and money, but the wrong one could cause even more harm.
It's always best to find out about all your options from a professional before you take action.
Fill out the 5 step form to get started.
Who are Rossendales Debt Collectors?
Rossendales specialises in debt enforcement and collection and work with more than 250 clients across the UK. The company was founded in 1972 and currently recovers in excess of 90 million pounds every year for their clients.
Are you struggling with debt?
Affordable repayments
Reduce pressure from people you owe
Stop interest and charges from soaring
Get started
What do Rossendales Debt Collectors want?
If Rossendales Debt Collectors are contacting you about an outstanding debt, you may be wondering who they are, and why they are contacting you – and quite rightly so!
The chances are that you have never even heard of this debt collection company before, as they will be contacting you and chasing debt on behalf of another organisation. These debt collection companies often fail to act according to the legislation and even The Office for Fair Trading (OFT, 2010) say that poor practices "appear to be widespread".
How do I know if it is my debt?
The first thing you want to find out is whether this is your debt, especially if you have never seen the debt before. It is worth bearing in mind that the value of the debt may be more than what you initially had, as there could be interest and other fees added.
If in doubt, write to Rossendales Debt Collectors and ask for a copy of the original agreement. Do not pay until you have this, if you don't recognise the debt.
Feeling like Chandler?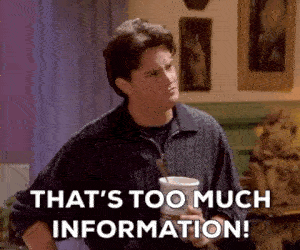 Is all this information starting to feel overwhelming? Don't panic! There's plenty of help available. You can get started below.
Can you pay the debt?
If you can pay the debt, then the best action is to pay it, or at least arrange to pay it back through a repayment plan with Rossendales Debt Collectors. A partial repayment is another option.
Why do debt collectors make your life miserable?
It's not that debt collectors want to make your life miserable, they just need to collect the money, otherwise they are not making a profit and in fact, they may even be losing money from the debt they purchased.
There is no doubt, though, that if you are constantly being contacted by debt collectors like Rossendales Debt Collectors, it can affect your mental health and well-being. You may feel stressed, and anxious to even answer the phone or a letter. This is not a good way to feel, and it can affect your quality of life. Debt collectors should never make you feel this way.
What is Council Tax?
Council tax is a tax payment which covers domestic property in England, Scotland and Wales. It covers the cost of local utilities and services such as police, refuse collections, social care and maintenance of the public environment. Rossendales bailiffs and debt collectors work on behalf of a number of local councils in order to collect unpaid Council Tax.
What are Non-Domestic or Business Rates?
Business rates or non-domestic rates are a form of tax that are applied to most types of non-domestic entities. These include offices, hopes, factories, hotels, pubs, etc. The income generated from business rates tax is divided among local authorities and the central government.
Rossendales work on behalf of local authorities to collect unpaid business rate tax across England and Wales.
What does the law say?
There is legislation available, which was published by The Office for Fair Trading (OFT, 2012) regarding debt collectors and their practices. This legislation states that:
Debtors should be treated fairly at all times.
Information given should be clear and concise.
Debt collectors should be considerate towards debtors and the situation they are in.
Debtors circumstances should be taken into account when action is taken.
Are Rossendales Debt Collectors not adhering to the guidelines and making you feel intimidated? You can make a complaint about their behaviour.
Do you want to make a complaint about Rossendales Debt Collectors and their behaviour towards you? You can use this online complaint form.
Make sure the debt collection agency is acting appropriately, and not trying to railroad you into making payments that you simply can't afford.
Additional Fees and Charges
It's important to note that when you refuse to pay Rossendales and they end up taking legal action against you, then fees will be added to your debt for the legal proceedings as well.
This is why it's important to identify your debt and determine whether it's real or not. If it's real, you're better off paying it back before things escalate.
If they do end up taking legal action against you, then you'll have legal fees to deal with as well.
These include:
Liability order which costs £300
Lump sum deduction order which costs £200
Regular deduction order which costs £50
Deduction from earnings order which costs £50
How to deal with Rossendales Debt Collectors
If you are in debt with Rossendales Debt Collectors, and they are chasing you for payment, these are some ways to deal with the situation.
Speak to them
It may seem like an obvious one, but if Rossendales Debt Collectors are contacting you about the debt, the best thing you can do (for your own sanity) is to answer their calls. No doubt if you don't, they will just continue to phone anyway, which will just cause you more stress in the long run.
Try to deal with Rossendales Debt Collectors in a patient, calm manner, even if you don't particularly feel that way! It is not worth your own mental health to get worked up and stressed about the situation.
Devise a payment plan
The best way to deal with the debt from Rossendales Debt Collectors is to pay it all off, but, of course, this is not always an option. If you can't pay it, then you should try to devise a payment plan. Most debt collectors will accept any payments, although they may not be entirely happy about it. They may ask for proof of your income and expenditure though.
If the frequency of contact from the debt collectors is becoming unbearable, you can get some help and support. You have the right to report such behaviour to the Financial Ombudsman.
The best way to contact the Financial Ombudsman is by phone on 0800 023 4567 or 0300 123 9123
Fed up with the calls
If you are receiving lots of calls, texts, emails or any other kind of contact from debt collectors, and it is becoming unbearable, you have the right to file a complaint about the behaviour – you don't need to just accept it.
It can be difficult to take a stand on behaviour like this, but you have the right to report it to the OFT using this online complaint form.
They spoke to my colleague about the debt
If the debt collection agent hasn't been able to contact you, so has decided just to speak to your family member/colleague about your debt, they are breaking the law, unless you have given them consent to do so. It breaches both OFT guidelines, and other privacy laws.
Report them to the Financial Ombudsman on 0800 023 4567 or 0300 123 9123
They want to come to my home!
Although it is totally wrong, it is not particularly unusual for debt collectors to suggest that they pay a visit to your home to get the payments. This is a desperate attempt to get the debt, but it is also illegal, and you should never permit them to do so. If they are threatening you like this, you can contact the police.
Worn down by debt collectors
Of course, being contacted by Rossendales Debt Collectors or any others for that matter, is not a pleasant experience. They should not make you feel stressed and upset, and if they do, you can report them.
Can I get some debt help?
If your debt is becoming unmanageable, there is help available. There are commercial debt management companies who will charge you for the pleasure, but also free, not-for-profit companies, who should be your first port of call. These include:
Citizens Advice Bureau (CAB) help, advice and support on debt management.
Christians Against Poverty (CAP) debt advice and support.
StepChange provides free online debt advice
Getting rid of debt
You can write much of your debt off by entering into an Individual Voluntary Arrangement (IVA). You will may some of your debt back, but a chunk of it will be written off.
Find a local licenced IVA insolvency practitioner here.
Another option is a Debt Relief Order (DRO). You must meet certain requirements to be eligible for this.
You can apply for a DRO through an authorised debt advisor. This is a list of authorised debt advisors here.
In conclusion
Dept collection agencies have the right to contact you about debt, as they have bought the debt from another company. However, they cannot harass you. If this is the case, you should contact Financial Ombudsman and inform them straight away. They may even lose their licence for such behaviour.
Rossendales Bailiffs Contact Details:
Company Name: Rossendales Ltd
Other Names: Rossendales, Rossendales Bailiffs
Address:
Wavell House,
Holecombe Road,
Helmshore,
Rossendale,
Lancs,
BB4 4NB
Contanct Number: 0845 644 4100
Alternative Phone number: 0844 701 3980
Fax: 0844 701 3982
Website: www.rossendales.com
Email: [email protected]
Monday – Friday: 8:00 am – 8:00 pm
Saturday – Sunday: 8:00 am – 1:00 pm
References
CONC 7.3 Treatment of customers in default or arrears (including repossessions): lenders, owners and debt collectors
CONC 7.9 Contact with customers
Are you struggling with debt?
Affordable repayments
Reduce pressure from people you owe
Stop interest and charges from soaring
Get started