Sigma Red Debt Collection – Should You Pay? 2022
For free and impartial money advice and guidance, visit MoneyHelper, to help you make the most of your money.
Scores of UK residents are receiving debt letters from Sigma Red Debt Collection. They are chasing you for money because they are working on behalf of your creditors or have bought the debt themselves.
Learn how to deal with Sigma Red Debt Collection in this complete guide.
We will even tell you about a legal loophole that could mean you never have to pay Sigma Red Debt Collection!
It's not your fault. Complaints to the Financial Ombudsman have risen this year from 830 to 2,006, so it's safe to say that you're not alone.
Deal with your debt today and feel amazing tomorrow.
Don't worry, here's what to do!
You could get rid of Sigma Debt Collectors by writing off some of your debt.
There's several debt solutions in the UK, choosing the right one can take years off your debt, but the wrong one can be expensive and drawn-out.
Fill out the 5 step form to get started.
Who Are Sigma Red Debt Collection?
Sigma Red Debt Collection is one of the many debt collector groups in the UK. They collect debts on behalf of other companies, or they purchase the debts from other companies for way under their value to hopefully collect the debt and make a tidy profit.
If you have received a Sigma Red Debt Collection letter asking for money, this guide will help you fight back!
Are you struggling with debt?
Affordable repayments
Reduce pressure from people you owe
Stop interest and charges from soaring
Get started
Who Do Sigma Red Collect Debt for?
Sigma Red collect debt for a number of different companies, but they have a big client base in utilities, retail and telecommunication providers. Some of their household client names include Vodafone, Scottish Power, Avon and Barclays Bank.
Many of their debtors claim to be being chased by Sigma Red Debt Collection for debts with banks and other financial institutions. Just like this debtor illustrated on a public forum:
"I really need help/advice about a latest debt-pass-along to a firm called Sigma Red. I ran up the debt a couple of years ago or so with a bank. I had become unemployed after pregnancy (long story, bad/corrupt workplace, terrible life situation)."
[Consumer Action Group Website]
Can Sigma Red Debt Collection Take My Possessions?
Not directly! Sigma Red Debt Collection cannot come and take your possessions away if you fail to pay the debt. They can ask for a court to issue a CCJ to make you pay and if you do not pay, they could use a bailiff to repossess items. But this will only happen if you ignore the Sigma Red Debt Collection debt or try to avoid paying. Even people on low incomes can avoid this with our special guidance.
Feeling like Chandler?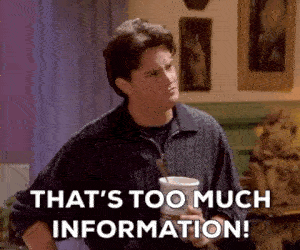 Is all this information starting to feel overwhelming? Don't panic! There's plenty of help available. You can get started below.
Did You Receive a Sigma Red Debt Letter?
Have you received a letter from this debt collector? I'll buy it off you for £5
Sigma Red Debt Collection are known to send out scary debt letters to request money. If you received one, then it is likely that you now owe them money because they purchased your debt from one of your creditors.
Sometimes Sigma Red Debt Collection can make a mistake, but we have a secret way to help you make them realise their own mistake – if that is the case.
Ignoring Sigma Red Debt Letters
After receiving a debt notification from Sigma Red Debt Collection, you may feel like hiding from them and not paying. This is not recommended because the debt could get bigger.
There are usually many ways to get out of debt by confronting the issue and speaking with debt charities or Sigma Red Debt Collection themselves.
There may even be a way that you don't have to pay a penny – stick around until the end to learn more about this!
Stop Sigma Red Debt Calls
One of the biggest complaints we hear from people dealing with Sigma Red Debt Collection is that they don't stop calling. Nuisance phone calls or text messages can be classed as harassment, which is a criminal offence.
The first option to stop Sigma Red Debt Collection calls is to provide them with your contact preferences, which they must abide by. If they continue to harass you, you can make a complaint to the debt collection ombudsman.
Make Sure Sigma Red Prove the Debt
If you did receive a Sigma Red Debt Collection debt letter, there is something you can do straight away that may stop them ever contacting you again. You can ask for them to prove the debt and to do this there are readymade prove the debt letter templates online.
We even have a prove the debt letter template on MoneyNerd!
If they cannot prove that you owe the debt with a signed agreement, then you don't have to pay, and it is unlikely that a court will make you pay.
You Have Sigma Red Debt Solutions!
And even if they do prove the debt, the amount they ask for in those scary debt letters is not what they usually want. Sigma Red Debt Collection, just like other debt collection agencies in the UK, are willing to offer repayment plans that help you spread out the cost of the debt.
But that's not all. There are even other debt solutions available, such as:
IVAs
Debt Management Plans
Debt Relief Orders
Bankruptcy
And much more!
Just because you can't pay Sigma Red Debt Collection the full amount does not mean there isn't a way for you to get out of debt over time!
Don't Pay Sigma Red If This Applies!
There is even one loophole that can prevent you from having to pay any of your Sigma Red Debt Collection debts. If your debt is at least six years old and you have not acknowledged or paid any of this debt in six years, your debt could be what is known as statute barred.
A statute barred debt means the courts will not allow the debt to be discussed because they don't want to deal with old debts that take up too much time. Instead, the debt can never be made to be repaid. This doesn't mean the debt is wiped – but you still don't have to pay Sigma Red Debt Collection.
If your debt is statute barred, you can send a statute barred debt letter using templates online.
Make a Sigma Red Debt Collection Complaint
If you want to complain about Sigma Red Debt Collection harassment, pressuring tactics or something else, you should do so directly.
If the situation doesn't improve, you should take your complaint to the Financial Ombudsman.
You might even get financial compensation!
Are you struggling with debt?
Affordable repayments
Reduce pressure from people you owe
Stop interest and charges from soaring
Get started