Can a Tax Debt be Written Off? 2022 Guide
For free and impartial money advice and guidance, visit MoneyHelper, to help you make the most of your money.
Can a tax debt be written off? The answer to this question depends on what type of tax debt you have. We take a look at the most common types of tax debts before looking at the repercussions of these debts. And then we ask the big question – can you get tax debt written off?
Common types of tax debt
#1: Income tax debt
Income tax debt is when an individual has not paid enough income tax throughout the year based on their employment income. PAYE workers avoid these debts because tax is taken directly from their pay; they are more likely to be owed money back. But those who complete self-assessments, such as sole traders, may not budget for tax time and struggle to keep up with their tax payments.
#2: Council tax debt
Council tax is the payment to your local authority for the upkeep of the local area and for a range of essential services, such as the fire brigade. You can get into council tax arrears if you fail to keep up with payments or wrongfully claim a council tax reduction. It's possible to adjust your payment frequency to help you budget if needed.
#3: Tax credits debt
Tax credits can refer to either Child Tax Credits or Working Tax Credits, a type of benefit payment to people with children or for lower-income households, respectively. If you do not keep your details up to date, you can be hit with a repayment letter from the UK Government. Many people get told they have been overpaid and need to repay a large amount quickly.
#4: Business tax debts
Business tax debts relate to any debt that the business owes to HMRC, which may be due to not paying enough VAT, commercial tax, NI contributions and fines. When there is a business tax debt, it is the company that is liable for the debt, rather than individuals, hence the term 'limited liability company'.
Don't worry, here's what to do!
There are several debt solutions in the UK that can be used to improve your finances. Choosing the right way to tackle your debt could save you time and money, but the wrong one could cause even more harm.
It's always best to find out about all your options from a professional before you take action.

Fill out the 5 step form to get started.
What happens if you owe HMRC money?
HMRC will usually write to you asking for payment if you have tax debts or received tax credit overpayments. If you do not make a full payment in the timeframe given, HMRC can apply charges and interest to the debt. The charges and penalties you could face will depend on the type of tax debt you have.
If you still do not pay your tax debt, HMRC will pass your details to a debt collection company, which will chase you for payment or threaten legal action that can lead to bailiffs. If your tax debt is due to tax evasion, you could face an unlimited fine or up to seven years in prison.
You can read about the full HMRC debt collection process in this guide.
The process of recovering business debts is different. HMRC can use enforcement action (bailiffs) without going to the courts first and even close your business. Enforcement agents working on behalf of HMRC will seize business goods to sell and clear the debt.
How do I clear my tax debt?
You can clear your HMRC debt by making a full payment when requested. If you cannot make a full payment, you may be able to arrange a payment plan with HMRC. This will allow you to gradually pay off the tax debt in monthly instalments until it has been cleared.
Does HMRC debt affect credit rating?
HMRC debts do not appear on or affect your credit report. HMRC debts are due to tax or overpayments and are therefore not a source of credit. As such, these types of debts are not visible on your credit file.
Feeling like Chandler?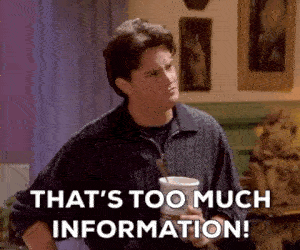 Is all this information starting to feel overwhelming? Don't panic! There's plenty of help available. You can get started below.
Can a tax bill be written off?
HMRC tax debts are not subject to The Limitations Act and are therefore never too old to be collected. As such, personal HMRC debts cannot be written off. Some company HMRC debts can get written off if the company has no conceivable way to pay, but this will prevent the business owner from starting another company.
Can you get council tax debt written off?
Council tax debts do have a limitation period and can be written off after six years. If you have not made a payment towards council tax arrears or acknowledged the debt for six years, the council can no longer ask for you to pay. In Scotland, the limitation period for council tax debt is 20 years.
How do I write off my HMRC debt?
Unfortunately, it is not possible to write off personal HMRC debt because the limitations period does not apply to these debts.
Lots of people search "how to get a tax debt written off" online and are disappointed by the answer.
Want to know more about tax debts?
We get it – you have more questions about council tax and HMRC debts in the UK. That's why we have written other articles discussing tax debts in the UK and how to handle them. We hope you found the information you needed in this 'can you get tax debt written off' post. Scroll our blog now for further tax help guides.
Are you struggling with debt?
Affordable repayments
Reduce pressure from people you owe
Stop interest and charges from soaring
Get started