Can I Borrow Money Against My House to Buy Another Property?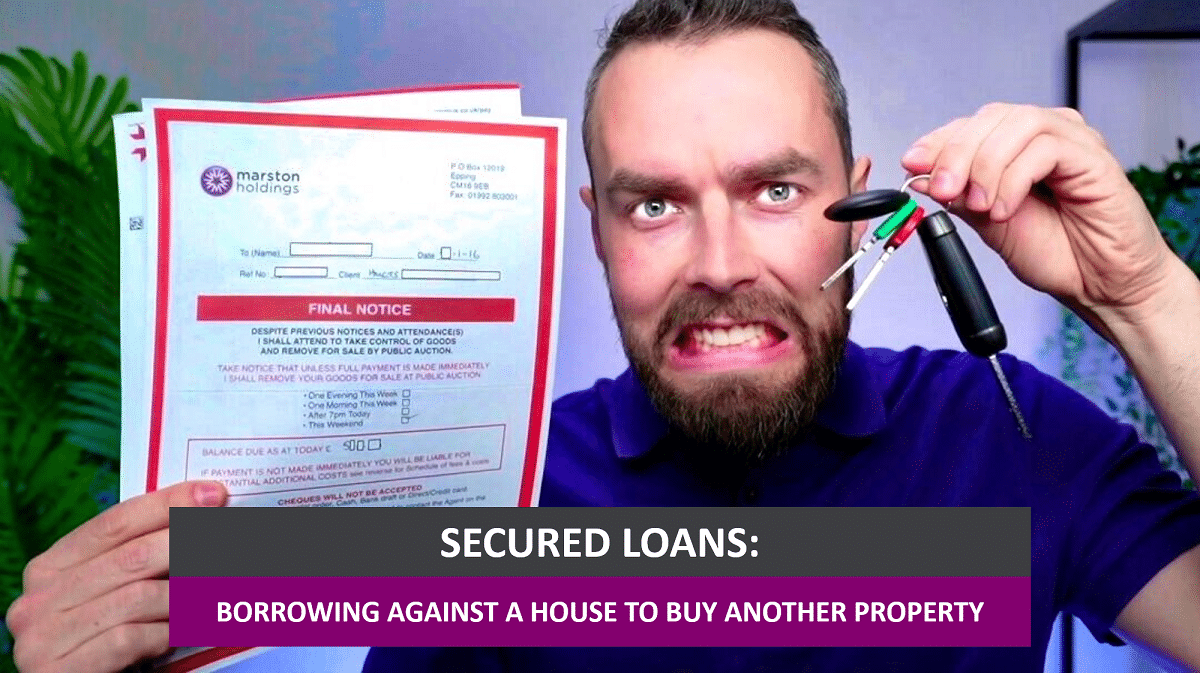 For free and impartial money advice and guidance, visit MoneyHelper, to help you make the most of your money.
Borrowing money against your current home to buy another property is actually quite common.

In fact, there are some people who even remortgage their property in order to buy another property.

There are several reasons for doing this and today, I'll be discussing what they are as well as some tips on how you can approach it if you're considering it.
What are Some Reasons for Borrowing Money Against Your House to Buy Another Property?
There can be several reasons and circumstances due to which you could be looking to borrow money against your current property to buy another one.

Some reasons are:
You want your current home to be an investment property on a buy-to-let basis.
You may be wanting to raise money in order to purchase a holiday-let property. This would be different from a buy-to-let property but would still be an investment as you would gain revenue from people using it as a holiday rental property.
You may be wanting a 2nd home in a fancy location such as by the sea. In order to fund this home, you may be opting for a remortgage or a mortgage on your current property.
You could remortgage your existing property for a Let-to-Buy purpose. For this, you would rent out your current home to purchase another property for yourself where you would live.
You may want to remortgage your current residential property so you can purchase a friend or a family member a home for them to live in.
What are My Options when Borrowing Money Against My House to Buy Another Property?
If you simply want a second home to live in rather than using it as an investment property, then you have two options: You can remortgage your existing property, or you can opt for equity release on your existing property.
Getting a Remortgage to Buy a Second Home
You may be thinking of taking out a second mortgage but rather than doing this, you could remortgage to buy a second home.
You can opt for a remortgage if you own your current home outright or have built up some equity.
Don't be worried about calculating the equity of your property as it's quite simple:
If you own your current property outright, then the equity of it is the full value of your property.
If you have a mortgage on it, then you can get the equity for it by subtracting your remaining mortgage debt from the property's full value.
Looking for a lender to provide you with a remortgage shouldn't be too difficult as these specialised lenders are quite common.
When opting for a remortgage to buy another home, it's highly important that you look at the secured loan offer thoroughly and go through all the information the lender has offered to you.

Merely looking at the headline rate is not enough and you should definitely take other costs and fees into account such as arrangement fees, valuation costs, legal fees as well as any other costs which may be incurred throughout the process.
If there is still a mortgage in place on your current property and you're taking out a remortgage to buy another one, then there may be early repayment/redemption fees which you need to keep in mind.
In many cases, these fees could increase your remortgage costs to become pricey and it might be suitable for you to get to the end of your first mortgage before you can get a loan for additional money.
If you are an older individual/senior citizen, you can opt for a Retirement Interest-Only mortgage (RIO). These are mortgages in which you only pay the interest until you pass away or go into old-age long-term care. When this happens, your property is sold off and your debt is considered paid.
It's important to get mortgage advice before you take out a remortgage to buy another property. It's a very big decision and could go horribly for your finances if you don't do your research properly.
Seeking mortgage advice from a professional when considering a remortgage to buy another property can come in handy because they could turn you onto lenders with lower rates.
They could also inform you about techniques and practices to manage your debt more efficiently and reliably.
Buying a Second Property Through Equity Release
If you are over the age of 55, you have another option known as equity release.
This is a lifetime mortgage which allows you to either access the equity in your current home as a lump sum or as a regular income without you needing to sell it.
If you opt for this option, you won't be needing to have to pay any monthly payments which means that your pension or retirement income is not affected.
Instead of monthly repayments, the interest rate on the money that you borrow increases over time.
When you pass away or go into old-age long-term care, your home is sold off and your debt is considered to be repaid.
Increased Flexibility
The great thing about modern mortgages that are offered to older citizens which last a lifetime is that they are far more flexible when it comes to equity release when compared with mortgages offered in the past.
You can opt to keep making regular interest payments towards the mortgage if you want to keep your interest bill down.
You can also choose whether you'd like to have access to the funds in stages or if you would like a large lump sum all at once.
There also exist modern mortgage products which enable you to protect an inheritance for your children or other beneficiaries.
A Guarantee for No Negative Equity
When you're looking for equity-release providers for your current home, it's a good idea to look for ones that are authorized and regulated by the Financial Conduct Authority and also belong to the Equity Release Council (ERC).
Lenders that are regulated by the FCA have to follow guidelines that ensure that you, the debtor, is protected throughout the process and are treated fairly.
Lenders that belong to the ERC offer you mortgages under which you are protected by the No-Negative-Equity Guarantee.
This means that under no circumstances will you ever owe a higher amount than what your property is worth.
I highly recommend that if you're considering equity release at an old age that you should seek professional advice regarding it first.
This is because equity release can sometimes lead to reduced inheritance for your beneficiaries.
You can seek debt advice and information from different independent charities such as StepChange.
Buy-To-Let Mortgages
If you're considering buying another property as an investment so that you can rent it out, you're going to need a buy-to-let mortgage.
In order to be approved for a buy-to-let mortgage, you're going to have to show the likely rental income of the investment property you intend to buy.
You must also be prepared to prove that you will be able to afford the mortgage repayments both currently as well as in the future in case interest rates increase.
You have an option of choosing between capital repayment or an interest-only mortgage when you're considering a buy-to-let mortgage.

Interest-only mortgages are typically more common when it comes to buy-to-let mortgages.
You must also be aware of the fact that buy-to-let lenders typically require you to submit at least 25% of the total amount as the down payment/initial deposit.
Another thing to keep in mind is that the mortgage rates and miscellaneous fees for buy-to-let mortgages are typically higher.
Can I Get a Second Property in Another Country?
It's definitely possible to either get a remortgage or to release equity from your current home in order to get a property overseas. You could use this property as a holiday home or something similar.
However, if you're considering this, it's very important that you do your research regarding taxes as well as regulations in whatever country you're choosing to purchase a second property in.
This will help you be prepared for any additional or hidden charges and fees that may come your way.
Conclusion
It may seem unwise to get a remortgage or to release equity from your current property to purchase a second one.
However, it's a common technique that landlords use all the time.
The important thing is that you must do your research thoroughly and seek expert advice before opting for any one lender.
Be sure to scour the market thoroughly to find a lender with the best rates as well as the most flexible policies when it comes to your loan.
I hope you found this information useful. Let me know if you have any further questions in the comments.