Dealing with debt can be tricky, and you might be thinking about an IVA. Don't worry; you're in the right place. 
Each month, over 170,000 people visit our website looking for guidance on debt solutions, so you're not alone. 
In this article, we'll share:
 What an IVA is and how it can help with your debt
 The key differences between IVA companies and debt management companies
 How to choose the best IVA company in the UK
 What to be careful of when looking for an IVA company
 The cost of getting IVA debt advice
We understand how confusing and stressful debt can be. Some of our team have been in your shoes, so we know how important it is to find the right help. 
Ready to find out more about the best IVA companies in the UK for 2023? Let's get started.
What's an IVA debt solution?
An Individual Voluntary Arrangement is a debt solution and a type of insolvency. It's used by people with multiple unsecured debts they cannot afford to repay in a reasonable timeframe. 
In a nutshell, the IVA allows the debtor to make one affordable monthly payment which gets split between creditors. The monthly payment is calculated based on disposable monthly income to ensure its affordable while maintaining essential living costs.
The IVA will usually last for five or six years and then any outstanding debt included in the IVA will be written off. Understand more about the workings of an IVA back on our main IVA page. 
Don't worry, here's what to do!
There are several debt solutions in the UK, choosing the right one for you could write off some of your unaffordable debt, but the wrong one may be expensive and drawn out. 
Fill out the 5 step form to find out more.
What's an Insolvency Practitioner (IP)?
An Insolvency Practitioner (IP) is a finance professional who is licensed to help debtors arrange insolvency solutions, such as an IVA.
They will be the person who submits your IVA proposal to creditors and negotiates with them on your behalf. They will also be involved throughout the entire IVA process by receiving your monthly payment and dividing it between creditors. They will also conduct annual reviews with you during the IVA. 
Insolvency Practitioners are fundamental to getting an IVA, which is why IVA companies need to have an in-house Insolvency Practitioner to be able to offer IVA services.
What is an IVA Company?
An IVA company is a commercial business that offers services to help debtors set up an IVA with their creditors. 
The IVA company will provide advice to ensure that an IVA is the right option for you. If it is and you wish to proceed, the IVA company will make an IVA proposal to creditors and hopefully have your IVA approved. 
An IVA is only approved if out of all the creditors included, the creditors owed 75% of the total debt agree to it. As long as this majority is hit, all creditors are made to enter into the IVA. 
Once the IVA is approved, the IVA company will continue to manage the IVA for you until it is completed five or six years later. 
Are IVA companies and debt management companies the same thing?
Debt management companies usually offer a number of services to help debtors use debt solutions, including setting up an IVA. However, there are also IVA companies that only offer services to help set up and manage an IVA. 
In the case of the former, the terms IVA company and debt management company could be used interchangeably.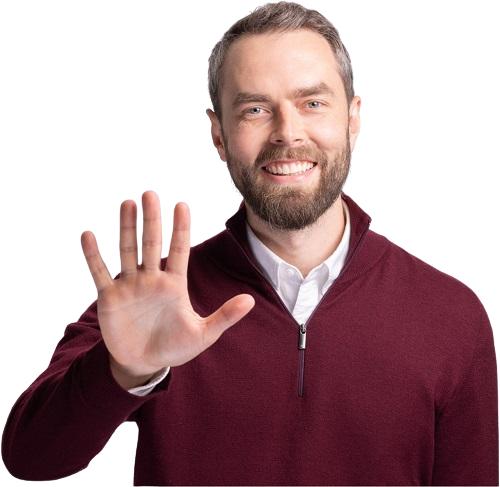 Could you write off some debt?
Affordable repayments
Reduce Pressure from people you owe
One simple monthly payment
Get started
What are the best IVA companies in the UK?
Here are some of the best IVA companies in the UK today.
How much does IVA debt advice cost?
IVA debt advice is usually offered for free from an IVA company. However, receiving debt advice from a commercially motivated company like this might not be preferable to you. Instead, you can get free debt advice from a debt charity or similar organisation. 
The purpose of debt advice is to assess your individual circumstances and recommend a debt solution. IVA eligibility can be complicated!
Can I get free debt advice?
There are several organisations that offer free individual financial and debt advice. I always advise that people get some advice before they begin a debt solution process. Contact any of these groups for free and individual debt advice today:
Here is a review of StepChange. As you can see, this person took their advice and now feels much better!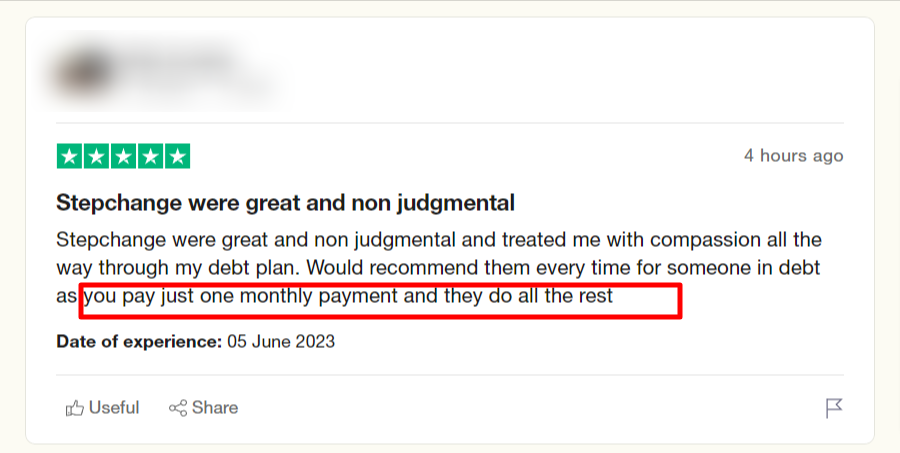 This review also helps show how easy many debt solutions can be – acknowledging that you need help is often the most difficult step!
How do IVA companies make money?
IVA companies make money by charging you fees.
While the cost of IVA services can vary, there is usually a one-off fee for arranging and setting up the IVA, and then there are ongoing fees taken from your monthly IVA payment for working as your IVA supervisor and managing payments to creditors. 
How much do IVA companies cost?
Most IVA companies will charge a fee for setting up the IVA. This can be quite expensive and often over £1,000. 
IVA companies can also charge an ongoing fee which is taken from monthly payments rather than separate from them. This fee is usually around 15% of the monthly payment. But it could be more!
For example, if you're paying £200 per month, the IVA company might collect around £30 of this and the remaining £170 would be proportionally split between creditors.
How to choose the best IVA company
IVA companies abide by the IVA Protocol. This means that their behaviour is regulated and so isn't usually hugely different from company to company.
However, there are a number of other factors that you can look towards that can help you determine which IVA company would be suitable for your needs. Some of these factors are:
License
All IVA companies are required by law to have a consumer credit license issued by the government. Their insolvency practitioners are usually either lawyers or accountants.
Before you opt for a certain IVA firm, you should definitely confirm whether they have a license to practice or not.
Confidentiality
You should look for privacy and confidentiality in all of your financial dealings but when it comes to debt, this becomes especially important. Look for an IVA company that is known for its privacy standards. An IVA is stressful as it is without you having to worry about whether or not your IVA company might be careless with your information.
Failure rate
If you're considering a certain IVA firm, you should definitely look up the failure rate of their IVAs. Many good companies are able to maintain a failure rate of less than 15% whereas sub-par companies can have failure rates higher than 70%.
An IVA firm's failure rate can definitely help you determine how competent they are when it comes to setting up IVAs for their clients.
Upfront fees
Most IVA companies don't charge you anything until the IVA is set up and initiated. Never go for an IVA company that charges you upfront for IVA advice.
Company fees
You're already in debt, the last thing you want is to be stuck with a company that has high fees. You may think this isn't that important since the fees are paid within your monthly IVA payments. However, you should think about how if the company fees are high, less money would be going to your creditors from your monthly payments. Hence, there is a possibility that your creditors may not like your IVA proposal and may reject it.
Reputation
It's definitely a good idea to look up public opinion about an IVA company that you're considering. You can easily find online reviews for most companies and accounts of experiences that people have had when dealing with them. 
These accounts and reviews can definitely give you an accurate idea of what your experience would be like if you were to set up an IVA with a certain company.
Online service
In today's digital age, it's important to opt for an IVA firm that has its services available online. You'll be surprised to see how many IVA firms still operate in an old-fashioned way and this can sometimes be quite inconvenient.
Hence, always opt for a company with whom you can stay in touch with online in order to resolve any confusion or problem you may have with your IVA.
Time to get a completion certificate
An important thing to keep in mind is that your IVA does not finish when you make your last payment, it finishes when you receive your IVA completion certificate.
Depending on your company, you may get your completion certificate within a few weeks of you making your last payment or you may have to wait up to a year to get it. Note that all of the restrictions that come with an IVA still apply to you until you get your completion certificate. Hence, you should definitely opt for an IVA firm that is known to produce IVA completion certificates for their clients within a reasonable time.
Business address
You may find or be contacted by IVA firms that have no real address to their business office. They may only operate through emails or phone calls or they might just have a postal address.
This is a huge red flag and you should definitely avoid such companies as they are most likely scams with people trying to take advantage of your situation. Always look for an IVA firm that has a well-known, established business office in a major city.
Which IVA companies should I avoid?
IVA companies to avoid usually:
Have Significantly higher fees than the rest of the market
Make unrealistic claims about how much debt you could write off
Have many bad reviews
Don't have a high IVA approval rate
Further information can be found on our dedicated post explaining how to avoid bad IVA companies. 
Can I switch IVA companies?
Unfortunately, it's not possible to switch IVA companies. The IVA provider that sets up your IVA has to be the IVA company that oversees the IVA until the end.
This is why it's important to find the best IVA company for you from the outset.  
What is an Insolvency Practitioner?
An Insolvency Practioner (IP) or an IVA Practitioner is the person who handles your IVA case.
They will be with you at the beginning of the IVA application process and set up your IVA. They will then deal with your creditors on your behalf and distribute your monthly payment as you agreed. They will also assess your finances on a yearly basis and adjust your payment plan if necessary.
If you need to cancel your IVA, it is your IP who you will contact. In fact, your IP will be your first port of call if you have any queries for the duration of your IVA.
Who regulates IVA practitioners?
Insolvency Practitioners are governed and regulated by the Insolvency Practitioners Association (IPA). Regulations are outlined within the Insolvency Act 1986. 
Can companies refuse an IVA?
Yes, companies and creditors can refuse an IVA if they don't think the IVA is a good deal for them. They're more likely to accept the IVA if they will be paid back more money through the IVA than if you were made bankrupt. 
Moreover, the best IVA companies should refuse you an IVA if they think an IVA isn't the best debt solution for you. It's their duty to reject your IVA enquiry if there are more suitable alternative debt solutions. 
Do most IVAs get accepted?
Most IVAs do get accepted because your suitability for an IVA has already been assessed and approved by a knowledgeable Insolvency Practitioner. These professionals are unlikely to apply for an IVA if they doubt the IVA will be accepted.  
What percentage of IVAs are accepted?
IVA approval rates differ between IVA companies but most claim to have more than a 95% acceptance rate. The debt charity StepChange can also offer to help set up and manage your IVA, and they claim to have a 98% IVA approval rate. 
Are there any disadvantages to an IVA?
As with anything, there are some disadvantages to an IVA. This could mean that an alternative debt solution will work better for you.
Only unsecured debts are covered by an IVA: this means that your creditors can still chase you for secured debts, such as your car or mortgage payments.
An IVA is recorded on your credit report: for six years beginning on the first day of your IVA, it will be visible on your credit report. This may make it harder for you to secure credit as you are now someone who has had issues repaying their debts.
You cannot work in some jobs: having an IVA may mean that you cannot work in some professional jobs, like a solicitor or an accountant.
While there are some disadvantages to an IVA, many people find that they are heavily outweighed by the benefits.
How much should I offer to settle IVA?
You can offer to settle an IVA early with a lump sum, which might be possible if you win or inherit a significant amount of money. Or if a loved one offers to give you the finances to get out of the IVA. 
You should offer to settle the IVA with an amount close to the amount you would repay over the entire IVA term. For example, if you pay £150 per month and have 20 months remaining, you will need to offer close to £3,000 to get the IVA settlement accepted. 
Creditors are never forced to accept your IVA settlement offer. 
Are you struggling with unaffordable debt?
Affordable repayments
Reduce pressure from people you owe
Lower monthly repayments
Get started
What percentage of IVAs fail?
The most recent government figures indicate that around 19% of IVA fail within the first four years and just 5.5% of IVAs are terminated after four years. An IVA is less likely to fail the longer it has been used. 
An IVA fails when you don't keep up with repayments or break one of the terms of the agreement. For example, the IVA could fail if you miss more than three monthly repayments within any 12-month period, or if you fail to tell your IVA supervisor when your income increases. 
What's better than an IVA?
There might be debt relief options other than an IVA which are more suitable for your personal circumstances. Debt counselling services can help you establish what will work best for you if you are struggling to manage your secured and unsecured debts.
As I mentioned earlier, there are organisations that offer free financial advice.