Direct Line Missed Payment – Here's What To Do 2022
For free and impartial money advice and guidance, visit MoneyHelper, to help you make the most of your money.
Did you have a Direct Line missed payment? If so, don't panic. Try to get things sorted out before they go too far. Never ignore things when an insurance payment fails. Get in touch with Direct Line support to let them know. Then see if they'll offer a way to resolve the problem.
I look at how Direct Line deals with missed or late payments. How their support may be able to help. I explain what you should do to avoid having your policy cancelled. And what to expect if a debt collector contacts you over a failed Direct Line payment.
Who is Direct Line?
Direct Line Group owns Direct Line and other insurance providers, including Green Flag and Churchill. They offer a wide range of products, including car, home, travel, business, life, pet, landlord, and over 50's insurance. UK Insurance Limited underwrites Direct Line's insurance policies.
How does Direct Line deal with missed payments?
When there's a Direct Line missed payment, the provider sends out reminders. You should contact support as soon as they do if you can't meet the payment. If you ignore payment reminders, Direct Line will cancel your insurance policy. So you won't be insured!
The key is to stay in touch with Direct Line's support team. They may be able to help you when you can't make a payment. If you don't contact them, things get more problematic.
FREE Credit Report FOR LIFE!
I've snagged a deal for you..
Spot errors that could be ruining your credit report
Simple actions to improve your credit score
Better score, better deals
GET STARTED WITH CREDIT KARMA
A failed or missed Direct Line payment: what you should do?
It's an easy mistake to make. We all lead busy lives. Circumstances change, especially over the last couple of years. You could miss a Direct Line payment for several reasons. Whether it's because of a computer glitch, you did not have enough money in an account, or you just forgot about it.
Whatever the reason for a failed or missed Direct Line payment, contact their support as soon as possible. Otherwise, the consequences can be far-reaching!
First, make sure your insurance payment didn't go through, which can happen when you do it online! Do this to confirm if the payment was made or not:
Check your bank account – the information can be found in the 'recent transactions' section
Contact Direct Line support and ask whether they received the payment or not
If you have the funds to make the payment, I recommend you pay the outstanding if the first one fails. When you don't, things could be more challenging to resolve.
My Direct Debit to Direct Line failed, what can I do?
A failed Direct Debit can get expensive. So when you don't have enough money to meet an instalment, contact the support team straight away. Don't wait till DD fails to contact Direct Line. They might give you more time to pay the instalment that's due.
If you have the funds to make a payment to the provider online, do so. But make sure you let your bank know you've paid the amount. Otherwise, you'll have to pay bank charges for a failed DD. Plus, the insurance provider might get paid twice when they try to take payment a second time when you don't.
A Direct Line missed payment: the consequences
The consequences of a failed or missed payment can be severe. Direct Line may:
Charge you a late or failed payment fee
Add extra administration costs to your account
Cancel your insurance policy could be cancelled due to non-payment. You'll no longer be insured to drive. Your car will not be insured either!
Missed and failed insurance payments can stay on your credit report for up to 6 years! In short, it could affect your credit score and history, making it harder to get a loan, mortgage, or credit card. Plus, when your policy is cancelled, you must not drive. It's against the law, and the fines can be high!
Feeling like Chandler?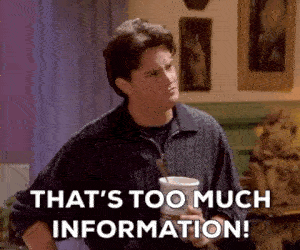 Is all this information starting to feel overwhelming? Don't panic! There's plenty of help available. You can get started below.
What happens if I can't afford a Direct Line payment?
Contact Direct Line support straight away! They could offer to arrange a different payment date for you. Plus, there are other ways to reduce the cost of your insurance premium. This includes the Direct Line Mileage Moneyback scheme! Direct Line may also offer you a payment deferral.
My advice is to contact Direct Line if you know you will miss a payment or you can't afford to pay on time. This way, they know what's happening and could offer advice and help.
Could I pause my Direct Line insurance?
Yes, you may be able to 'pause' your insurance, but you must meet specific criteria. An example is when your car is written off, and you haven't bought a replacement yet.
However, if you pay your premium in monthly instalments, you have to continue doing so!
Will a Direct Line missed payment affect my credit score?
No, it will not affect your credit score when you miss a Direct Line payment. This is because the information does not appear on your credit history. But if you fail to pay your insurance (default on payment), you could see the matter going to a debt collection agency!
In short, it's better to make an insurance payment on time or as soon as possible after a missed instalment.
Will Direct Line refer my details to a debt collection agency?
Yes, when you default on a payment to Direct Line, they refer the debt to a debt collection agency. You may get a letter from Allied International Credit (AIC). They will chase you for the money when you default on a payment.
You'll likely receive letters asking you to contact them to arrange payment. After this, you could receive letters saying a debt collector plans to visit you at home!
Debt Help and Support
I always recommend getting debt advice if you're struggling to pay a bill. Don't ignore things or try to deal with things on your own. Independent debt charities to contact include:
Citizens Advice
Money Advice Trust
They provide free, impartial advice. It can help get you out of a debt trap when you fall into one!
Thanks for reading my post on Direct Line missed payments. I hope the information was helpful. You now know what to expect when you miss an instalment and what to do to avoid matters getting out of hand!
Are you struggling with debt?
Affordable repayments
Reduce pressure from people you owe
Stop interest and charges from soaring
Get started