Full and Final Settlement Offer – Sample Letter Template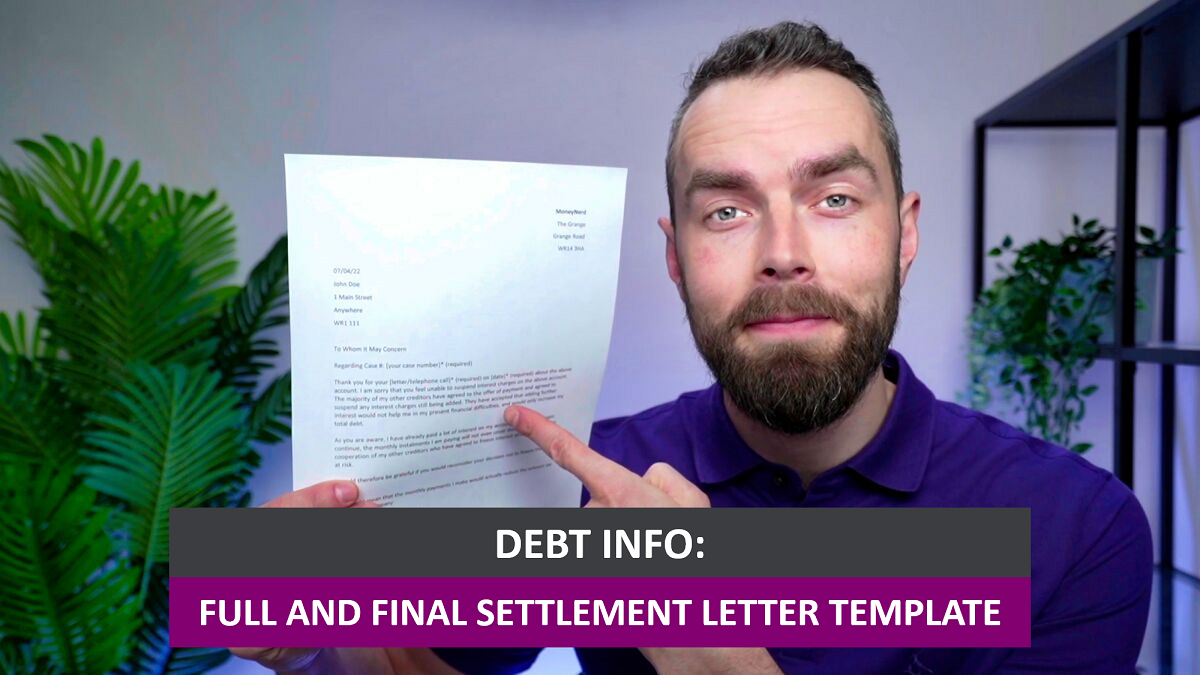 For free and impartial money advice and guidance, visit MoneyHelper, to help you make the most of your money.
Introduction
Our free full and final settlement letter template is a fantastic resource if you need help negotiating a settlement offer. A full and final settlement can be a cheaper way to escape your debts quickly, saving you hundreds and sometimes thousands of pounds.
Download our full and final settlement for single or joint debts, add some personal details and send it to your bank, payday loan provider or debt collectors.
Letter Template

To Whom It May Concern

Regarding Case #: [your case number]* (required)

I am writing about the money which you are claiming on the above account.

I can confirm that I am unable to pay the money which I owe in full.

[include a paragraph explaining your circumstances and details of your financial situation that you want the creditor to take into account.]*. (required)

However, I can raise £[enter the amount which you can afford to pay.]* (required) and I want to offer this as full and final settlement of the account. I am making this offer on the clear understanding that, if you accept it, neither you nor any associate company will take any other action to collect or enforce this debt in any way and that I will be released from any liability.
If you accept this offer, please confirm that you will mark my credit reference agency file to show that the above account has been paid and closed.

I can pay the amount I have offered within[enter the number of days or weeks within which you will pay]* (required) of receiving your written agreement of this offer.

Please give me details of how I can pay.

I look forward to hearing from you.

Yours sincerely

Downloadable Resource
The download links below take you to a Google document template where you can make a copy or save in any document format you like. Note, you may have to login to your Google account.
Download – Single (for one person)
Download – Joint (for couples)
What is a full and final settlement offer?
A full and final settlement offer is a proposed payment from a debtor to a creditor to clear the debt. The offer will be below the total value for the money owed but will be paid in one lump payment, which is attractive to creditors because they don't have to wait to get most of the money.
The settlement offer will save the debtor money and prevent them from having to pay interest on an outstanding amount for many months or even years. An example would be offering to pay £800 in one payment rather than paying £100 per month (+ interest) for ten months of a debt worth £1,000. You might choose to do this because your financial situation has improved – as well as to save money.
Note, it will remain on your credit file for six years that you never paid the debt back in full.
What is a full and final settlement letter?
A full and final settlement letter is a letter to your creditor proposing an offer for settlement. It should clearly explain the amount you are offering to pay to clear the debt and explain why this is beneficial for you and the creditor together.
Our free full and final settlement letter template does just that!
What is a reasonable settlement offer?
There is no exact figure that makes a reasonable settlement offer. You should only offer what you can comfortably repay in one payment. Most people will not expect an offer below 70% of the debt's value to be accepted, but it is not impossible. It all depends on mitigating circumstances and the value of the total debt.
Is full and final settlement legally binding?
Full and final settlement offers are not entirely legally binding. But if you have an agreement in writing, it will be impossible for a court to make you pay more in the future. Always make sure you get the agreement in writing from your creditor and always read the terms and conditions. You may want to get the help of a debt charity at this stage.
How do you write a final settlement letter?
Settlement offers should be written directly to your creditor and explain your circumstances clearly. Some people find it difficult to find the right words or explain themselves easily. That's why Money Nerd created the free debt settlement offer letter templates ready to download for free!