Icon Collections Debt – Do You Have to Pay? 2022
For free and impartial money advice and guidance, visit MoneyHelper, to help you make the most of your money.
I have received a letter from a Icon Collections
If you have received any kind of correspondence from a debt collector, you may feel, understandable threatened. You may be wondering whether they are legitimate, and what you should do next.
Icons Collections International sends out such letters for clients as part of their day to day work. Companies approach this collection agency to retrieve debt when they have tried and failed for a set time.
We understand that it can feel daunting to receive such a letter. Here we offer some guidance. We answer all the frequently asked questions, in the hope you can better know what to do next.
It's not your fault. Complaints to the Financial Ombudsman have risen this year from 830 to 2,006, so it's safe to say that you're not alone.
Deal with your debt today and feel amazing tomorrow.
Beating Debt Collectors
There are several ways to deal with Icon Collections Debt Collectors and improve your finances.
Choosing the right way to tackle your debt could save you time and money, but the wrong one could cause even more harm.
It's always best to find out about all your options from a professional before you take action.
Fill out the 5 step form to get started.
Who are Icons Collections International?
Icons Collection International is a debt collection agency. It collects debts for many large companies, including the HMRC. People who have failed to pay tax or have been overpaid tax credit overpayments are approached by this company. If the individual has not responded to communication from the HMRC, they will appoint Icons Collections International to take the matter further.
Icons Collections International is a member of the Credit Services Association. The company has also passed rigorous checks by the Collector Accreditation Initiative. This is a scheme that is designed to make sure companies such as Icon Collections International operate legally and fairly.
As well as collecting debts for the HMRC, they also boast Npower, O2, EE, Virgin Media and many more large businesses as clients. They also collect fines that have not been paid to the court.
If you have received a letter from Icons Collection International, it means that you have not paid an outstanding amount of money to another company. You should have received lots of correspondence from the original organisation before a debt collector is appointed.
Are you struggling with debt?
Affordable repayments
Reduce pressure from people you owe
Stop interest and charges from soaring
Get started
Why is the letter written with such strong language?
Have you received a letter from this debt collector? I'll buy it off you for £5
Many people are upset when they first receive a debt collection letter. It is perfectly normal to feel distressed at what might seem like bullying language.
Most letters will begin with a clear statement of who you owe and how much money is due.
The letter will then go on to explain what will happen if you do not pay by a set date. It may include mention of court action and the appointment of bailiffs. This can appear like a threat. Yet, the letter is aiming to set out clearly the consequences of any non-payment.
You will then be given options of what to do next. You will be given opportunities to pay the debt or invited to contact the company.
The words of the letter are carefully selected because the company is following a legal process. The message will have passed through compliance.
It is also vital that the letter be clear, factual and unambiguous. In short, if the agency tried to make it sound friendly, with lots of frilly language, there is a chance you would misunderstand.
Consequently, rather than try to bully you, the letter is trying to communicate as clearly as possible the cause for the message being written and the consequence if you do not follow up.
What should I do when I receive a debt collection letter?
You do not need to act straight away. The letter will suggest a sense of urgency. However, if you read the details carefully, you will be given time from when the letter was written to respond. You should use this time wisely.
First, you need to check if you do owe the money. If you are shocked by the arrival of the letter, there may have been an administrational error. You may wish to investigate before reacting.
If you knew the debt was outstanding, but you do not have the money, then you should approach independent advisors for guidance on debt management. There are lots of ways to pay the money back in manageable chunks.
If you have the money, you should still seek advice before paying the debt to this company. There may be lots of better ways of managing the debt. If you want to work with the company, then you should contact their helpline or visit the website for more information.
Once you have got over the initial shock, you will be pleased to know that the people on the other end of the phone are there to help. They will be happy to talk you through the debt and the means of payment.
Ignored letters and calls will lead to further action. There is little point hoping a lack of response will mean they will go away. Debt collection agencies have the means to check that you are still associated with the address. Consequently, they will see a lack of response as a reason for additional action.
Feeling like Chandler?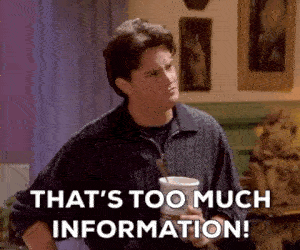 Is all this information starting to feel overwhelming? Don't panic! There's plenty of help available. You can get started below.
What do you mean by "additional action"?
The legal powers of the debt collection agency are no different from the original company with whom you owe money. Companie,s such as Icon Debt Collection, has bought the debt from the organisation you owed money to and are now pursuing the money instead.
Consequently, the debt collection agency can only make reasonable requests for the payment. They cannot harass you, call you at all hours of the day or enter your home without your permission.
If the company sends a person to your house, they should introduce themselves as a debt collection field agent. They are not bailiffs and nor should they represent themselves as such. If you ask them to leave, they should respect your request.
If the debt collection company want to enter your home, they must take you to court first. They will seek a CCJ (County Court Judgement), which will allow them to appoint bailiffs. They can then recover goods up to the value of the debt or attach an order to your earnings. Any CCJ will adversely impact your ability to get any sort of credit in the future.
As your credit is likely unsecured, your home is not at risk in the first instance. The debt collection agency would have to take a lot of steps before this was possible. Therefore, for a company such as Icon Debt Collection International to apply to the court for the loan to be secured against the loan would be an extreme action. It is one only taken when all other avenues have been exhausted.
What can't the debt collection agency do?
You may want to stop the company from contacting you, but unfortunately, you can't. You can state a preference for how they contact you, which they must adhere to. So, if you clearly say that you only want contact via letters, then they should not call you.
If the agency is threatening legal action, then they must have a reasonable belief that this could happen. Any consequence cited in the letter is not an idle threat meant to bully you. The company is only allowed to describe the outcomes that they are reasonably expected to undertake.
The agency is not allowed to represent itself as an agent of the court. If the letters look like those you would expect in a court action, you have reason to complain.
If you choose a debt management option, such as an Individual Voluntary Arrangement, the agency must stop chasing you for payment.
If you agree to phone calls or do not state a preference, the company can only phone you at reasonable times. They should not call you at work unless you have given them permission and they should only discuss the debt with you.
They cannot take payment without your permission or refuse the time to discuss debt advice. At no point should the agency suggest you take out more debt to pay off this outstanding money.
If you feel that the debt collection agency has failed to meet any of these strict guidelines, you can raise a complaint with the CSA (Credit Services Association). Companies such as Icon Debt Collection International are part of such organisations as a means of demonstrating their desire to work within this code of conduct.
I don't want to deal with these people – what can I do?
It can be intimidating communicating with a debt collection company. Although they are barred from using too much technical vocabulary or jargon, they will naturally have a much firmer grasp of the law and the correct procedures. You won't know whether to trust what they are telling you, and you might not feel competent to challenge any potential wrongdoing.
There are organisations that can negotiate with your debt collection agency for you, as well as give you sound debt management advice. As this third-party is an independent voice, you can feel sure that you are being treated fairly.
Two such organisations are the Citizens Advice (Bureau) and StepChange Debt Charity.
Citizens Advice will offer debt and consumer advice services. There will likely be a specialist within the bureau, who will act as your caseworker. They will counsel you on how to manage the debt, create a debt management plan (DMP) with you and negotiate with creditors, such as the debt collection agency. Call them on 03444 111 444.
StepChange Debt Charity offers a comprehensive debt help service. You will work with one of the experts to create a budget, draw up a DMP, and other personal practical steps you need to take. They will also talk to the debt collection agency for you, taking some of the fear out of the process. Call them on 0800 138 1111.
A member of the Money Saving Expert forum explained that changing from a commercial debt management company to StepChange Debt Charity reduced the length of the debt management plan by two years. The money they paid to a third-party company to manage your debt was now paid off the debt amount. In real terms, the couple in debt saved nearly £8000 because they approached this debt charity.
Those companies who charge to manage your debt have a variable reputation on TrustPilot. Some are reported to "cause more problems" than they solve. Others are said to "charge a lot on top of the debt". However, other reviews report that the companies are "compassionate and understanding" and that they "got my mind in the right place."
Relinquishing control of your finances to another organisation, whether charity or company, may sound a step too far. If all you want is advice, so you are informed when you speak to the debt collection agency, then you can contact the National Debtline on 0808 808 4000. Although the advisor will not act on your behalf, they will be able to answer your questions and offer suggestions for your next steps.
What do debt counsellors do to help?
First and foremost, the counsellor will talk with the debt collection agency for you. They can negotiate with the collectors to ensure the interest on your debt is frozen. This action alone will offer you significant peace of mind.
However, they also work with you to come up with a plan. The assumption is that you didn't choose to get into so much debt. Instead, you were making choices that seemed reasonable for a comfortable life. The counsellor will work with you to create a budget and write a debt management plan with you.
The DMP will be negotiated with your creditors. In short, the debt collection agency must agree to the plan too.
If this fails, they may point you to an Individual Voluntary Arrangement (IVA). This is a legally binding agreement that will last for about five or six years. The debt you owe will be combined into one monthly payment, and this will be distributed to your creditors. The IVA is not for everyone, and if you only have one debt collection agency requesting funds, it might not be suitable at all.
The debt counsellor may also suggest bankruptcy. This sounds scary, but it isn't as bad as it sounds and is a reasonable way to get back on top of your finances.
What should I do right now?
Right now, you have just opened a letter from a debt collection agency. Your mind will be whizzing. Even if you ignored these letters for a while, you still need time to rebalance. Then, you must act. Outstanding debt needs to be paid – but it doesn't need to be paid all at once. Seek advice and guidance on the best route for you.
References
CONC 7.3 Treatment of customers in default or arrears (including repossessions): lenders, owners and debt collectors
CONC 7.9 Contact with customers
Are you struggling with debt?
Affordable repayments
Reduce pressure from people you owe
Stop interest and charges from soaring
Get started