You Might Not Have to Pay Lowell Group Debt Collectors!
Are you being hassled by Lowell Group Debt Collectors? Do you owe money you are unable to repay? Are you being asked to repay debts you don't owe? Are you being threatened about being taken to court? If any of these questions relate to you, this article is designed to help you. You might not need to pay them back!
Who are Lowell Group Debt Collection?
Lowell Group are debt collectors who buy your debt from whoever you borrowed it from – this often happens if you have not been able to keep up with your payments. If they're getting in contact with you, it's likely that you owe them money.
Lowell collect debt for companies like Vanquis Credit Cards, Capital One, O2 and Littlewoods.
Read what to do if you can't pay back your debt.
Are Lowell Group Debt Collection Legit?
Lowell Group are a registered company and most importantly are authorised and regulated by the Financial Conduct Authority (FCA). The FCA have very strict rules, so it's safe to say that they are legit.
If Lowell Group Debt Collectors did not follow any of new laws, then you could claim for a refund!
Did You Know?
Since the new GDPR law came into effect you can now check your credit score for free!
It only takes 60 seconds!
Knowing your credit score is the first step to not having to worry about money.
Get your free credit score now , or learn more in my article here.
Star Rating
Rating:
(
3
/
5
)
We've awarded Lowell Group Debt Collection a generous 3/5. Whilst there are lots of negative reports, we put this down to disgruntled customers who have to pay money back. Lowell Group actually has a fair amount of positive reviews saying that they were handled fairly.
Why you are being contacted by Lowell Group Debt Collection?
Make no mistake – the debt collection business is huge. Debt collectors like Lowell Group Debt Collection come in several forms; many debt collection agencies are independent businesses; some may also be a business arm of a creditor such as a credit card company (sometimes hiding their real identity – see below); there are even individual sole trader debt collectors.
Independent debt collection agencies and sole trader debt collectors business model relies on purchasing debt at a fraction of its face value, possibly for as little as 20% of the face value, and making a profit by collecting all or a proportion of the debt. There are few morals involved; as far as they are concerned it is you who ran up the debt and you who is responsible for repaying it. They care nothing about you and your personal circumstances. Simply put, they tend not to be nice people.
What does Lowell Group Debt Collectors do?
Lowell Group ultimately want you to pay off your outstanding debt and they will use lots of tactics to do so. Their about us page states that they will try to work with you. You can expect some letters and a phone call. In the first instance they will try to listen to you and give you some advice on repayment plans.
Check if you really owe the money
Is the debt money you really owe? The first thing to establish is where the debt has originated and how much you really owe. It is quite likely that the original debt, if there was one, has been inflated by various charges and interest, and could be substantially more than you believe you owe.
You should write to Lowell Group Debt Collection and demand a copy of your original credit agreement. If they are unable to provide this you have no obligation to make any payment to them. See my most popular post for the guide on how to get a refund.
Don't let them wear you down
As we have seen, debt collectors such as Lowell Group Debt Collection are relentless and their behaviour could be responsible for mental ill-health and even suicide. Standing up to Lowell Group Debt Collection requires a degree of strength and courage few people possess. But there is help out there. Ultimately you need to get out of debt, but you need to do so in a controlled manner that will minimise your pain and distress. Ultimately all debt problems are solvable.
What does the debt collection process look like?
Lowell will try to take payment over the phone if they can get hold of you. Otherwise you can do it online. First check out their budget calculator to ensure that your repayment is affordable, it's no use making a payment only to go into more debt!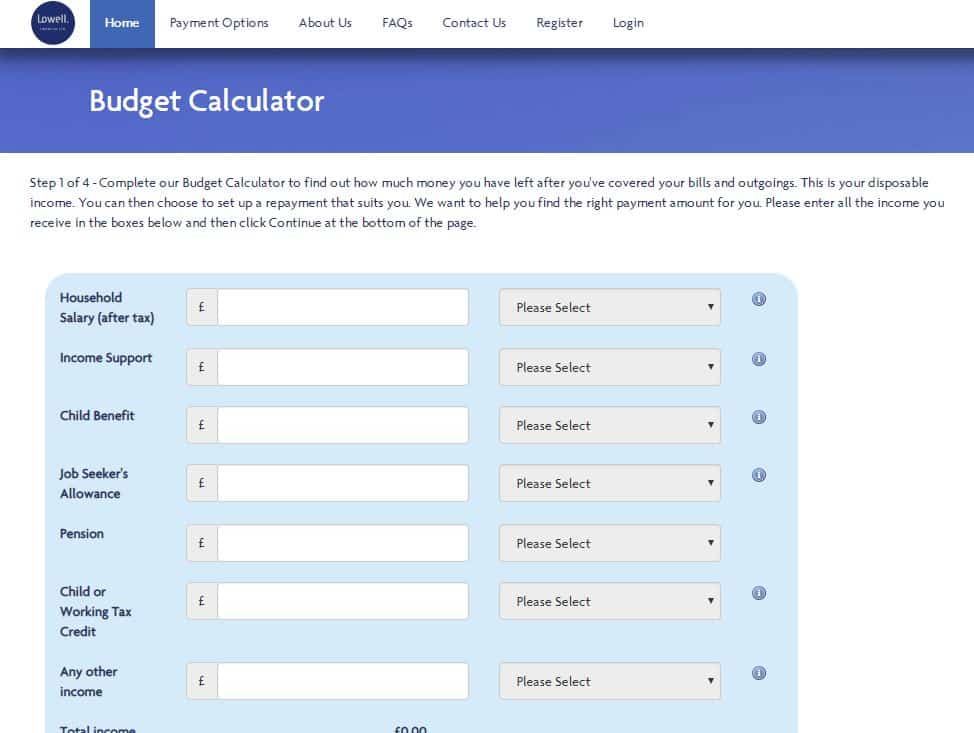 Next check out the payment options page. Here you can enter your lowell reference number that you likely received over the phone or on the letters that they have been sending you. Make sure you note down the reference number of your payment, so next time they call you you can tell them that you've already paid (it may take some time for this payment to be reflected on your account).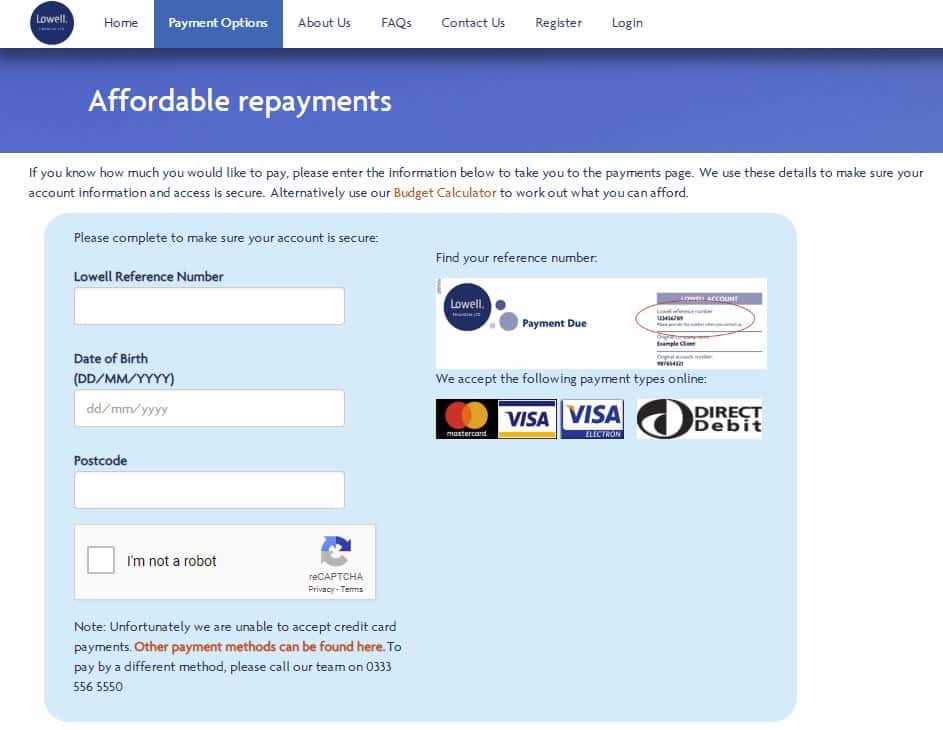 Can pay but won't pay?
If you really do owe the money, then the road of least resistance is to repay the debt if you are able to do so, but if you can't afford to repay it, or if doing so would prevent you from servicing more important credit such as your rent or mortgage, then try to make some arrangement with Lowell Group Debt Collection, perhaps offer them a temporary repayment plan.
How debt collectors can ruin your life
It isn't unusual for debt collectors to employ questionable tactics that may or may not fall foul of the law. This might include pressuring and bullying threats, frequent phone calls sometimes made to your workplace and empty threats.
It can prove almost impossible to get the debt collectors called off. Victims say they have suffered sleepless nights and been afraid to open their doors in case bailiffs turn up.
Being pursued by Lowell Group Debt Collection could have a devastating effect on your life, leading to emotional distress, mental illness, and even suicide. According to the debt support trust, almost half of people who struggle with debt at some point consider suicide, and it was recently reported that a coroner raised concerns over debt-collection agency's practices following the suicide of a debt-ridden courier. In their report into mental health and the credit industry (Walker et al, 2012) researchers from Brighton University concluded: "Debt clients frequently feel humiliated, disconnected and entrapped, with the process of debt collection having a clear impact on people's mental health". They called upon the government to tackle the problem of irresponsible lending and intimidating collection tactics.
Lowell Group Debt Collection Reviews
Trustpilot scores the Lowell Group at 2.4/10. This score is largely skewed by 84% 1 star reviews. Here's some of the bad ones:
"After closing my account with O2, these guys claimed I owed £12 which were not the case. I sent them evidence that there's no debt, and it seemed to be sorted. Two months later though it appeared as a default on my credit score, and I did not even know. Until now, almost two years later when I see it on my Noddle credit rating report."
"They are calling my mobile phone house phone 3 to 4 times a day I have had to change my number on my mobile phone with all my friends family had now having to up date the new number I give them"
However like we said before, there are quite a few positive reviews. 11% – this is high for a debt collection agency, which either means that they're better than most, or they're faking their reviews?! Anyhow, here's a sample:
"Excellent customer services very understanding wiling to listen and very helpful excellent supervisiers good customer really helped my situation and would recommend to talk them explaining your situation and they will help you that's why I've give them 5stars please talk to them do not Bury your heads in the sands"
"Look, – Lowell are just doing their job. They will have to ask you for name, DOB etc. before they can discuss anything. Ok, now on to us. We have had financial fraud (credit cards opened in our names). Lowell bought some of these debts. They then listened to us very carefully and we sent all the evidence we could to them. I know they pay peanuts to buy debts from Banks but they listened to us and then threw out all claims against us.
I would suggest your first point of action is to cool down and be polite with Lowell. They are not bandits, – they buy outstanding debts from companies and banks. Don't ignore them and make yourself appear guilty! Supply them in writing and by phone all your evidence.
It's really the Banks, Utility Companies etc that Lowell actually BUY debts off that are idiots. Hope this is useful to you. PS: If you really do owe money they'll sort out a payment plan to suit you."
Deceit and lies
If everything else fails some debt collectors feel they are immune from the law and will apply some very nasty forms of leverage. They might pretend to be calling from the court, that they are a bailiff and will be visiting your home to remove your possessions, possibly even threatening you with criminal prosecution.
Never give them permission to visit you and if they do then never let them into your home and if you feel physically threatened then don't hesitate to call the police.
How to Complain about Lowell Group Debt Collection
The Office for Fair Trading (OFT, 2012) has published a set of guidelines for the debt collection business. To summarise these, Lowell Group Debt Collection should:
Treat debtors fairly and not use aggressive practices, coercion, deceit, or be oppressive, unfair, or improper
Be transparent and provide clear information that is not confusing or misleading
Be considerate towards debtors experiencing difficulty
Act proportionately taking into account debtors' circumstances.
If you are being intimidated by Lowell Group Debt Collection who are not abiding by these guidelines, then you have a good case for reporting them to the OFT which has the power to remove their license.
Complaints about the tactics used by debt collection agencies and bailiffs themselves soared 77 per cent from 864 to 1,529.
To make a complaint about Lowell Group Debt Collection, you can use this online complaint form.
Some debt collectors pretend to be an external agency when in fact they are a business arm of the company you owe money. That is a clear case of deceit, though they are likely to claim that this information appears in the small print.
Understanding how Lowell Group Debt Collection operates
Understanding how debt collection agencies operate can help you defend yourself against them.
They are on a bonus
The Lowell Group Debt Collection agents who phone you are likely highly incentivised and are expected to collect a specified minimum amount of money per hour. Usually, there are daily and monthly bonuses and each collection they make contribute to that bonus. Hence, they will do what they can to collect some money rather than record a "No Payment" call, including making intimidating and threatening behaviour.
The lesson here is if you are able to be strong and stand up to threats from Lowell Group Debt Collection, knowing that their threats are empty, you can to some extent turn the tables. Keep them talking but just don't pay. You will still owe the money, but at least you won't have to pay that day.
Automated call technology
You might be tempted to simply not answer calls from Lowell Group Debt Collection, but when this happens agencies often employ automated call technology that will attempt to phone you say every half hour until you do eventually answer. Sometimes if you do pick up the call is silent; the calls are simply being made to intimidate you.
If this happens to you make a note the frequency of the calls. Such behaviour on the part of the debt collectors is in clear breach of the OFT guidelines. Tell the agent that you will be reporting them to the Financial Ombudsman.
The best way to contact the Financial Ombudsman is by phone on 0800 023 4567 or 0300 123 9123
Bad cop, good cop
Bad cop, good cop is a tactic frequently employed, and often is highly effective. When subject to such an approach you are likely to be subject to relentless calls some of which are abusive and harassing, but with the occasional polite and friendly enquiry. This change in attitude can happen in a single phone call where the agent starts off politely but should you fail to make a payment their behaviour becomes abusive. Nor is it just relentless phone calls. Frequent threatening and sometimes sinister letters are another common practice. The total process is designed to eventually wear you down, to break your will so that eventually you will make a payment.
It is difficult to stand up to such behaviour, which is exactly why they use it. But again, you should try to stay strong if you possibly can. Report it to the OFT using this online complaint form.
Embarrassing you by talking to third parties
If someone apart from you answers the call then agents frequently attempt to embarrass you by discussing your debt and financial problems with whoever answers the call. This could be a family member at your home, or it could be someone at your workplace. This is certainly illegal behaviour and breaches not only OFT guidelines, but also other privacy laws.
Again, such behaviour should be reported to the Financial Ombudsman on 0800 023 4567 or 0300 123 9123
Getting help with debt
There are various kinds of help with debt available: there are not-for-profit agencies who exist to provide one-to-one help for you, and there are commercial debt management companies whose aim is to make money out of you. The former should be your first port of call. Some of the important agencies include:
Citizens Advice Bureau (CAB) provides extensive help with debt and should help you stop debt collectors contacting you if you are able to show you are seeking help and are trying to repay your debts.
Christians Against Poverty (CAP) provide free debt help.
StepChange provides free online debt advice helping people take charge of their debt.
Writing off your debt entirely
It is possible to write off your debt entirely through an Individual Voluntary Arrangement (IVA). This is a formal agreement to pay the debt collectors an amount you can afford as a one-off sum or as monthly payments and the rest of the debt will be written off after a defined period, usually five years. This must be carried out by an insolvency practitioner.
Find a local licenced IVA insolvency practitioner.
An alternative is a Debt Relief Order (DRO). This is only available if you are left with £50 or less each month after paying your household expenses and you don't own your home or other assets worth over £1000.
To apply for a DRO you will need to go through an authorised debt advisor. You can find a list of authorised debt advisors here.
Finally
Despite warnings from professional bodies, government guidelines, and other measures the behaviour of many debt collecting agencies is atrocious, leading vulnerable debtors into mental illness and even suicide. However, it is possible to fight back, especially with some help from the agencies mentioned in this article. While it's not as simple as just refusing to pay, you can reduce the amount you must repay and spread your repayments over a period you are comfortable with. Certainly, you can stop their bullying and by reporting them to the Financial Ombudsman they may even lose their licence.
Lowell Debt Recovery Contact Details
Company Name: Lowell Financial Ltd
Other Names: Lowell Portfolio 1
Address:
PO Box 1411
Northampton
NN2 1BQ
Contact Number: 0333 556 5701
Website: www.lowell.co.uk
Email: post@lowellgroup.co.uk
Monday – Thursday: 8:00 am – 8:00 pm
Friday: 8:00 am – 7:00 pm
Saturday: 9:00 am – 2:00 pm