Parking Fines on Private Land – What you need to know
Featured in...
Have you received a private parking fine and are now wondering what to do next? This is the perfect place for you. Every month, more than 130,000 people visit our website seeking advice on fines and parking tickets. 
In this easy-to-understand article, we'll cover:
 What private land is.
 The rules about parking on private land.
 How to spot and understand parking signs.
 What a Parking Charge Notice is.
 How to appeal against a private parking fine.
We know that getting a private parking fine can be very annoying. But we have plenty of useful tips and real examples to help you make the best choice. So, whether you're thinking about paying the fine or appealing it, we've got you covered. 
Do You Have to Pay?
In many circumstances, parking tickets are not enforceable.
It's a bit sneaky, but last time I had a parking fine, I paid £5 for a trial to chat with an online solicitor called JustAnswer.
Not only did I save £50 on solicitor fees, I also won my case and didn't have to pay my £271 fine.
Click here to get the trial offer with JustAnswer.
What is private land?
The definition of private land is any property that is owned by entities other than a government.
As such, I've included examples of private land in the UK here:
Supermarket owners
Businesses
Retail parks
Hospitals
Clinics
Is it illegal to park on private land?
Parking regulations on private property are referred to as unauthorised parking rather than illegal parking.
A supermarket
Hospital
Business
Regular private car park
Importance of signage on private land
Landowners and car park operators must erect proper parking signs and follow signage regulations for UK private parking.
According to the British Parking Association (BPA), signs must be clear and easily visible to motorists who use their car parks.
You could have grounds to challenge a parking ticket if the signs are unclear or missing.
What is a Parking Charge Notice?
In short, it's a private parking ticket you'd get because you didn't pay at all or overstayed the time you paid for.
Parking Charge Notice vs Penalty Charge Notice
Whereas private car park operators issue the former, the latter is issued by local councils for illegal parking in public areas, such as the high street.
Can I ignore a parking ticket from a private company?
In short, the consequences of not paying private parking tickets could be expensive.
You might not have to pay
In many circumstances, parking tickets are not enforceable.
The last time I had a parking ticket, I paid £5 for a trial with an Online Solicitor called JustAnswer.
They advised me on the appeals process and helped me to create a successful airtight defence. It's a bit of a no-brainer!
Try it below
Get started
What happens if you don't pay a parking ticket?
They will send you a charge certificate if you do not pay these council parking fines within 28 days.
Can bailiffs visit me at home?
Yes, bailiffs can visit you at home to recover an unpaid parking ticket when a judge issues an order to pay against you.
It's one of the enforcement actions for unpaid parking tickets that bailiffs can take.
But they will typically try to contact you to recover the amount owed before they visit your home.
Remember, once there's a court order against an unpaid parking ticket becomes a debt.
Are parking fines on private land enforceable?
UK law on private parking enforcement means there must be a court order to pay in place.
Can you appeal private land parking charges?
How do you appeal against private parking tickets?
Note: Make sure you follow the right steps to challenge a private parking fine as detailed on the parking ticket you receive.
Misconceptions and myths about private parking tickets
There are many myths and misconceptions about private parking tickets.
I've listed some of the common misunderstandings about private parking charges here:
You don't have to pay a private parking ticket. Not true. The issuer could take you to court and win a case. Once an order to pay is issued, you must pay the parking ticket
You can ignore a Parking Charge Notice: Not true. It is a risky decision which could earn you a County Court Judgement
Private parking tickets are not enforceable. Not true. As previously mentioned, the issuer could start court proceedings to recover what you owe
Check out what happened to one person who got a CCJ for not paying a Parking Charge Notice.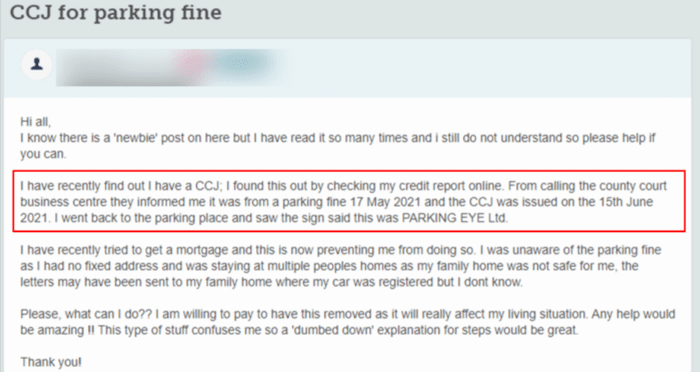 Source: Moneysavingexpert
Private land parking tickets time limit
The private car park operator usually has 14 days to issue you a Parking Charge Notice.
The role of the DVLA
Accredited car park operators can ask the DVLA to provide details of a vehicle's registered keeper.
Only trade association members can retrieve the details so they can mail Parking Charge Notices to the registered keepers.
That's how the DVLA aids in private parking enforcement in the UK.
Free parking ticket guides at MoneyNerd