Prepayment Electric Meter Debt – 2022 Tricks
For free and impartial money advice and guidance, visit MoneyHelper, to help you make the most of your money.
How can you get into debt on a prepayment meter? And how can you get out of debt in this situation?
We discuss everything about these meters designed to help people budget and avoid big bills out of the blue.
From standing charge information to emergency energy, we have it covered!
Phone a debt advice charity for personalised free debt support and help.
What is a prepayment meter?
A prepayment meter is a meter installed into a home to help monitor how much you spend on electricity or gas.
The homeowner or tenant will have to pre-pay for the energy they use in the future, which prevents unexpected high bills and debts. The meter will include a screen where you can monitor your remaining account credit. You'll always know when you need to top up your balance, allowing the user to track spending.
Sometimes a prepayment meter is given to people with poor credit or energy arrears as a way to prevent them from getting into further debts.
If you've got debts you might consider one of the UK's several debt solutions. Choosing the right way to tackle your debt could save you time and money, but the wrong one could cause even more harm.

Are you struggling with debt?
Affordable repayments
Reduce pressure from people you owe
Stop interest and charges from soaring
Get started

Fill out the 5 step form to get started.
How to top up your meter
The ways to top up your meter depend on the provider and the way they work. Some people will be able to top up the prepayment meter using a debit or credit card via a website, while others may need to top up a prepayment card first, sometimes called a key.
Be aware of the daily standing charge
A daily standing charge is a common fee for anyone paying an energy supplier. You will pay for your energy use at a set rate, but you also pay a fixed daily standing charge as a small daily fee for being connected.
Even prepayment meters incur a standing charge each day, which is deducted from the credit you add to the meter. You will usually see the standing charge amount deducted at the start of each day, possibly at midnight.
Can you be in credit on a prepayment meter?
The idea of a prepay meter is that you are always in credit to prevent unexpected gas and electricity debts. If you switch suppliers, any credit you have should be refunded by the previous supplier.
What is emergency credit?
Emergency credit is credit to access gas and electricity when you have run out of money, maybe because you cannot afford to top up. Some suppliers will automatically add some emergency credit to your prepay meter when it's time you top up. Or you may need to ask the electricity and gas company to give you emergency credit when needed.
This sometimes happens at the beginning of your experience with a prepay meter because you may not be fully aware of the standing charge. Another reason you may receive emergency credit is if the electricity and gas meter is not working correctly when you try to top up. In some rarer instances, the emergency credit will need to be added by someone who comes to your home. The gas and electricity company may charge a fee for this service.
What happens if my emergency credit runs out?
If your emergency credit runs out, you may be able to get further emergency credit. This is usually granted for people deemed vulnerable and some other groups.
You may be able to access additional emergency credit if:
You have a long-term health issue
You are disabled
You are struggling with living costs due to debt
You are at state pension age
It is unlikely that a gas or electricity supplier would deny additional credit in the above four situations.
Is a prepaid meter more expensive?
A prepay meter is usually more expensive than a standard (smart) meter. The reason for this is not to charge people who require a prepaid meter more, but rather, because they are more expensive to install and to operate for the energy supplier.
They usually include more administration costs, and energy providers prefer to receive regular monthly payments using a direct debit rather than sporadic payments.
On the flip side, a prepayment meter is far better if you need help budgeting and want to avoid much larger debts out of the blue.
If you want further help with budgeting, you should consult this how-to budget accurately and effectively page. It might help you avoid further debt.
Can you be in debt on your meter?
Due to emergency credit and additional emergency credit, you can still get into debt on your meter. You will still need to pay the credit you borrowed.
The debt is usually collected by any future top-up payment. For example, if you borrowed £10 in emergency credit, and add £20 to your balance on your next top-up, £10 of the money will go towards the debt.
You may be able to spread debt payments out weekly to avoid paying back too much debt in one go. If you owe £10 in emergency credit, you can ask your gas and electricity supplier to take smaller payments over a number of weeks to help you out.
This allows some of your money to go towards the energy you require.
If you have a bigger debt, get in touch with your gas and electricity provider to discuss your options.
Feeling like Chandler?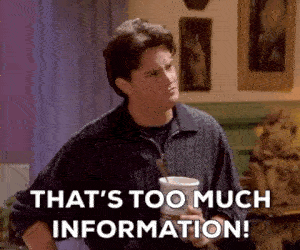 Is all this information starting to feel overwhelming? Don't panic! There's plenty of help available. You can get started below.
How can you owe money on a prepayment meter?
You can still have a debt on your meter if you need to pay back the credit you received in an emergency situation, or if you have a prepayment plan to repay this type of debt and have missed a payment.
You may need to agree to a payment plan to pay back what you owe each week or month.
Remember that debt solutions are available…
There are plenty of debt solutions available to help people on a low income get out of debt. You can read about the different options here.
For example, you may be able to wipe all of your debt within one year by using a Debt Relief Order. Money Nerd has the details on the most common debt solutions and options.
Are prepayment meters being phased out?
All energy meters where you pay in advance are being phased out. The original date to have these pre-paid energy meters phased out was 2020, but this has now been moved to 2024.
It is hoped that households will switch to smart energy meters, which allow people to pay in more orthodox ways while simultaneously allows tenants and homeowners to monitor their energy usage.
The smart meter comes with a screen and a display where you can see your daily usage and even helps identify appliances that are using most of your energy and may need replacing for cheaper energy bills.
FAQs
How to clear debt on an electric meter?
Normally, any debt on your electric meter will be repaid when you next top up. For example if you are £10 in debt and you top up £20, then £10 of the top up will be deducted to clear the debt. For substantially larger debts that you cannot afford to repay by simply topping up, then there are debt solutions available like Debt Management Plans and IVAs. You'll need to talk to your energy provider and a charity like StepChange about your options.
Debt advice and support
If you have debt worries, you can search for free debt advice online.
Charities like Step Change cover all types of debt and money worries to help you live comfortably.
Phone one of the many great debt charities today for immediate and compassionate support.
Are you struggling with debt?
Affordable repayments
Reduce pressure from people you owe
Stop interest and charges from soaring
Get started