Allied International Credit Debt (AIC) Should You Pay? 2022
For free and impartial money advice and guidance, visit MoneyHelper, to help you make the most of your money.
Allied International Credit Debt Collection are chasing people for money throughout the UK.

If you are reading this, you have probably received one of their intimidating debt letters threatening legal action.
Debt collectors might try to scare you, but they cannot go above the law and the regulations of the Financial Conduct Authority (FCA).

Use our debt collection guidance and tips to reply in the best way and you might not have to pay – even if you really do owe the debt!
It's not your fault. Complaints to the Financial Ombudsman have risen this year from 830 to 2,006, so it's safe to say that you're not alone.
Deal with your debt today and feel amazing tomorrow.
Don't worry, here's what to do!
You could get rid of Allied International Debt Collectors by writing off some of your debt.
There's several debt solutions in the UK, choosing the right one can take years off your debt, but the wrong one can be expensive and drawn-out.
Fill out the 5 step form to get started.
What Is Allied International Credit?
Allied International Credit is a UK company that other businesses will outsource tasks and projects to, such as customer service or lead generation.

They also act as a debt collection company and will track down people who owe their client money. They will ask you to pay or threaten to take you to court. They are likely to offer you a debt repayment plan to spread out the debt repayments.
Allied International Credit (UK) Limited is authorised and regulated by the FCA for tasks outlined in the Consumer Credit Act 1974 (amended 2006).
However, don't think that a repayment plan is your only option. There might be ways to avoid paying and other methods to pay back less. We explain the details throughout this debt help guide.
Are you struggling with debt?
Affordable repayments
Reduce pressure from people you owe
Stop interest and charges from soaring
Get started
Who Does Allied International Credit Collect For?
Allied International Credit will collect debts on behalf of different businesses in the UK. They are known to work for some of the big banks, such as Lloyds, TSB, HSBC and NatWest. This means they could chase you for personal loan debt and credit card debts.
Have You Received a Letter from Allied International Credit UK?
AIC Debt will send a letter to anyone they think owes money to their client. This letter is formally known as a Letter Before Action (LBA). Exactly as it sounds, they are asking you to pay before taking further action, that being legal proceedings.
Have you received a letter from this debt collector? I'll buy it off you for £5
We understand that reading this letter, probably out of the blue, can be daunting. It is designed to make you act fast and just pay to get rid of them. But there are options to hand and there is something you should do first which could stop you having to pay back any of your debt.
If you do not reply, they might bombard you with phone calls and their agents might start to become rude and aggressive. There are ways to deal with these behaviours and we will also explain them further down this debt advice guide.
All debtors who receive one of these letters should not hide and reply. But what should you say?
Feeling like Chandler?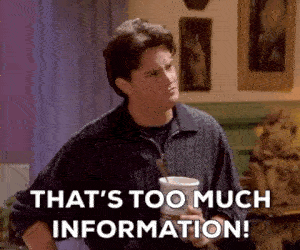 Is all this information starting to feel overwhelming? Don't panic! There's plenty of help available. You can get started below.
Ask This Debt Collection Agency to Prove the Debt
AIC Debt and any other debt collection agencies must supply the supposed debtor with proof that they owe the money. It is their responsibility to send this to you and you do not have to make a payment until they do this.
A judge will also expect them to provide this before stepping foot in the courtroom.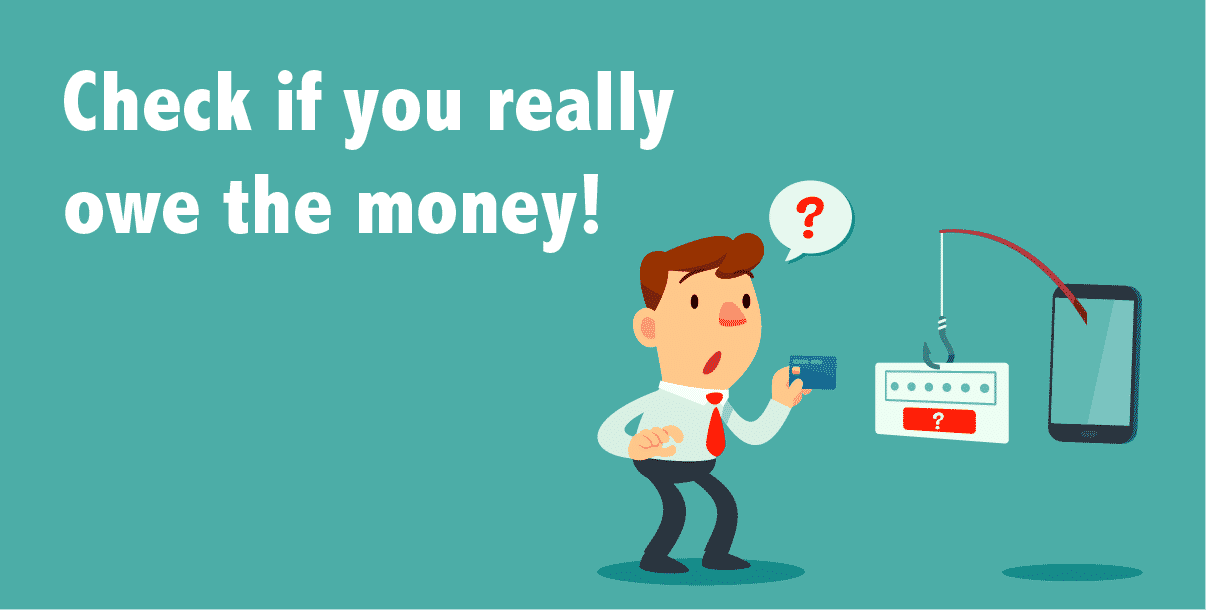 Most debt collectors will not provide this because it means they have to do a lot of research and digging. They hope by sending you a letter and making threats that you will cave and pay up. So, make them work for it! Even if you know you owe money to their client, ask them to show their hand first.
This is a good strategy as it buys you time, could stop you needing to pay the debt and if you genuinely think there has been a mistake, it will make them realise it.
We have made sending this request for proof effortless with our free prove the debt templates.
Keep copies of your requests and if they do start legal action, you can show a judge that you asked for proof and they withheld it.
The Loophole That Means You Don't Have to Pay!
There is a legal loophole that means you will not have to pay the debt to them. The official name of this loophole is the statute barred debt law and is explained in the Limitations Act 1980.
Don't worry, you don't need to read the legislation unless you want to. We explain the basics here and in our statute-barred debt guide complete with free letter templates to tell a debt collection agency that they cannot ask you for the money again.
The law states that any debt which is six years old or more cannot go to court because the courts are already too busy and their resources are stretched. To protect the courts from becoming overwhelmed, these old debts are made legally unenforceable.
If a debt collection agencies cannot get a judge to request you pay, they can never use bailiffs or do anything else. The debt is not exactly wiped, but it does mean you can never be forced to pay the debt back.
What Laws Must They Stick to?
The debt collection industry is full of bad practices and debt collectors bending the rules to get the money. But there are laws you can quote and use to stop them from exploiting their position.
They must:
Respect your communication wishes if you only want to be contacted in writing
Explain all terms and phrases they use when asked, to ensure they do not confuse and mislead you
Point you to debt advice and support channels
Offer an affordable payment plan based on your circumstances
Give you reasonable time to decide how to get out of debt
Show an understanding of the situation
Never lie or intend to deceive you
I Owe the Money and They've Proved It, Help!
If you sent your letter requesting proof and they replied with proof you owe the debt, such as a signed agreement that you did not sick to, do not worry.
The bad news is that you will now have to pay the debt and Allied International Credit Debt have a good case if it went to court. So, ignoring them now is not smart and could cause you to owe even more due to interest and debt collection fees.
The easy way out of the situation is to ask for a payment plan that they provide to their "customers". This will help you to pay the debt in your own time, and more importantly, stop you getting into further debts elsewhere.
Always conduct a thorough budget before agreeing to a plan with them. If you do not know your disposable income then you might commit to paying back too much and get into other debts.

Use this friendly budgeting article for help!
UK Personal Debt 2021 Update:
As of April 2021, the average total debt per UK household was £61,509

(Source: The Money Charity)
But there are other ways to get out of debt – and they could be cheaper!
Don't allow Allied International Debt Collectors to trick you into thinking that their offer is the only way to spread out the cost of your debt. It is one option but it is not necessarily the best for you.
There are plenty of other options, not limited to:
Individual Voluntary Arrangement – great if you have multiple large debts and want to save
Debt Relief Order – wipe all of your debt if you do not earn a lot of money and do not own a home
Debt Management Plan – this is similar to what AIC Debt are offering but you could get better repayment terms
Read about these and more on our debt solutions page!
How to make a payment to Allied International Debt Collectors
Allied International Credit Debt Collectors make it very simple for you to make a payment. They would be more than willing to take a payment over the phone with a debit or credit card and you can pay off your account online.
I would advise that you do it online, so they don't pressure you into paying more than you can afford. To do this go to their site at https://aiccorp.co.uk/ and then click the 'make a payment' button.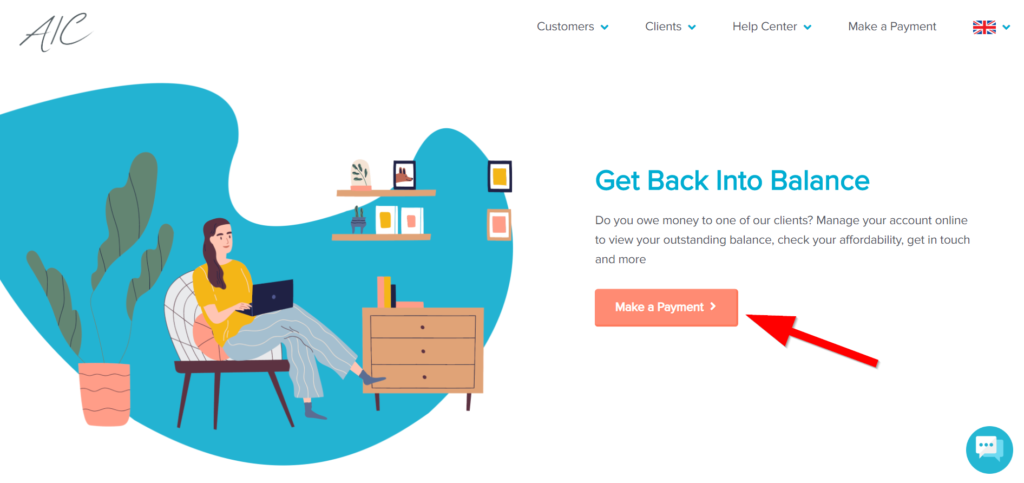 On the next page, you will need your 'AIC reference number', which you can get from one of the many letters they would have sent to you. And then you can choose to verify your identity with either your birth year, postcode or customer account reference number.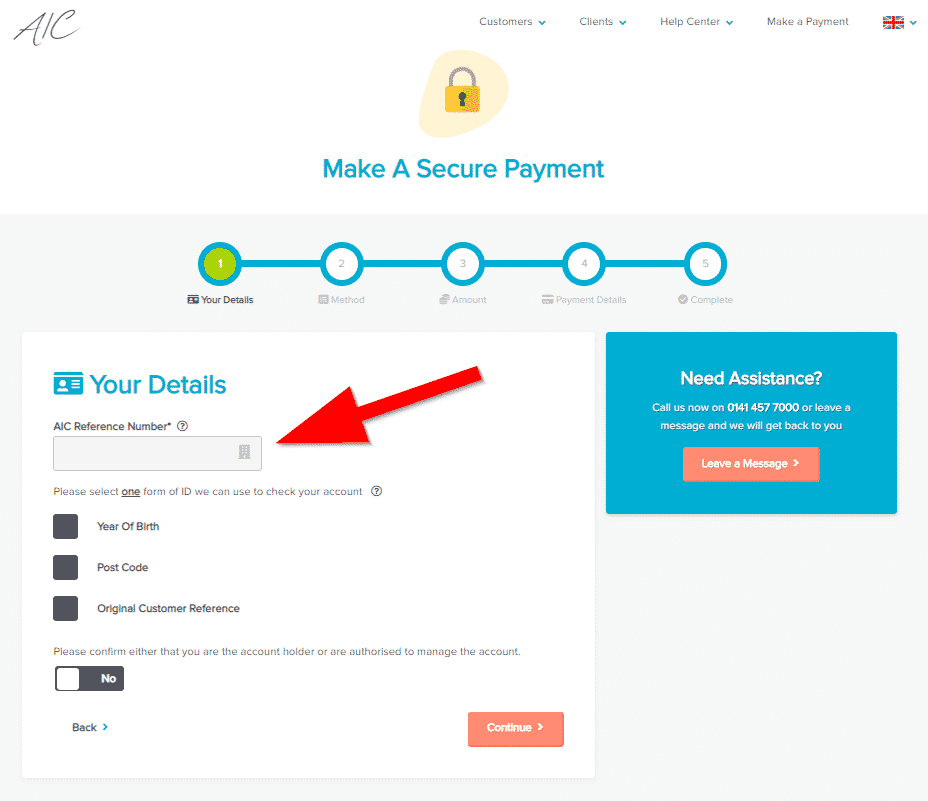 When Can I Complain About Allied International Credit Debt Collection
If they break any regulations, you should first complain directly to them. If they fail to resolve the issue, you can then escalate your complaint to the Financial Ombudsman Service (FOS).
The Financial Ombudsman will take an impartial view of the events and will decide to penalise Allied Debt Collection or not. We have made a guide to explain how to make a complaint. Debt advice charities can also help prepare your complaint.
Here are some of the things to complain about:
If they are aggressive and intimidating
If agents call you and ask you to pay become aggressive, you can simply record what went on and lodge a complaint. Some agents will do this because they are trying to earn a bonus or commission from getting you to agree to pay the money. A variety of techniques may be used to wear you down.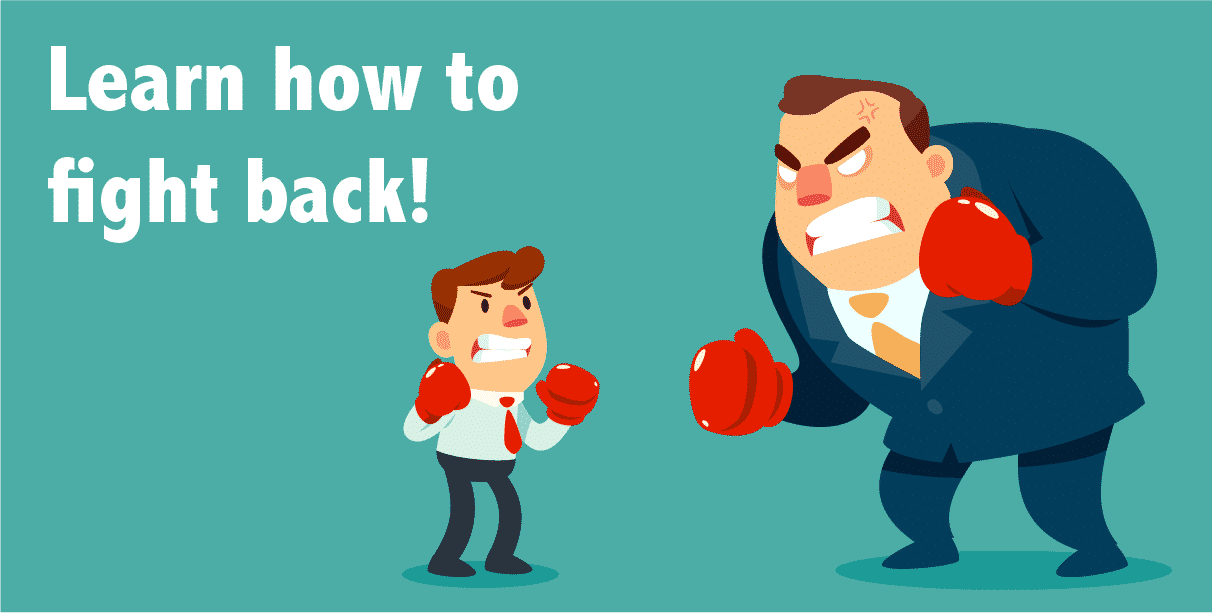 If they call you too much
They may start calling more often if you ignore them. Some even have computers that call you for them so they can annoy and get to you without effort. You can send them a letter stating you only want to be contacted in writing. If they do not listen to your preferences, they are committing harassment.
If they threaten to take your possessions
Debt collection groups cannot take your items in any situation. This is the job of a bailiff who has nothing to do with Allied Debt Collection. Even if they suggest this is possible, they are breaking the law by lying and threatening you.
If they tell others about the debt
Having debt is a sensitive topic and there are privacy laws in place to ensure no debt collection company tells a family member or other person about your debt.

They should confirm who they are speaking to you before discussing the situation on a call. If they tell someone else that you owe money, these break these laws and open themselves up to complaints and claims.
Allied International Credit Debt Reviews
There aren't many reviews of AIC, however, I was able to find quite a few forum posts that describe in details how AIC work. I've copied an example below.
As you can see by reading this experience, this debt collection agency is intimidating and rather scary to deal with.
Call for Free Debt Help, Today!
Anybody that has to deal with Allied International Credit Debt Collection should seek support. You can do this by contacting a UK debt advice charity such as National Debtline, Step Change or Christians Against Poverty.
These groups are never judgemental and will walk you through your options based on a tailored analysis of your situation and debts.
Is There a Way to Write Off My Allied International Credit Debt?
A debt management group will not wipe your debt voluntarily, after all, they probably do not own the debt and are just chasing you for someone else.
But there are ways to get some or most of the debt wiped, and you will need the assistance of an insolvency practitioner. Here are a few options to explore:
The aforementioned Individual Voluntary Arrangement (IVA) can wipe up to 85% of all debts owed
Settlement offers can wipe a small amount of the debt for paying most of it off at once
The earlier mentioned Debt Relief Order can wipe all debt for people who do not have a high income
Bankruptcy is another way to wipe all your debt but it should not be a decision taken lightly
You should be aware that having debt wiped may save you having to pay, but it can decrease your credit score. This will make it less likely you will be given credit in the future and could stop you getting a mortgage, or even something as insignificant as a mobile phone contract.
Allied International Credit
Debt Collectors Contact Details:
Company Name: Allied International Credit (UK) Limited
Other Names: Allied Global Holdings Inc, AIC, Allied International Credit, Allied Global
Registered Address: Adamson House, Towers Business Park, Didsbury, Manchester, M20 2YY
Postal Address:
Anderston House
389 Argyle St
Glasgow
G2 8LR
Phone: 0141 226 3111
Website: https://aiccorp.co.uk/
They Might Call You From These Numbers:
01412283089
07814390283
07815564516
Debt Collection Company FAQs
Who owns Allied International Credit (UK) Limited?
Allied International Credit is a trading style of Allied International Credit (UK) Limited, which is a UK limited company with three directors and owned by Bill Gosling Outsourcing Holding.
Are Allied International Credit (UK) Limited legit?
Allied International Credit (UK) Limited is a legitimate business and regulated by the Financial Conduct Authority. The company is in the name of Martin Roseweir of Glasgow, Scotland.
Is Allied International Credit (UK) Limited Used by HMRC?
As of 2021, this debt collection agency has not been listed on the UK Government website a company used by HMRC to collect tax overpayments and other HMRC debts. If their name appears on the government website, HMRC will have started using them.
Does Allied International Credit (UK) Limited purchase debt?
No, they do not purchase debt. They only chase debt for their clients. This means you will never owe the money directly to them, but you will pay them who then pass on the money.
What happens if you ignore Allied International Credit (UK)?
If you ignore their letters and calls, they could begin legal proceedings.
Can Allied International Credit (UK) take you to county court?
Allied International Credit (UK) Limited will go to court if you ignore them and they believe the amount of debt you owe is worth going to court over. Never second guess them and assume they will not take you to court for a smaller debt. They may have added fees and interest which makes the amount owed worth going to court.
What happens if I ignore a County Court Judgement (CCJ)?
When someone ignores a judge's request for them to pay their debt, the debt recovery company can ask the judge to use bailiffs to repossess items to an equal value of the money owed. They can also request to take money out of the person's wage before it goes into their bank account.
Are Allied International Credit (UK) Limited bailiffs?
Allied International Credit (UK) Limited is not a team of bailiffs. They have no right to come inside your home and take your valuables. They can employ bailiffs to do this if they win the court case and a judge grants them permission because you are still refusing to pay.
Will Allied International Credit (UK) Limited stop chasing me?
Allied International Credit (UK) Limited will not stop chasing you unless the debt is statute-barred or if they fail to find evidence that you owe the debt.
How long can you legally be chased for debt?
You can only be chased for a debt for six years since the debt originated. If you made a partial payment to the debt in the last six years, the clock resets and another six years is needed until the debt can no longer be collected. Debts that you have been ordered to pay with a County Court Judgement can never become too old to collect.
What are my options to contact Allied International Credit (UK) Limited?
You can call Allied International Credit Debt on 0141 457 7000. This is not a free number to call. You can also send them an email or write to them at the address published in the section above.
How do I pay Allied International Credit (UK) Limited?
Allied International Credit accepts payment by phone or online using their make a payment portal. They also accept cheques and postal orders.
Are you struggling with debt?
Affordable repayments
Reduce pressure from people you owe
Stop interest and charges from soaring
Get started
References
CONC 7.3 Treatment of customers in default or arrears (including repossessions): lenders, owners and debt collectors