Ascent Performance Group Debt – Should You Pay? 2022
For free and impartial money advice and guidance, visit MoneyHelper, to help you make the most of your money.
Ascent Performance group debt letters can be intimidating and leave you anxious about what could happen next. Before you rush to pay – if you can – you need to hear this. We explain what's really going on when you receive an Ascent debt letter and what you can do about it.
Beating Debt Collectors
There are several ways to deal with Ascent Performance Group Debt and improve your finances.
Choosing the right way to tackle your debt could save you time and money, but the wrong one could cause even more harm.
It's always best to find out about all your options from a professional before you take action.
Fill out the 5 step form to get started.
What is Ascent?
Ascent Performance Group Limited, better known as just Ascent, is a UK debt collection business. They chase people to pay arrears and debts owed to their clients. They may work for a fixed fee or for commission on any eventual payments made by debtors – or both.
The company's head office is based in Sheffield and they're completely legitimate. They're authorised and regulated by the Financial Conduct Authority.
Are you struggling with debt?
Affordable repayments
Reduce pressure from people you owe
Stop interest and charges from soaring
Get started
Is ascent part of Irwin Mitchell?
Yes, Ascent Performance Group Ltd is a wholly-owned subsidiary of Irwin Mitchell Holdings Ltd. Irwin Mitchell is a legal firm and they may work with Ascent clients to advise on taking legal to recover debts. But this doesn't necessarily mean the client will go down this route.
Are the Ascent Performance Group bailiffs?
The Ascent Performance Group aren't bailiffs. They are a company that used administration processes to try and recover debts. Bailiffs can come to your home and seize goods, but only after you have lost in court and a judge gives permission for the debt to be enforced with bailiffs.
Ascent should not suggest they have equal powers to bailiffs, and if they do, you should report them using the Financial Ombudsman Service.
Who does Ascent Performance work for?
Ascent works to collect debt on behalf of other businesses. These usually work on behalf of blue-chip clients and banks, including mortgage lenders. However, they offer services to collect debts for businesses outside of finance and mortgages.
Ascent Performance Group debt reviews
Ascent Performance reviews are much better than the average debt collection company reviews. There are lots of reviewers stating how much they enjoyed the empathetic and personalised service.
This is probably because they are helping people catch up on their mortgage and therefore keep hold of their home, rather than chasing payday loans or credit card debts.
Have a read of some below:
"Gary Ellis, I found to be very sympathetic and listened to what I had to say, and was not judgemental at all, made me feel at ease, and made the process a lot less intimidating. Thanks"
Mr John M (Traustpilot reviewer)
"I am currently dealing with Ascent, who are working with me regarding my mortgage arrears. I had buried my head in the sand for some time prior to Ascent getting involved on behalf of Halifax and was extremely anxious about the whole situation. Since the first contact with Carly, my mind was put at ease."
Laura (Traustpilot reviewer)
Feeling like Chandler?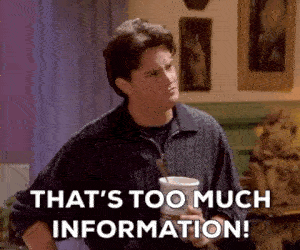 Is all this information starting to feel overwhelming? Don't panic! There's plenty of help available. You can get started below.
Have you received an Ascent Performance Group debt letter?
Ascent debt letters are called Letters Before Action because their client may take legal action against you if you don't pay. Ascent will usually threaten legal action whether or not there is a realistic chance of legal action being taken.
Will Ascent Performance take me to court?
There's no way of knowing if you will be taken to court for not paying by Ascent's deadline. Irwin Mitchell may be advising the client on whether going to court is worth it, but it is the client who will ultimately decide. They might or might not have the appetite for a legal battle with you.
Nevertheless, it's important not to assume that any legal threats are empty threats.
Do I have to pay an Ascent Performance Group debt?
You shouldn't ignore an Ascent Performance Group debt letter, but at the same time, you don't have to immediately pay.
You can buy yourself some time by replying to their letter with a specific request. And you don't have to pay until they fulfil this request adequately. This request is also useful if you think they have made a mistake. So, what is it?
Alternative options before you pay
Before we tell you about the request you can make, there is one other thing you need to check, which might mean not having to pay a penny to Ascent…
#1: Check to see if they can take you to court
Ascent cannot take you to court over arrears that have become too old to be collected. The time period for a debt to become too old differs, especially between smaller debts and mortgages. But if your debt has become too old to go to court, you'll never be forced to pay that debt because a judge can never order you to do so.
This loophole is called statute barred debt, and you can read all about it for free on this MoneyNerd statute barred post.
#2: Request evidence that you owe the debt
If your debt isn't old enough not to be taken to court, it's time to make Ascent work for your money or just buy yourself some extra time. Ask them to prove you owe the debt. When you do this they must supply you with a copy of the credit agreement you signed with their client. You don't have to pay until they do this.
Use this letter template to formally but firmly request evidence you owe the money. It's completely free to download and will save you time!
More resources to fight an Ascent Performance Group debt
Check out our debt help hub to find more content about dealing with debts and collection companies. And don't forget to make the most of personalised free debt support from UK charities like StepChange!
Are you struggling with debt?
Affordable repayments
Reduce pressure from people you owe
Stop interest and charges from soaring
Get started