BW Legal Debt Collectors – Should You Pay? 2022
For free and impartial money advice and guidance, visit MoneyHelper, to help you make the most of your money.
BW Legal Debt Collectors is a debt collection agency chasing people for debt in the UK. If you have been contacted by BW Legal Services Limited, it is time to act now.
Fight back against this company and its bullying tactics with our help and advice.
It's not your fault. Complaints to the Financial Ombudsman have risen this year from 830 to 2,006, so it's safe to say that you're not alone.
Deal with your debt today and feel amazing tomorrow.
Don't worry, here's what to do!
You could get rid of BW Legal Debt Collectors by writing off some of your debt.
There's several debt solutions in the UK, choosing the right one can take years off your debt, but the wrong one can be expensive and drawn-out.
Fill out the 5 step form to get started.
Who are BW Legal Debt Collectors?
BW Legal Debt Collectors is a debt collection law firm registered as a business in England and Wales. Their head office is based in Leeds, where they have been in operation since 2009. They handle all areas of debt collection including litigation. They specialise in consumer debt collection and are regulated by the Solicitors Regulation Authority, as well as being regulated by the Financial Conduct Authority (FCA).
They're well known for making phone calls to debtors and raising a vast number of court claims (CCJs) – around 10,000 per month. If you're unsure what this means, you can learn more about BW Legal, debt administration and CCJs in this guide.
Are you struggling with debt?
Affordable repayments
Reduce pressure from people you owe
Stop interest and charges from soaring
Get started
Is BW Legal Service Limited a Real Company?
Have you received a letter from this debt collector? I'll buy it off you for £5
Yes, BW Legal Debt Collectors is a legitimate debt recovery law firm registered in England and Wales. The business is also registered by the Solicitors Regulation Authority (SRA) and regulated by the Financial Conduct Authority (FCA). The company registration number is 07966978. This means they are a recognised consumer debt collection firm and you can be sure they comply with all current regulations in the UK and act ethically on behalf of their own customers.
The registered office address for BW Legal is Enterprise House, 1 Apex View, Leeds, West Yorkshire, LS11 9BH. This should be shown on any letter you receive from them.
Who Do BW Legal Collect Debt for?
BW legal collects debts on behalf of a number of companies like HRMC, N Power, O2, EE and many more listed below. They are especially active in the consumer debt sectors, such as home utility providers.
It's likely that you owe one of them:
The government (HMRC)
N Power
O2
EE
Loan and credit card providers
Gas or Electric companies
Virgin Media
Parking tickets
A number of other providers and creditors
Why Is BW Legal contacting me?
If BW Legal Debt Collectors are contacting you, it's likely a debt you owe has been passed to the company for them to handle. They are a debt collection agency acting for individuals, businesses and organisations. You will be told which company they are acting for and the amount that you owe. If you do not respond, they might begin a court claim for you to pay.
Feeling like Chandler?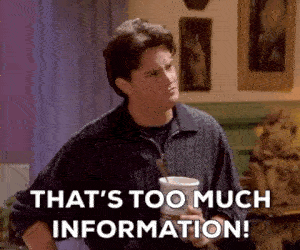 Is all this information starting to feel overwhelming? Don't panic! There's plenty of help available. You can get started below.
What to do if BW Legal Contact You

When you are contacted by any debt agency, including BW Legal, you should confirm that you actually do owe the money. If you are not sure, it's a good idea to refer to a credit agency to see whether anything is outstanding to the amount the creditor claims you owe. The best option is to send a letter requesting proof that you owe the debt. If they do not respond or provide proof, there is no obligation to pay.
Use this letter template to do it right!
The BW Legal Recovery Process
Much like many other debt collection agencies, BW Legal Debt Collectors take a standard approach to debt recovery in England and Wales. Their staff will contact debtors via email, telephone or letter, asking them to contact them back and pay the amount owed or to negotiate repayment options. If they do provide proof you owe the debt, you can make your payments online if you prefer (see screenshot below).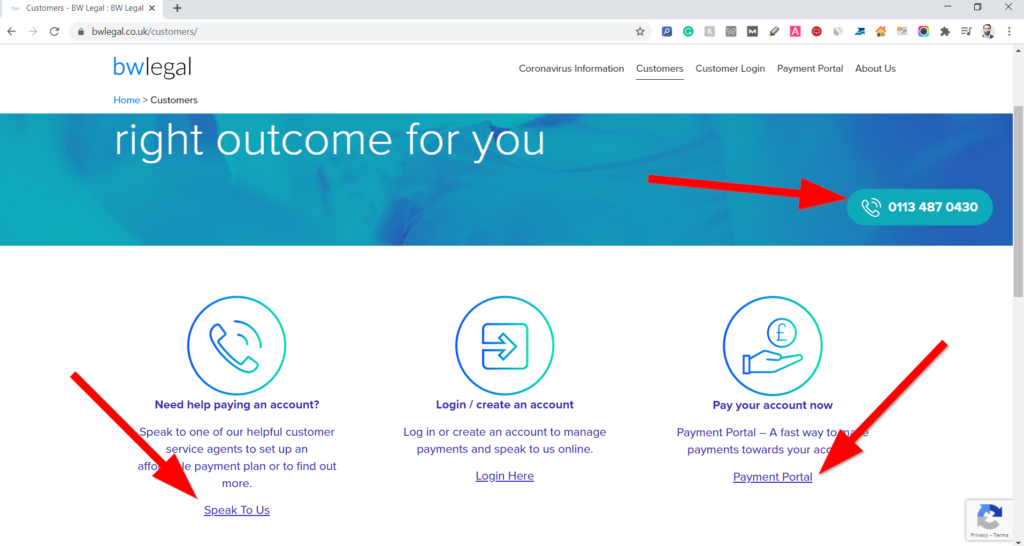 If you ignore their debt letters, things can get a lot worse. But our guide is here to prevent that and help you get it right…
Are BW Legal Bailiffs?
BW Legal are not bailiffs. Bailiffs are officers of the law and BW Legal will need to go through a legal process to prove that you are unwilling or unable to pay your debt first before bailiffs are employed in recovery. If the court agrees, bailiffs can be used to recover property and goods that cover the amount of the debt.
Can BW Legal Take Me to Court?
Yes, BW legal can take you to court for a CCJ. BW Legal apply for a staggering amount of County Court Orders (CCJs), which is when they take you to court and request that a judge orders you to pay if you have been ignoring the debt collection agency (and you really do owe them money). If your parking fine is really small, they may not think it is worth taking court action. But don't count your chickens before they hatch, because BW Legal might still go down this route.
Can I Ignore BW Legal?
No, you should never simply ignore a debt collector. BW Legal Services Limited, just like any other debt collection company, is obligated to give you some time to assess the various debt recovery solutions, so you don't have to respond immediately.
That being said, they will only do so once they have a confirmation that you are indeed attempting to get your affairs in order. Debt collection companies will never give you breathing space or time to attend to your finances if you don't stay in touch with them. Thus, it's important when dealing with debt collection companies to stay in contact.
If you keep ignoring them, they may start taking legal action against you. You can contact them using this number 0113 323 1784 when phoning from England and Wales, or contact them by their website: http://www.bwlegal.co.uk/
Can I stop BW Legal Debt Collectors from phoning me?
Yes, you can stop BW Legal Debt Collectors from phoning you about your debts. You have the right to decide what way you want to be contacted. Sometimes debt collection agencies will make too many phone calls, often seen as aggressive. Some of them use call monitoring technology to work out when you are likely to answer.
But you can stipulate in writing that they should not phone you. You can also say they are only able to phone at certain times of the day or on a specific number, such as your mobile or home phone.
How to beat BW Legal
Being harassed by BW legal or any debt collection company can be extremely stressful, but there are things you can do. You do have some options if you are harassed by BW Legal. Tell them in writing that they can't call you, or identify when they can call or which number they can use, such as your work or home phone.
Prove You Owe the Debt
Every debt collector in the UK is required to show evidence that the debtor is actually responsible for the debt. This evidence is often a signed contract in which the consumer promises to pay the debt according to the timetable provided. If BW Legal or any debt collector cannot provide this evidence to the debtor within 30 days, the debt is uncollectible.
Not Your Debt
The United Kingdom has a huge population, and countless people have the same name. An aggressive debt collector might send letters to more than one person in the hopes that they reach the correct one, or they might send letters to many known addresses for the same reasons. If the debt isn't yours, tell BW Legal. You can check your credit report to see if you owe money.
I've received a BW Legal parking fine, should I ignore it?
In short, no you shouldn't ignore BW legal. Even if you don't think the parking fine is fair you shouldn't ignore a BW legal parking fine.
The first thing you should do is see if you can appeal the parking fine. This might not always be possible because the landowner will have unlikely passed the debt onto BW Legal before that timeframe is up.
While it's unlikely, BW Legal might try and take you to court to settle the parking fine plus any charges they've added.
If you can't afford the parking fine in one payment, speak to BW Legal to come up with a repayment plan. They want their money either way!
The bottom line is there isn't any way of 100% knowing for sure whether ignoring a BW Legal parking fine letter will result in legal action or not.
Will BW Legal Agree to a Repayment Plan?
BW Legal will help customers to find a suitable solution including repayment plans. It's in your interest to make sure that the debt is paid back and going to court can be costly. That means you need to agree to regular repayments over a reasonable time period. The next step is to take an affordability assessment. This will tell you what's going into your bank and what's coming out every month. These details will help determine how much you can afford to pay back each month. You can get advice about this from the Financial Conduct Authority or any debt charity in the UK.
Will BW Legal accept partial payment?
BW Legal is hired to recover the debt on behalf of the company you owe money to. They are unlikely to accept partial payment unless their client has instructed them to do so.
Can you write of BW Legal debt?
You can look at writing off some of your debt through an IVA or Individual Voluntary Arrangement. The amount depends on where you live in the UK and your financial situation. Most IVAs write off a significant amount of the debt but they have to be set up by a qualified solicitor or accountant. After your IVA is up, an insolvency practitioner will write off your debt.
I've put together a 5 question form so you can get started in finding out whether an IVA might work for you.

Answer the five questions now.
Other Solutions for BW Legal Debts?
There are a number of options when you're in debt. If you have the money, you should attempt to pay off your debt as this can affect your credit rating. If you're unable to pay the debt off immediately, there are four other options:
You could save money by using one of these solutions. Find out more on this debt options page!
How do I make a complaint about BW Legal?
If you wish to make a complaint about BW Legal, you need to do this directly to them in the first instance. You can phone them on 0113 323 1784, visit their website, or send them a letter to Enterprise House, 1 Apex View, Leeds, West Yorkshire, LS11 9BH.
If you want to complain to the bailiff company you can use our free letter template which outlines exactly what you should say.
If you are not satisfied with their response, you can contact the Financial Ombudsman Service or the Credit Services Association to make a formal complaint. You may also want to inform the Solicitors Regulation Authority and the Financial Conduct Authority.
When you make a complaint, gather as much information as possible and provide your debtor reference number from your BW Legal account, and the company registration number (07966978).
The outcome of a complaint may even award you compensation and fine BW Legal.
BW Legal Contact Information
Website: https://www.bwlegal.co.uk/
Phone number: 01134870430
Email address: [email protected] Postal address: Enterprise House, 1 Apex View, Leeds, West Yorkshire, LS11 9BH.
BW Legal FAQs
Who owns BW Legal?
The directors of BW Legal are Sean Barton, Rachael Withers and Seng Hoong Ng. The company is based in Leeds and employs 250 staff, dealing with debt collection.
Is BW Legal a Legit company?
Yes, they are members of the Solicitors Regulation Authority and are authorised and regulated by the Financial Conduct Authority.
What is the BW Legal company registration number?
The company registration number 07966978 (registered in England and Wales) can be used to verify their information. The company's Solicitors Regulation Authority number is 569773 and its Financial Conduct Authority number is 619068.
What is the company head office address?
The office of BW Legal is at Enterprise House, 1 Apex View, Leeds, West Yorkshire, LS11 9BH.
Do I have to pay BW legal?
Yes and No. If the debt is yours for certain and you can afford to pay then yes you should pay. If the debt is more than 6 years old or it is not proven to be yours then no you don't have to pay.
Does BW Legal buy debts from other companies?
As far as I know, BW Legal acts purely as a debt collection agency – mostly debt administration tasks – and does not purchase debt itself. They chase debts in the consumer debt collection market for their own customers (the companies who are owed money).
Can BW Legal let themselves into your house?
No. BW Legal cannot step foot into your house and remove goods or property. This breaks Financial Conduct Authority regulations. The only people who are allowed to remove property are court-appointed bailiffs and even they have restrictions on what they can and cannot do.
How long can BW Legal legally chase me for debt?
BW Legal can legally chase you for a debt until you have paid it. However, if communication has broken down for some reason and no money has been forthcoming, an unsecured debt cannot be enforced six years after your last payment. You should seek help to understand this ruling further.
How do I get in touch with BW Legal Services Limited?
You can get in touch with BW Legal by calling them directly 0113 487 0430 or by writing to them at Enterprise House, 1 Apex View, Leeds, West Yorkshire, LS11 9BH. You can also engage with them and
make payments through their online portal
. They do not have a social media presence that is worth contacting.
Additional Help from Debt Charities
Remember, if you are in serious financial trouble, there are charities out there that will help you for free. The top three right now are National Debtline, Step Change and Citizens Advice.
References
CONC 7.3 Treatment of customers in default or arrears (including repossessions): lenders, owners and debt collectors
CONC 7.9 Contact with customers
Are you struggling with debt?
Affordable repayments
Reduce pressure from people you owe
Stop interest and charges from soaring
Get started