Have you received a letter or call from BW Legal Debt Collectors? If so, this is the guide for you! I was in a similar situation with a different debt collector years ago. After extensive research, I put together a guide so you don't need to waste your time and money figuring out what to do! This step by step guide will tell you exactly what you need to do which could reduce your payment to zero!
Complaints to the Financial Ombudsmen have risen this year from 830 to 2,006, so it's safe to say that you're not alone.
Who are BW Legal?
BW Legal are a debt collection law firm based in Leeds and have been around since 2009. They handle all areas of debt collection including litigation. The company work with both debtors and creditors. They specialise in business and commercial customers and are compliant with both the SRA and FCA.
They're well known for raising County Court Judgements (CCJs) and raise around 10,000 per month.
Find your best debt solution (in 1 minute!)
Is all this information starting to feel overwhelming? Don't panic! I've put together a 4 question debt calculator so you can quickly and easily find the best solution for you. If you're eligible for the new government scheme, you could write off up to 85% of your debt! Answer the four questions now.
Are they a real company?
BW Legal are a legitimate debt collection company and are registered with the SRA and FCA. This means that you can be sure they comply with all current regulations in the UK and act ethically on behalf of their clients.
When you take a look at their website you will see that they are not only regulated by the Solicitors Regulation Authority, but also the Financial Conduct Authority too. This means that you can be sure that they are a legit company. However, it is important to remember that despite this, you might not want to make any payments straight away, as this may not be in our best interests.
Who are they collecting on behalf of?
BW Legal collect on behalf of a number of companies. It's likely that you owe one of them:
The government (HMRC, tax)
N Power
O2
EE
Gas or Electric companies
Virgin Media
Parking tickets
And many others
Why are they contacting me?
If BW Legal are contacting you, it's likely a debt you owe has been passed to the company for them to handle. They are a debt collection agency acting for individuals, businesses and organisations. You will told the company they are acting for and the amount that you owe.
What does their debt collection process look like?
Much like many other debt collection agencies, BW Legal take the standard approach to debt collection. They will often contact the debtors via email, telephone or letter, asking them to contact them and then work through the debt collection process. They have to ensure that payments are easy to make, whether they are part of a payment plan or a stand-alone, one-off payment. This includes the standard telephone payments as well as an online portal, which ensures that making payments is much easier.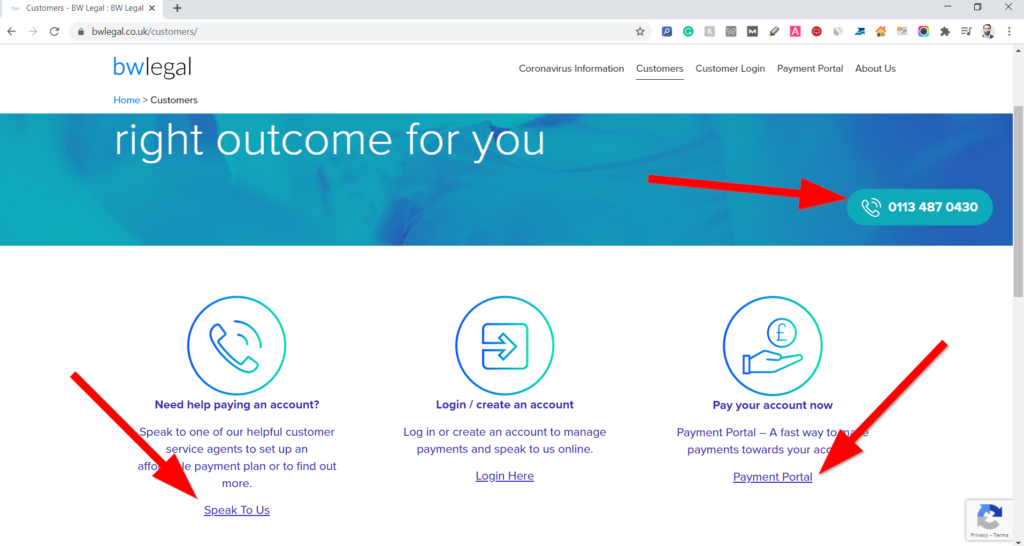 Don't worry! You CAN get rid of debt collectors. Use my debt eligibility calculator to find the best debt solution for you:
How BW Legal make your life difficult?
Debt collectors in general are not there to make your life difficult but help manage repayments for your debt. They are not allowed to harass you or make unreasonable demands. They may send their own agents for debt collection to your home but this is usually a last resort.
These individuals are not bailiffs and cannot remove goods.
What actions will BW Legal take against me?
Actions carried out by BW Legal include working with you to repay your debt or sending recovery agents to your home if you are unresponsive. These individuals cannot enter your home without permission.
If debt collectors want to issue a County Court Judgement or send in the bailiffs, they will need to do it through a formal court process.
Are BW Legal able to send in bailiffs?
Bailiffs are officers of the court. BW Legal will need to go through a court process to prove that you are unwilling or unable to pay your debt first before bailiffs are employed in recovery. If the court agrees, bailiffs can be used to recover property and goods that cover the amount of the debt.
Can they seize my home?
BW Legal cannot seize your home without going to court. Most of the customers they deal with have unsecured debts which means they are not related to property in any way. They could conceivably go to court to secure the debt against your home but this is extremely rare.
What is an Attachment of Earnings Order?
An Attachment of Earnings Order allows a debtor to take a certain amount directly out of your wages to service a debt. BW Legal may go to court in order to achieve this if you do not keep up with payments or don't engage with them.
Can I disregard BW Legal?
If you disregard any debt collector, you run the risk of any legal action escalating. You cannot stop the company contacting you but you can set preferences on how they communicate. Ignoring your debt does not mean that it will go away and it's important to get advice is you want to explore your repayment options.
Can I stop BW Legal from phoning me?
Yes, you can stop BW Legal phoning you. You have the right to decide what way you want to be contacted. If that is in writing, you can stipulate that they should not phone you. You can also say they are only able to phone at certain times of the day or on a particular number.
Confirm that you do in fact owe the money

When you are contacted by any debt agency, you should confirm that you actually do owe the money. If you are not sure, it's a good idea to refer to a credit agency to see whether anything is outstanding and the amount that may be owed.
Next, make a budget
Having a clear view of your incomings and outgoings will give you an idea of how much you can afford to repay each month. This is important as you don't want to commit to making repayments that you can't afford.
Read my financial snapshot guide to work out a budget.
Not enough disposable income to pay?
If you are struggling because you don't have enough disposable income to pay your debt, you should talk to BW Legal to come to an arrangement. As long as this is reasonable, they should agree.
Writing off 90% of your BW Legal Debt
You can look at writing off as much as 90% of your legal debt through an IVA or Individual Voluntary Arrangement. The amount depends on where you live in the UK and your financial situation. The average IVA writes off about 60% of the debt and has to be set up by a qualified solicitor or accountant.
You only qualify for the government IVA scheme if your debts are over £1,200 and you have more than one debt. Fill out a 30 second form to see if you qualify using my 5 question virtual assessment.
Will BW Legal allow me to set up a payment plan?
BW Legal will work with you as a debtor to find a suitable solution including a payment plan. It's in your interest to make sure that the debt is paid back and going to court can be costly. That means you need to agree to regular repayments over a reasonable time period.
Will BW Legal accept a partial payment?
BW Legal are hired by your creditor to recover the debt that you owe. They are unlikely to accept partial payment unless their client has instructed them to do so. Partial payment can, however, be accepted as a first step to paying off the entire
debt.
Do BW Legal accept credit cards?
BW Legal should accept payments via credit card. They should really check that you can afford it and you're not going deeper into debt.
Read my guide on using a credit card as a loan.
What options do I have with BW Legal?
There are a number of options when you're in debt. If you have the money, you should attempt to pay off your debt as this can affect your credit rating. If you're unable to pay the debt off immediately, there are the 5 other options that can help you with your debt:
Snowball Method – if you can afford to make the minimum payments on your debt, then this method to become debt-free is almost definitely your best option. The great thing about the snowball method is that it actually improves your credit score, whereas the other options will damage it.
Debt Management Plan (DMP) – this solution has you paying less than the minimum every month and the lenders stop charging interest. Ideal for a short period if you have, for example, lost your job.
Debt Relief Order – is suitable if you have debts of less thank £20,000, have barely any income and don't have a
house.
Bankruptcy – is for many people the fastest way to way to hit the reset button. Don't be put off, there's a lot of stigma around the word 'bankruptcy', however, it could be the right thing for you to do.
See my debt options overview page outlining all your possible debt options and pros and cons of each.
I feel too ashamed to call
People can often feel ashamed because they have gotten into debt. Debt collectors are used to dealing with all sorts of situations and your circumstances are not unusual. If embarrassment means you don't want to pick up the phone, you can write a letter explaining your circumstances.
I want to make a complaint about BW Legal
If you wish to make a complaint about BW Legal, you need to do this directly to them in the first instance. You can phone them on 0113 323 1784, visit their website, or send them a letter to: Enterprise House, 1 Apex View, Leeds, West Yorkshire, LS11 9BH.
If you are not satisfied with their response, you can contact the Financial Ombudsman Service or the Credit Services Association to make a formal complaint.
BW Legal Contact Information
Website: https://www.bwlegal.co.uk/
Phone number: 01134870430
Email address: enquiries@bwlegal.co.uk
Postal address: Enterprise House, 1 Apex View, Leeds, West Yorkshire, LS11 9BH.
Reviews
Rating: [usr 3.2]
The good: I've been paying bw legal for a year and a half and I was coming to my last payment when I was rushed into hospital for an ectopic pregnancy, admittedly I was really worried about not being able to pay my debt due to being off work & what would happen when I couldn't pay. I phoned them when I was out of hospital and explained my situation. They were extremely understanding, extremely empathetic and instantly put my mind at ease telling me not to worry about my debt, just to get myself better and we could talk about rearranging my payment once I was better.
The bad: This has got to the most unprofessional company ever. Had a paid loan with them it got past to this dreadful company in January 17. They used threatening tactics to try and get the money out of you. An unaffordable complain went in with them. It then went too the ombudsman I won my case. They removed the default from my file.
Summary
BW Legal work with a variety of clients, which means that they have experience across a range of debts. They seem to recognise the need to offer a dedicated debt recovery service, making sure that every debtor is treated in a professional and personal way. With online payments and a variety of other payment methods, there seem to be a number of ways to make a payment if you do find that you are contacted by them.
BW Legal FAQs
Who owns BW Legal?
The directors of BW Legal are Sean Barton, Rachael Withers and Seng Hoong Ng. The company is based in Leeds and employs 250 staff, dealing with debt collection. They are a private limited company with share capital.
Are BW Legal regulated by the Financial Conduct Authority?
BW Legal are regulated by the Financial Conduct Authority and collects debts for a wide range of businesses and organisations. They are also a member of the Credit Services Association or CSA and aim to comply with all current regulations.
Does the Government use BW Legal?
BW Legal are a debt collection agency that deals with a wide number of businesses and organisations. Some sources on the internet suggest that they handle HMRC debt recovery but there is no concrete mention of this on their own website.
Does BW Legal buy debt from other companies?
As far as we know, l acts purely as a debt collection agency and does not purchase debt itself.
What happens if you disregard BW Legal letters?
If you have been contacted by letter by BW Legal, it's important not to disregard their attempt to contact you. There may be deadlines during which you need to act. Failure to do so may mean that the debt is escalated and may even go to court to assist in recovery through a CCJ.
Can BW Legal give me a CCJ?
BW Legal can apply for a CCJ on behalf of their client but they cannot issue it directly to you. This needs to be done through court action. Before they can do this, however, they will need to issue what is called a default notice giving you a period to pay before you are taken to court.
Can you be sent to jail for debt?
It's very unusual for someone to be sent to jail for debt nowadays. Jailing people for not paying what they owe is usually limited to areas like criminal fines, council tax and business rates and even then a custodial sentence is rare.
What happens if I ignore a court order from BW Legal?
Ignoring a court order obtained by BW Legal is not advised. A legal order such as this means that you have an obligation under the law to repay your debt. Failure to engage could mean that the company will next ask for bailiffs to be engaged to recover the debt.
Can BW Legal issue a warrant?
BW Legal cannot issue a warrant for recovery of your debt themselves. They will need to make an application to the County Court in order to get a CCJ and later engage the services of bailiffs through a Warrant of Control. This enables bailiffs to recover some of your property to the value of the debt.
Are BW Legal bailiffs?
BW Legal are not bailiffs. They are a debt recovery law firm and their job is to work with debtors to recover the money that is owed. BW Legal may engage bailiffs if a debt has not been recovered but they must go through the courts to enforce any order.
Can BW Legal visit your home?
BW legal can send representatives to visit your home to talk to you about your debt. These are not bailiffs and they cannot gain access to your home unless you agree. They also cannot remove property or goods to service the debt.
Can BW Legal let themselves into your house?
No. BW Legal cannot let themselves into your house and remove goods or property. The only people who are allowed to remove property are court-appointed bailiffs and even they have restrictions on what they can and cannot do.
Will BW Legal ever give up?
BW Legal work for creditors such as businesses and organisations and how they handle a debt collection is determined by what their clients ask for. It may be the case that a creditor will decide to write a debt off but you cannot rely on this.
When will a debt be too old to collect?
Some debts are too old to collect because they are statute-barred. This often happens if no money has been collected after six years and the debt meets a certain threshold such as being under a certain amount. When a debt is statute-barred it can no longer be collected.
How long can BW Legal legally chase me for debt?
BW Legal can legally chase you for a debt until you have paid it. However, if communication has broken down for some reason and no money has been forthcoming, an unsecured debt cannot be enforced six years after your last payment.
Do debts ever get written off?
Some debts do get written off. There may be a variety of reasons for this. A debtor may have difficulty in paying, have no property or goods and the amount may be too small to pursue. If the debt is unsecured and not collected, it is essentially written off after six years.
How do I get in touch with BW Legal?
You can get in touch with BW Legal by calling them directly 0113 487 0430 or by writing to them at Enterprise House, 1 Apex View, Leeds, West Yorkshire, LS11 9BH. You can also engage with them and make payments through their online portal.
How do I send BW Legal money?
You can send money to BW Legal in a couple of ways. You can post a cheque directly to the company or phone them to make a payment on 0113 487 0430. You can also use their online payment portal. Remember to quote your reference number in all communications.
Can I pay BW Legal using a credit card?
Yes, you can pay BW Legal using a credit card. You can also make payments using debit cards and cheques. They also have an online payment portal that you can enter your details into and quickly and safely pay and get a receipt.
Debt Charities
Remember, if you are in serious financial trouble, there are charities out there that will help you for free. The three below I recommend.
References
CONC 7.3 Treatment of customers in default or arrears (including repossessions): lenders, owners and debt collectors
CONC 7.9 Contact with customers
Read More…