Conexus Recovery Debt – Should You Pay? 2022
For free and impartial money advice and guidance, visit MoneyHelper, to help you make the most of your money.
Have you been contacted by Conexus Recovery Debt Collection asking for payment and possibly threatening a doorstep visit?
We're here to help you fight back against this aggressive debt collection business. We'll explain what you can do, which may prevent you from having to pay. You need to know this!
Beating Debt Collectors
There are several ways to deal with Conexus Recovery debt collectors and improve your finances.
Choosing the right way to tackle your debt could save you time and money, but the wrong one could cause even more harm.
It's always best to find out about all your options from a professional before you take action.
Fill out the 5 step form to get started.
What is Conexus Recovery?
Conexus Recovery, also known as Conexus Debt Recovery or Conexus Recovery and Field Services, is a company offering a number of services to other businesses, one of which is debt recovery.
They will trace people who are judged to owe money to other businesses and creditors. They will then send you letters, texts, emails or may even call you asking for you to pay the debt. They will do this for a commission on any eventual payments made.
Their website also states they operate a doorstep service, where field agents will go to the addresses of debtors and request payment.
Are you struggling with debt?
Affordable repayments
Reduce pressure from people you owe
Stop interest and charges from soaring
Get started
Are Conexus Recovery bailiffs?
Conexus Recovery are not bailiffs and they have no right to demand to enter your property. A bailiff is only used when a debtor has been told to pay a debt by a judge and they have ignored the order.
If Conexus Recovery comes to your home, you don't have to speak to them and you certainly don't have to let them inside. They cannot repossess your items and even suggesting they can is a major offence in the debt collection industry. You may want to report such behaviours to the Financial Ombudsman Service.
Who do Conexus collect for?
Conexus Recovery and Field Services don't specialise in one industry. This means they could be working on behalf of businesses and creditors from an array of sectors. They are known to work for some well-known utility companies and in the past have been collecting arrears from (previous) Scottish Power customers.
Can Conexus Recovery & Field Services take me to court?
Conexus Recovery and Field Services may advise their client to take you to court if you don't pay. Whether their client will or won't take you to court will be their own decision rather than Conexus Debt Recovery's decision. It's important not to assume they won't.
Feeling like Chandler?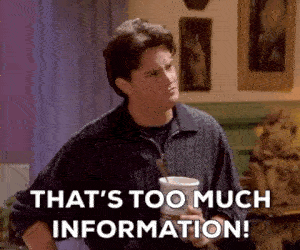 Is all this information starting to feel overwhelming? Don't panic! There's plenty of help available. You can get started below.
Conexus Recovery reviews
There are a number of people who have received Conexus Recovery debt letters writing reviews online. You'll do well to find a reviewer who has something positive to say about this debt collection business. Here is a snippet of what's being said online:
"They are a typical debt collection company who do not care about your personal situation and have no interest in helping people set up payment plans. I tried various options for a payment plan and they refused […]"
"If you receive a letter from this disgusting company, I would advise that you keep everything in writing either via letter or email as they will twist your words. Any attempt to make a payment plan with this company will be blocked."
DisneyFanatic89 (Google review)
"Disgusting company threatening doorstep visits to a disabled person with no debt with them. Obviously easier to keep harassing than actually investigate if there is a legitimate debt."
One of the most alarming findings from these reviews is the company's supposed reluctance to help debtors by accepting payment plans. If you have a payment plan declined, keep evidence of this in case you're taken to court.
Did you receive a Conexus Recovery debt letter?
Conexus might try to contact you in different ways, but they'll almost certainly try to collect the money by sending you a letter. This is known as a letter before action, and it's a prerequisite if they want to take you to court.
The letter demands payment or states you'll be taken to court. It may also suggest they'll visit you at home (remember they're not bailiffs!). It can be intimidating and scary to receive one of these letters. So, you probably have one burning question…
Should you pay Conexus Recovery Debt Collection?
You don't have to pay Conexus Recovery straight away after receiving one of their debt letters. There is something you can try to get out of paying or will simply buy you some extra time to find the money.
Of course, you can always pay the debt if you believe you owe it and wish to pay. But it's worth reading on even if you currently plan on paying.
Request proof of the debt instead
Debt collection companies are supposed to supply you with proof you owe the debt when they request payment. But most of the time, they ask for the money without sending the evidence.
The type of proof they should be sending you is a copy of your signed contract or credit agreement which you have not kept to. This may need to be accompanied by evidence of your payment defaults or arrears.
You are allowed to request this proof before paying. If they supply the proof, you should probably pay or risk being taken to court. If they don't supply the proof, you have no reason to pay until they do.
If you're taken to court for not paying but previously asked for proof, you should tell the judge. They may rule in your favour if they know that your request for proof wasn't acknowledged.
How can I stop debt letters from Conexus Recovery & Field Services?
Asking Conexus Recovery to prove the debt might stop them from writing any more letters. If they can't find the proof they may stop writing to you. Or they may have realised that they were chasing the wrong person. The only other way to stop Conexus Recovery debt letters is to pay the debt or agree on a payment plan – if possible.
Have you seen our debt help hub?
Further help for dealing with debt letters can be found on the MoneyNerd debt help page. Here you can find lots of valuable content, including a legal loophole that could get you out of paying older debts.
Are you struggling with debt?
Affordable repayments
Reduce pressure from people you owe
Stop interest and charges from soaring
Get started