Credit Security Limited Debt – Must You Pay?
For free and impartial money advice and guidance, visit MoneyHelper, to help you make the most of your money.
Thousands of UK residents receive a debt letter from a group of solicitors or a debt collection agency each year. Credit Security Debt Collections is one of those companies sending these scary letters.
Opening a debt letter can strike panic, anxiety and even cause mental health issues. This is often the case whether you are aware of the debt or are certain that there has been a mistake.
In this article we will discuss:
Who are Credit Security Debt Collections?
How to respond to their debt letters
Reasons you may not have to pay a penny!
How to get out of their debt affordably
Your rights and key information when dealing with Credit Security
Beating Debt Collectors
There are several ways to deal with Credit Security Limited and improve your finances.
Choosing the right way to tackle your debt could save you time and money, but the wrong one could cause even more harm.
It's always best to find out about all your options from a professional before you take action.
Fill out the 5 step form to get started.
Who Are Credit Security Debt Collections?
Credit Security Debt Collections primarily advertise themselves as a group that helps people get out of debt by coming up with payment plans and accepting payments.
You can get an example of this by visiting the Credit Security Debt Collections website.
But in reality, they are a debt collection agency working on behalf of other companies. These companies contact Credit Security to ask them to reach out to the people that owe them money and recoup that money for them.
Although they may help you come up with payment plans and accept payments to reduce your debt, this is not their main business objective. They work for their clients (creditors) – not you!
Are you struggling with debt?
Affordable repayments
Reduce pressure from people you owe
Stop interest and charges from soaring
Get started
Who Do Credit Security Debt Collections Really Work For?
Credit Security Debt Collections will work for many different types of companies. They have been known to try to collect debts for household utility suppliers, credit card companies, personal loan companies or even outstanding council fines. They are also known to work for Halifax.
There have also been reports that Credit Security is working for the Department of Work and Pensions, trying to recoup benefit money that was overpaid, just like this Money Savings Expert forum poster explains:
"Now recently I have started receiving letters from a company called CREDIT SECURITY LIMITED, claiming to be working for the DWP to reclaim this "debt" saying they will be sending someone to my door to take this amount from me!"
Note: They do not have any powers if they send someone to your door. If this poster is telling the truth, then Credit Security has made an illegal threat and could be reported to the FCA (more on this later).
Is Credit Security Debt Collections Just a Scam?
No, Credit Security Debt Collections are not a scam and have been operating since the 1960s. They are a genuine debt collection agency and are fully regulated by the Financial Conduct Authority (FCA).
They are also a member of the Credit Services Association, which is the trade association body within the debt collection industry.
However, just because they have sent you a letter does not mean you owe them money. Keep reading to learn more!
Feeling like Chandler?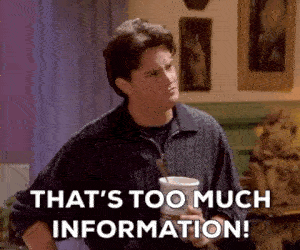 Is all this information starting to feel overwhelming? Don't panic! There's plenty of help available. You can get started below.
How Will Credit Security Debt Collections Contact Me?
Credit Security Debt Collections are known to send out letters stating that you owe a debt. These letters will often claim that if you do not pay, you will be taken to court, also known as a Letter Before Action (LBA). We will teach you how to deal with these letters further down our guide.
This debt collection agency may also contact you by phone and carry out field visits. We know that they do carry out field visits to the homes of people in debt because their Credit Services Association listing states "field visits" as one of their services.
Note, that you never have to engage or welcome one of Credit Security Debt Collections field agents inside your home. They are not bailiffs and do not have any legal powers to remove goods. In fact, Credit Security has no more legal powers than the companies they work for. It is simply a process of one company outsourcing the task of chasing debt to another company.
Despite not having any additional legal powers, there are multiple reports online of people being told that Credit Security will send people around to recover the debt.
For example:
"Today I have received a letter from Credit Security Limited about the same debt but DEMANDING I pay the sum otherwise they will send a DEBT COLLECTOR round to pick up payment."
If this report is also accurate, it is completely illegal and only an enforcement officer with a court order can do this! Any threats of this nature should be reported to the FCA or the Financial Ombudsman Service!
Credit Security Debt Collections Debt Letters (LBA)
If you have received a debt letter from Credit Security Debt Collections, it is likely to tell you that you owe their client money. It will also give a date that they want to receive the money or may take legal action.
The most important question to ask at this stage is have they provided any proof that you owe the debt? Simply telling you that you owe money – whether you agree or think there is a mistake – is not good enough.
Credit Security Debt Collections must send proof that you owe money and the way they can only do this is by sending a copy of the signed agreement or contract. For example, if they claim you have unpaid electricity bills, they need to provide a genuine contract between you and the energy company.
Credit Security Debt Collections Didn't Send Proof…
If your LBA debt letter from Credit Security Debt Collections did not include any proof of the debt, you simply have to reply by asking for proof. You can do this using the many templates online.
MoneyNerd offers one of the best "prove the debt" templates that you can use for free!
The important details to include in the letter are:
State you received their letter (including any reference number you have)
Ask them to provide proof of the debt
State that any further communications without proof will be considered harassment
State that you may report harassment to the FCA or the Financial Ombudsman
Print but never sign your name (signatures may be used against you to fabricate proof)
There is a chance that after sending this letter, you will not hear back from Credit Security Debt Collections ever again. This could be because of many reasons, but the most common ones include not being able to find the proof, or because they sent letters to multiple people with the same name or of the same address history.
This is why if you believe you have received the letter by mistake, taking action with a prove the debt letter is still necessary!
Credit Security Debt Collections Provided Proof of the Debt, What Now?
If Credit Security Debt Collections provided proof of the debt in their first or subsequent letters, there is only one way that this debt would not have to be repaid. And that is if the debt has become statute barred.
What Is Statute Barred Debt?
Statute barred is the name for a debt that is over six years old in England and the individual owing the debt has not paid any of it off or even acknowledged the debt in those six years. All three must apply for the debt to be considered statute barred.
Why is this important? Well, statute barred debts are not written off. They still exist and creditors could still chase you to pay them. However, they are not likely to chase these debts because they are not enforceable in the courts. What that means is the credit or the debt collection agency, such as Credit Security Debt Collections, cannot take you to court to make you pay.
The reason that this ruling exists was to stop the courts from becoming overwhelmed as more UK residents get into unmanageable debt and are taken to court by their creditors.
My Credit Security Debt Is Not Stature Barred
If the outstanding debt is not statute barred, the only other option would be to face the debt and pay it. But there are so many different ways you can get out of debt, and the right one will depend on your financial situation and how many debts you have.
Before you decide on what your next move should be, you should know about your rights and what Credit Security Debt Collections can and cannot do.
Credit Security Debt Collections cannot contact you during unsociable hours
Credit Security Debt Collections cannot contact you in a way you have requested them not to (note they must be able to contact you with some method)
They cannot take unauthorised payment or discuss your debts with third parties, such as employers or family members
Credit Security Debt Collections must not apply pressure on you to choose a debt solution, and they must give you time to decide
They must not demand payments from statue barred debts (you can send a letter to notify them that the debt is statute barred)
They cannot pretend that legal action will take place if it realistically will not
And they cannot use jargon to confuse you and influence your decisions
Should I Pay My Credit Security Debt Collections Debt?
Yes, if you can pay the debt then you should aim to do that, especially if you have the money to wipe the debt clean. After all, paying the full amount is likely to save you more money over the long haul. However, not everyone has the finances to pay off their debts, especially if they have large debts or have multiple debts.
This is a normal situation and Credit Security are expecting you to ask for a payment plan. On the FAQs section of their website, they state that you can talk directly to their advisors to come up with a payment plan that is affordable to you. They even go as far to state:
"You won't be asked to pay more than you can afford."
And if you lose your job or are unable to meet payments:
"Please contact one of our advisors so we can assist you through this difficult period."
So, there are lots of reasons not to panic if you owe a debt that is not affordable to pay right now.
There Are Other Debt Solution Options
You do not have to agree on a payment plan with Credit Security if you would prefer to explore your other debt solution options. You may want to choose an IVA for example. The main debt solutions are explained by MoneyNerd.
It can be difficult to know which way to turn and what is best for your situation. For further guidance, you could always speak with Citizens advice or one of the great debt charities in the UK. Step Change UK offer free support and may speak with Credit Security Debt Collections on your behalf if needed.
What to Remember When Dealing with Credit Security
Always take action!
Send a prove the debt letter or tell them the debt is statute barred
They have to prove the debt!
Credit Security has no legal powers and cannot take your possessions themselves – or threaten to do so
You can escape debt and get free help from UK debt charities
Credit Security does not expect to receive the full payment. They claim to offer reasonable payment plans.
Are you struggling with debt?
Affordable repayments
Reduce pressure from people you owe
Stop interest and charges from soaring
Get started