Credit Style Debt (CST Law) Should You Pay? 2022 Guide
For free and impartial money advice and guidance, visit MoneyHelper, to help you make the most of your money.
Do you owe money to Credit Style Debt Collectors? Are you unable to pay the money back? Maybe you don't even recognise the debt!

If you find yourself in these circumstances, you should read on to find out how to get out of your situation!
It's not your fault. Complaints to the Financial Ombudsman have risen this year from 830 to 2,006, so it's safe to say that you're not alone.
Deal with your debt today and feel amazing tomorrow.
Don't worry, here's what to do!
You could get rid of Credit Style Debt Collections by writing off some of your debt.
There's several debt solutions in the UK, choosing the right one can take years off your debt, but the wrong one can be expensive and drawn-out.
Fill out the 5 step form to get started.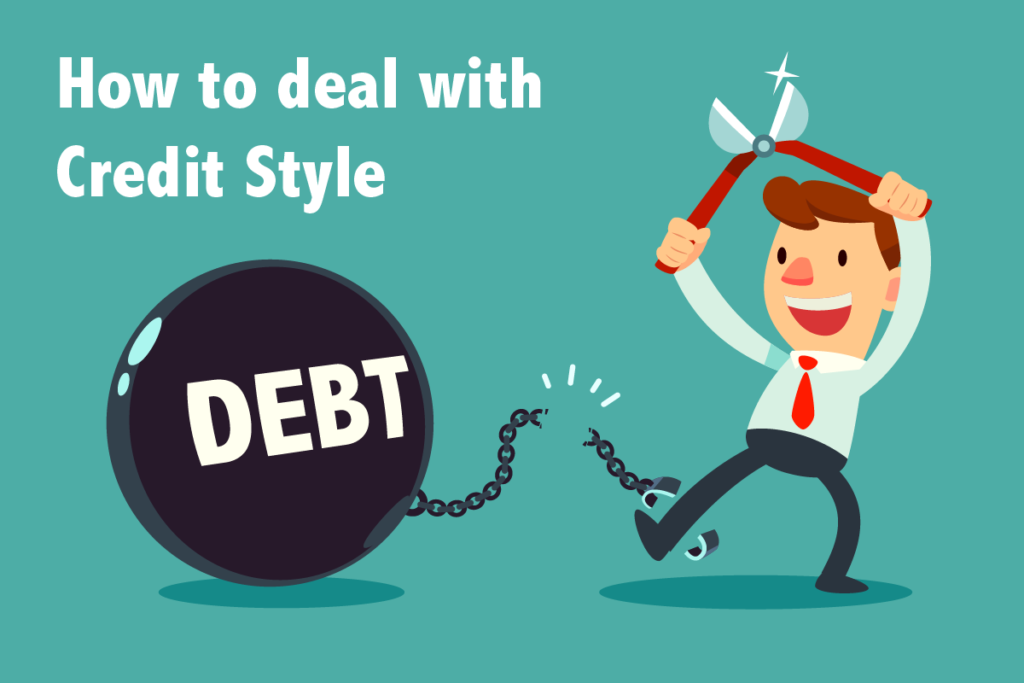 Who are Credit Style?
Credit Style Limited are a debt collection agency that also trades as CST Law. They're authorised and regulated by the Solicitors Regulation Authority under registration number 639830. They are primarily known for the collection of debt.
They usually collect unsecured debts (those that are not secured against an asset, such as a catalogue debt or a payday loan). It is important that even though these are unsecured debts you do not ignore them, as they could escalate further.
I've received a letter demanding payment. What do I do next?
If your account has been passed to Credit Style, it is most likely due to the debts you owe. Normally, your debt would have been owed to a different creditor (which is why you may not recognise their name). They act as a debt collector for other businesses, pursuing customers for payment.
If you're in debt then the most important thing is not to bury your head in the sand. Many people in debt hide the fact from their families and friends – and even themselves – often in the hope it'll simply go away. Unfortunately, it won't.
If you've received a letter from Credit Style looking to collect debts you owe, then this guide is here to help and to give you advice on what you should do next, depending on your personal circumstances.
Have you received a letter from this debt collector? I'll buy it off you for £5
Remember, debt is nothing to be ashamed of – and you're certainly not alone. According to a survey conducted by Money.co.uk, more than half of UK consumers (so almost 27 million people) started the year 2020 in debt. Out of those, almost 5 million people owed in excess of £10,000.00!
Credit Style keeps ringing me – what should I do?
Credit Style, like all debt collection agencies, is required to follow the Financial Conduct Authority's rules.
Debt collectors, cannot threaten legal action they know is unlikely to occur. They are not permitted to send letters that appear to be court forms or to pretend to have legal authority that they do not possess (for example, they are not permitted to send bailiffs around without a court order).
If you receive a call from Credit Style then it's advisable to speak to them as soon as possible, even if you've not had time to take advice or consider a debt management plan. One of their credit management professionals will be able to help you manage your debts and come up with a solution.
However, there are ways to stop Credit Style from calling you at all!
If you'd prefer to be contacted via a different method (for example, if you'd prefer them to send letters or email) then you should advise them of this as soon as possible. Often, of course, phone calls can be somewhat intrusive and it can sometimes be difficult to talk.
Credit Style will understand this, but until you speak to them and make this known then they won't be able to help.
UK Personal Debt 2021 Update:
As of April 2021, the average UK credit card debt was £1,928

(Source: The Money Charity)
Feeling like Chandler?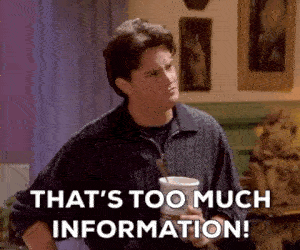 Is all this information starting to feel overwhelming? Don't panic! There's plenty of help available. You can get started below.
Will someone turn up at my house? If so, how do I stop that from happening?
Credit Style won't turn up at your house unless they really have to – which is why it's important to engage with them as soon as possible.
What's more, NO debt collector is entitled to enter your home – only certified bailiffs are able to do that and they must have a County Court Judgment against you. Bailiffs will never turn up at your home address without one and you should always ask to see ID.
In this guide, we'll look at ways to avoid having a County Court Judgment (or 'CCJ') registered against you and therefore avoid any type of enforcement action being taken.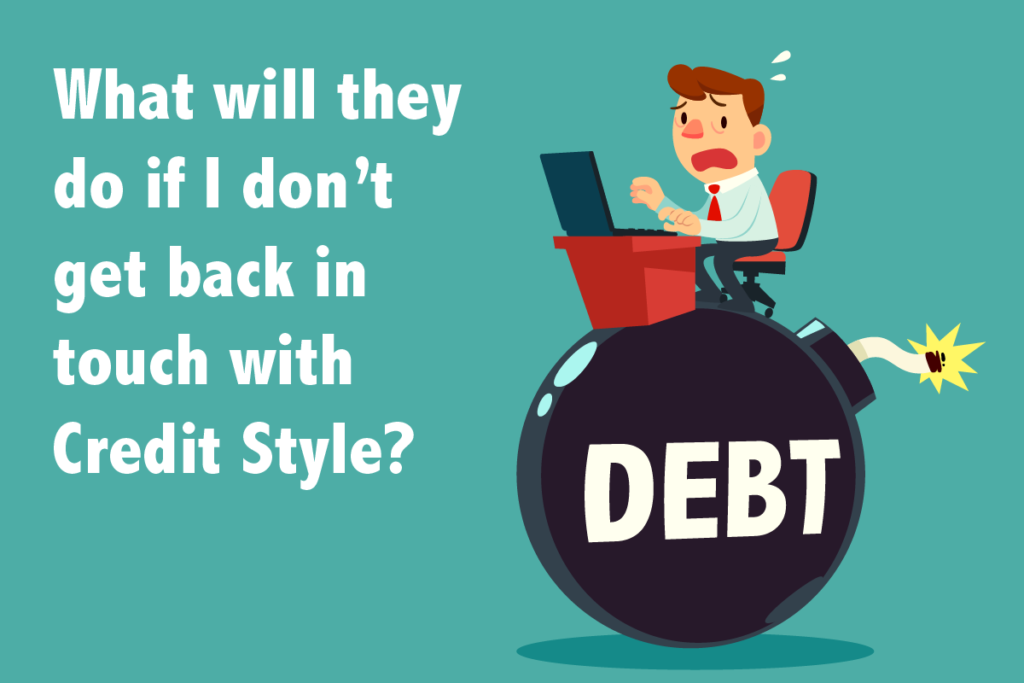 What might Credit Style do if I don't get back in touch with them?
If you don't get in touch with Credit Style then the chances are they'll issue legal proceedings for recovery of the outstanding debts. This will then increase the balance due as it'll also include any legal fees, the Court issue fee and interest (which can be claimed at 8% per annum under s.69 of the County Court Act 1984, up until the date of Judgment or earlier payment, whichever is the soonest).
If you've been late in making payments, they'll also make an entry on your credit file which means future lenders will be able to see your repayment history and trends. This stays on file for a period of 6 years and could make it difficult (if not impossible) for you to obtain credit during that time.
For more details about the issue of legal proceedings please see the section entitled: "What's the debt recovery process?"
I don't believe I owe this debt – what can I do?
If you don't believe you owe the amount being claimed then it's important to contact Credit Style as soon as possible and speak to one of their experienced team members. If necessary, ask them for evidence of the debt and/or a copy of the agreement you've allegedly entered into with your original creditor (i.e. their client).
You're entitled to receive a copy of any loan agreement under sections 77-79 of the Consumer Credit Act 1974. Please be aware that you may have to pay a small fee of £1.00 for a copy of it but, if they can't produce it, then they can't pursue the debt recovery against you.
Remember, never be afraid to ask for evidence of the debt – especially if you don't believe it's outstanding. Mistakes can (and do) happen!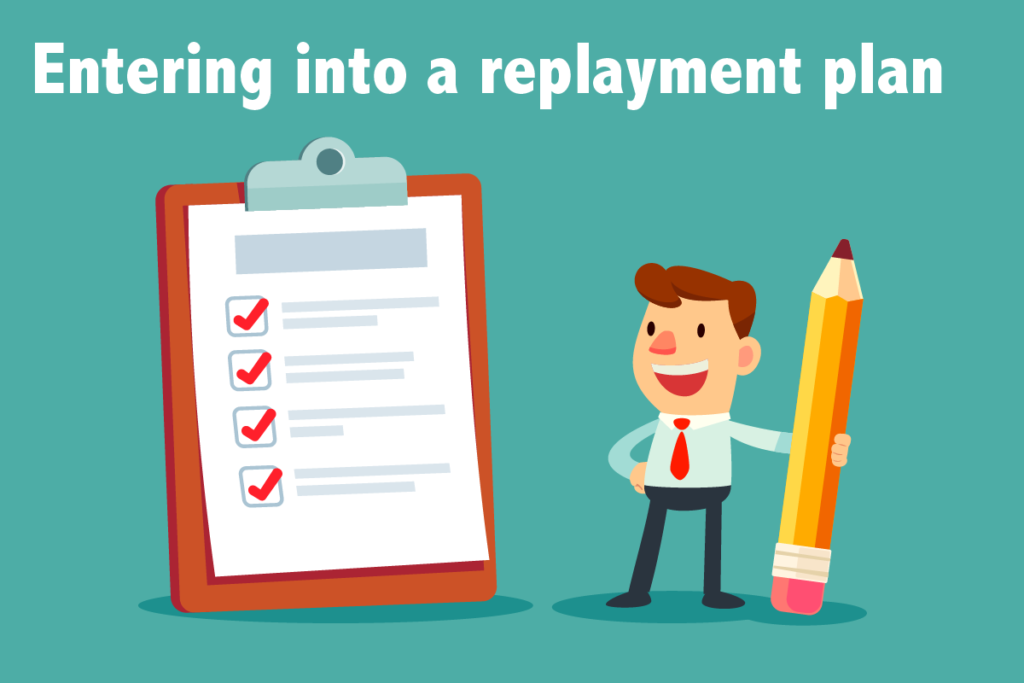 What Actions can Credit Style Debt Collectors Take?
Of course, Credit Style has the right to pursue you for debts that you owe. That being said, there are a number of guidelines which they have to abide by as they are still only a debt collection agency.
For example, they must only call you at reasonable hours and must never call you on a weekend. Their calls also should not be too frequent.
If you prefer not to be contacted via the phone, you can inform them of this. In order to stop calls from Credit Style, you can write a letter to them and inform them that you would prefer not to be contacted via the phone.
In response to this, Credit Style Limited is obligated to agree. They will send you a response in the form of a letter acknowledging your request and after that, they will only correspond with you via either emails or letters.
While it's true that Credit Style can send debt collectors to your residence, they have to give you prior notice of this just like any other debt collection agency. Similarly, even if a debt collection company arrives at your door, you need to be aware of the fact that they don't have any extra-legal powers.
They cannot enter your home if you don't allow them to and since they're a debt collector and not a bailiff, they can't seize any item outside your home either.
When it comes to legal action, Credit Style can:
Attempt to get a County Court Judgment (CCJ) issued against you
Attempt to get bailiffs sent to your home who would seize your goods
Apply for a charging order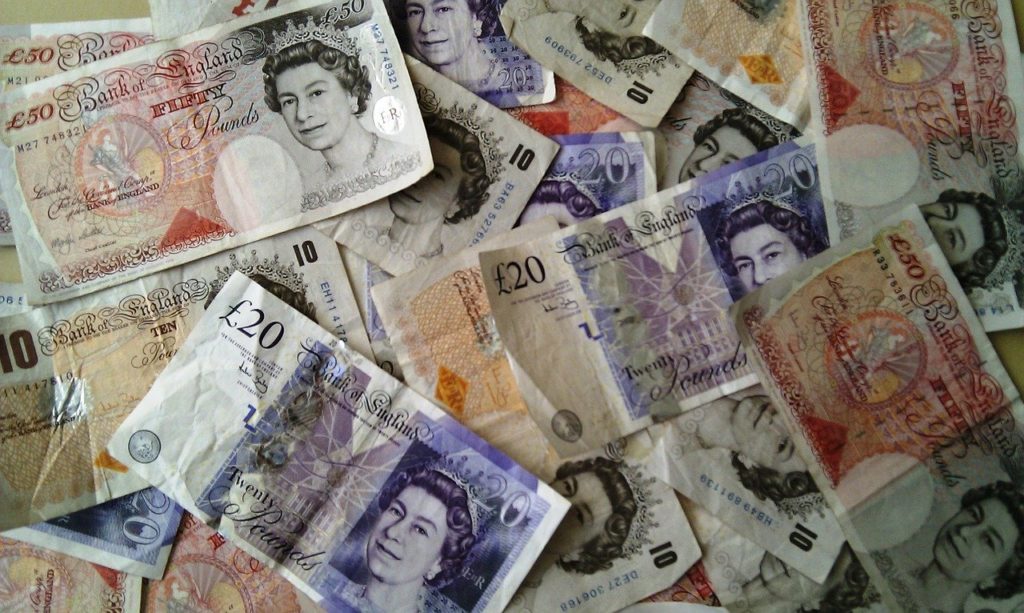 Will I be able to enter into a repayment plan?
If you're unable to pay the outstanding debt in full then you should be able to enter into a repayment plan with Credit Style.
In order to ascertain how much you might be able to repay, you should prepare a list of your income and outgoings so that you can evidence where your money goes each month. This will also provide you with an indication of your 'disposable income' i.e. an amount which could be used to start repaying the debt.
In some cases, your creditor may agree to such repayments but request that it be secured under a CCJ. This means that, should you default on the arrangement, then they'll be able to enforce it.
For more information about this and enforcement agents, please see our section entitled: "If I get a County Court Judgment (CCJ) against me, how can it be enforced?"
Are there any ways to avoid paying this debt?
If the money is owed then there aren't usually too many ways to avoid repaying it.
One exception to the rule is if the debt is over six years old and:
You haven't admitted liability for the debt during that period of time;
You haven't made any payment towards it
The creditor hasn't already secured a CCJ against you.
In this scenario then your debt is likely to be statute-barred under the provision of the Limitation Act 1980 and you won't have to repay it.
Another instance where you may not have to pay the debt is Credit Style can't prove the debt is actually yours.
This debt is one of many – what can I do?
Do be sure to include any reference number in your communication to them, so that your response can be dealt with as quickly as possible. However, never provide your bank details via unsecure means (e.g. via email or post).
If you have more than one debt then there are a number of options you might want to consider. These include (but are not limited to) the following:
Taking out a consolidation loan (i.e. putting all your debts into just one loan so you only have to worry about making one monthly payment).
Entering into an Individual Voluntary Arrangement ('IVA') (or a Scottish Trust Deed if you live in Scotland). This is a legally binding agreement between you and your creditors and shouldn't be entered into lightly. For more advice about IVA's please see our section entitled: "Where can I go for advice?"
Entering into a Debt Relief Order ('DRO') – these are usually better for those with debt levels under £30,000.00. Again, you'll need to take specialist advice before entering into such an arrangement as they have to be taken out through an approved intermediary.
Will I lose my home?
By engaging with Credit Style from the onset it's unlikely that you'll lose your home. However, if your debt is substantial and you fail to make a satisfactory arrangement, Credit Style could obtain a County Court Judgment against you and then secure it against any property you might own. This is known as a 'Charging Order'.
If your property is in joint names then your creditor will only be able to take out a Charging Order against your interest in it.
Will this debt be recorded on my credit file and if so, for how long?
If you're in debt then it'll most likely be reflected on your credit file (since most companies will record any missed payments and so on). There are three main credit reference agencies in the UK, namely:
Experian
Equifax
TransUnion
All agencies have a statutory obligation to provide details of your credit report completely free of charge so it's advisable to check it from time to time. If you think information has been placed on there in error you can apply to have it amended or removed.

Remember, any lending decisions will be based on this information so it's important to get it right.
Details of any defaults or missed payments etc. will remain on your credit file for a period of 6 years.
Will I have to go to Court?
If you engage with Credit Style from the outset you should hopefully be able to avoid going to Court.
Matters relating to debt are conducted by the County Court (and very often, an online service known as the County Court Money Claims Centre).
If legal proceedings are issued against you, you may be able to access their free mediation service which means you won't have to attend at Court. This is at the Court's discretion and appointments are offered depending on availability.
If you do have to attend Court then it's advisable to take legal representation with you (although you don't have to and can represent yourself in person).
What's the debt recovery process?
The basic process is as follows:
In the event that an arrangement hasn't been possible, Credit Style will issue a formal letter of claim to comply with the Civil Procedure Rules 1998. This letter will set out the details of their claim and request payment.

If you fail to respond to the letter of claim then Credit Style may decide to issue legal proceedings against you. This is done using an N1 Claim Form with supporting 'particulars of claim'. The Court will send the claim to you and you'll be given a period of 21 days within which to respond.

If you respond, your response will be considered by the Court. You may, for example, make an offer of payment (which may, or may not, be accepted by your creditor). If it gets accepted then it's likely your offer will be secured under a County Court Judgment. If it gets rejected, then the case may proceed to Court and/or mediation (please see our section entitled: "Will I have to go to Court?")

If you fail to respond then it's likely that Credit Style will request that Judgment be payable "forthwith". This means that you'll be required to pay the outstanding amount in full, straight away (including all associated legal costs, the Court issue fee and interest). This can then be enforced (please see our section entitled: "If I get a County Court Judgment against me, how can it be enforced?"
If I get a County Court Judgment against me, how can it be enforced?
If Credit Style are successful in obtaining a County Court Judgment against you then there are various methods of enforcement available to them including:
County or High Court Bailiffs (who can attend at your home)
Charging Order (i.e. an order secured against any property you might own)
Attachment of Earnings Order (i.e. deductions are taken directly from your salary)
Third party debt order (where your bank account could be frozen)
Bankruptcy
How can I contact Credit Style?
By phone on 0114 290 1400
Via email – [email protected] in writing to their trading address: Credit Style Limited, 5 Rutland Court, 161 Rutland Road, Sheffield, South Yorkshire, S3 9PP.
Where can I go for advice?
If you've found yourself in debt there are lots of places you can go to for advice:
Remember, there's plenty of help and you're not on your own.
How can I complain about Credit Style?
If you feel like you have been treated unfairly, your first step should always be the Financial Ombudsman Service. They will be able to take further action to ensure you're being treated fairly.
You can also speak to Credit Style directly to complain through these channels:
Phone: 0114 290 1400.
Email: [email protected]
Post: 5 Rutland Court, 161 Rutland Road, S3 9PP.
"It always seems impossible until it's done"

-Nelson Mandela-
FAQs
Are CST law legit?
Yes. CST Law is a trading name of Credit Style Limited who are authorised and regulated by the Solicitors Regulation Authority (639830).
What is debt remediation?
Debt remediation is an alternative to bankruptcy and other debt solutions. It is an attempt between you, your creditor and a mediator to settle your debts through other means.
Is debt mediation a good idea?
Yes. Debt mediation can provide relief from short term or small portions of debt. It can be beneficial to both creditors and debtors.
Who do Credit Style Collect for?
Credit Style have been known to collect debts for a number of high profile companies including Capital One, O2 and Paypal, although Paypal now have their own debt collection agency.
Do I have to pay Credit Style?
The good news is that you may not have to pay Credit Style, but only under certain circumstances. Firstly, you need to ask Credit Style to provide evidence that the debt is actually yours. You shouldn't pay if they can't prove you owe it. If they do prove that you owe the debt, you should check how old the debt is. If it is older than 6 years, then it may be "Statute Barred" and you may not have to pay it. Failing this, in most other circumstances you would be required to pay the debt back, whether in full or through a payment plan.
Are you struggling with debt?
Affordable repayments
Reduce pressure from people you owe
Stop interest and charges from soaring
Get started
References
CONC 7.3 Treatment of customers in default or arrears (including repossessions): lenders, owners and debt collectors