DCBL Bailiffs Debt Letter – Should You Pay? 2022 Guide
For free and impartial money advice and guidance, visit MoneyHelper, to help you make the most of your money.

Have you received a letter from this debt collector? I'll buy it off you for £5
Have you received a letter or call from DCBL Bailiffs?
If so, this guide will explain everything you need to know about them and what you should do next.
Direct Collection Bailiffs Limited might have a lot of experience and feature on Netflix, but it doesn't give them the right to break debt industry laws.
Use our debt advice to deal with this company and fight back!
It's not your fault. Complaints to the Financial Ombudsman have risen this year from 830 to 2,006, so it's safe to say that you're not alone.
Deal with your debt today and feel amazing tomorrow.
Don't worry, here's what to do!
You could get rid of DCBL Debt Collectors by writing off some of your debt.
There's several debt solutions in the UK, choosing the right one can take years off your debt, but the wrong one can be expensive and drawn-out.
Fill out the 5 step form to get started.
Who Are DCBL Bailiffs?
Direct Collection Bailiffs Limited (DCBL) is an award-winning UK debt collection company that offers services throughout the different stages of debt recovery.

They are well-known because their high court enforcement officers appear on the popular Netflix and Channel 4 programme "Can't Pay? We'll Take It Away!".
The company boasts some of the best recovery rates in the industry, tipped to be around 98% – and a high client retention rate.
They can chase debt in the early stages of debt recovery with Letter Before Action communications, and they also enforce county court instruction by visiting debtors at home and repossessing items to be sold at auction to pay off the debt.
Are you struggling with debt?
Affordable repayments
Reduce pressure from people you owe
Stop interest and charges from soaring
Get started
Are DCBL Legit?
Yes, DCBL is a legitimate debt recovery business registered with Companies House and also regulated by the Financial Conduct Authority (FCA). If you have received a letter from DCBL then this is a genuine letter and attempt to recover payment. If you are a client chasing unpaid debt, you can trust DCBL to provide a complete service.
Are DCBL Certified Bailiffs?
Yes, DCBL are debt enforcement agents who can enforce County Court Judgements (CCJ) for debtors to pay their debts.

If the TV show is anything to go by, these officers have bags of experience and know the law inside out.
Are DCBL Enforcement Agents the Same as Bailiffs?
DCBL enforcement agents do the same job as bailiffs. Outside of the industry, the term is used interchangeably to refer to the same job.
The term 'bailiff' is no longer used within the industry and these workers now exclusively call themselves enforcement agents. Their tasks are still the same.
What Is a County Court Judgement?
A County Court Judgement (CCJ) is a decision by the court relating to fines and debt. Once the judge issues the CCJ, it makes paying a debt a legal obligation.
If the debtor still refuses to pay, the client can employ a high court enforcement officer to repossess items.

UK Personal Debt 2021 Update:
2,610 Consumer County Court Judgements (CCJs) were issued every day in England and Wales in January to March 2021, a 13% fall on the same period in 2020. The average value was £1,681.

(Source: The Money Charity)
What Type of Debt Do They Chase?
DCBL works for small and large businesses to recover payment or enforce CCJs. They can collect anything from council tax to benefit overpayments and unpaid business invoices. They may even try to collect unpaid utility bills and rent.
Do You have to Pay DCBL Enforcement?
You might have to pay DCBL if you really owe the debt, but there are times and situations when you don't have to pay. Even if you do need to cough up, there are methods to pay on your own terms. Read on to discover how!
Feeling like Chandler?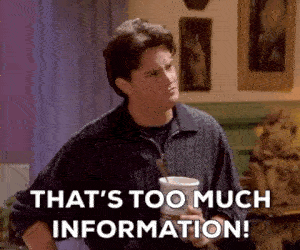 Is all this information starting to feel overwhelming? Don't panic! There's plenty of help available. You can get started below.
Why Are DCBL Contacting me?
DCBL will be contacting you because you owe money to one of their clients. They chase the debt for their clients for fixed fees.

They could be contacting you at different stages of the debt collection process. For example, they may contact you to inform you of the debt and ask you to pay, or they could visit you at home with a court enforcement notice asking you to pay.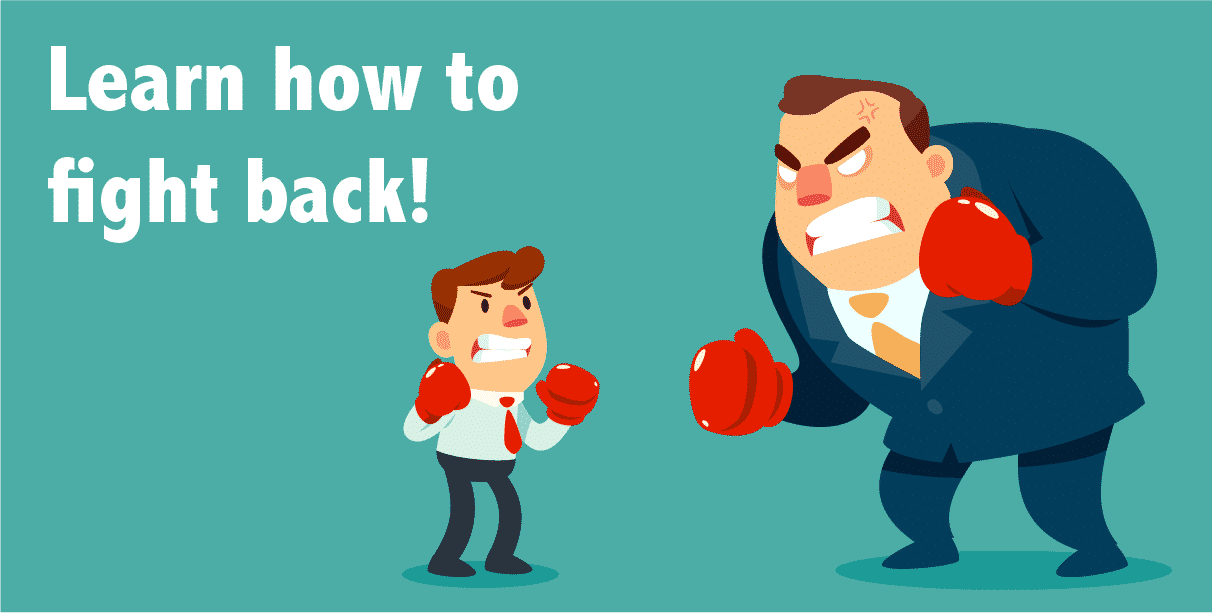 Do I Really Owe DCBL Bailiffs?
Sometimes debt collection companies can make mistakes or get the wrong person. You need to ensure you really do owe the debt. To do this, send DCBL a prove the debt letter asking for evidence that you owe the money.
This is a simple letter asking for the proof that you owe their client money, such as a utility bill agreement or defaulted payments on your council tax.
This letter should be sent when no proof is sent in the original communication, even when you know you owe the money.
Sending a letter can buy you additional time to think and if they don't provide proof of the debt, there is no obligation to pay (keep all your letters sent and received in case it goes to court!).
We have ready-made templates you can use on this guide!
At this stage, you may also want to look for free debt advice from a UK debt charity.
DCBL Bailiffs Proved the Debt, What Now?
If DCBL doesn't prove the debt you have no obligation to pay unless their client gets a court order making you pay. If they do prove the debt, you should pay it off to avoid legal action. If you can't afford to pay, speak with the DCBL team to arrange a repayment plan that doesn't cause you hardship. You should get the help of debt charities to help you work out what you can afford to pay and other options available to you.
A repayment plan with DCBL is not the only way to get out of debt in an affordable way. If you ignore them and they get a CCJ for the debt, taking control of goods that belong to you is a real possibility. These would then be sold to pay off the money owed.
I've received a DCBL final reminder – what now?
The best thing to do here is not to ignore the situation. They do not have the power to issue a CCJ, but this doesn't mean that DCBL won't apply for one to retrieve the money owed to them.
If you're struggling to pay there are many free debt charities such as:
Citizens Advice Bureau (CAB) you can expect the very best help and support in dealing with your debt problems. The skilled and experienced advisors will give you their expert guidance on debt matters.
Christians Against Poverty (CAP) provide you with free debt help and advice, whenever you need it.
StepChange provides free online debt advice and will help you to take charge of your debt.
It's important to remember that your credit rating may be affected by the debt management route you take, so consider your options carefully.
Don't Let this Happen!
You could prevent DCBL from repossessing your belongings by entering into a debt solution.
Once you inform them that you are doing so, DCBL cannot take your things.
Fill out the 5 step form to get started.
What does the DCBL Bailiffs debt collection process look like?
Whilst you hope that they would always work on the right side of the law, it is not unusual for debt collection companies to employ tactics that could be seen as questionable. They could resort to bullying, applying pressure, making frequent phone calls.
Some people who have been chased by debt collectors have said that they have had sleepless nights after dealing with them. There are some who have said that they are scared and anxious about opening the door or answering the phone just in case it is them. In fact, Debt Support Trust stated that as many as half of the people in the UK who have had struggles with debt have felt close to suicide. This is a truly shocking statistic when you think that some of these issues could be caused, or made worse by a debt collection agency.
What does the DCBL Bailiffs debt collection process look like?
DCBL will try and take payment over the phone, but if you don't want to do that you can pay online. I took a look at the online process…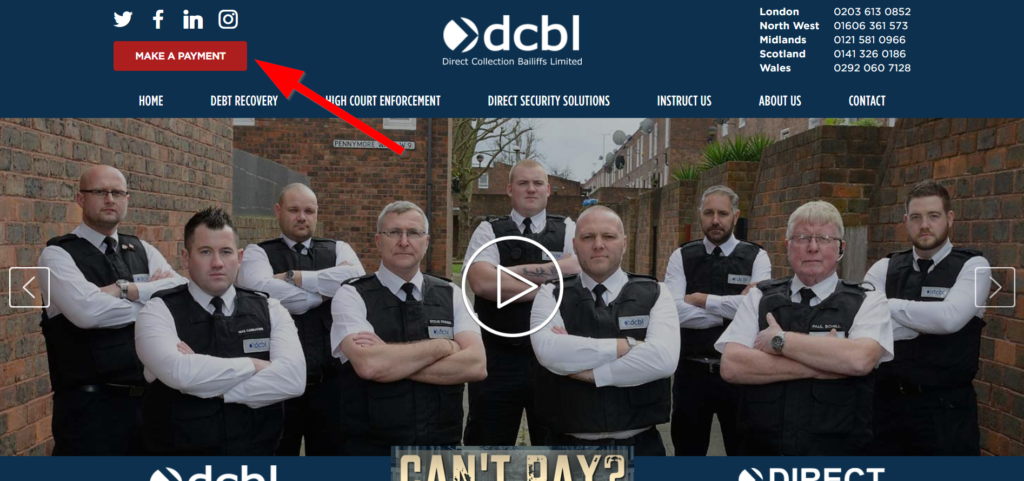 Once you've clicked 'make a payment' then you're taken to this screen when you need to enter your reference number and postcode – you can get this from the letters that they have sent you, or you can ask the person on the phone for these details.
After this screen, you'll be prompted to enter your debit or credit card details to make a payment.
What Regulations Must DCBL Follow?
The Office for Fair Trading has outlined strict guidelines that DCBL Ltd and other debt recovery businesses must follow.
These are:
Never use deceptive, aggressive or coercive techniques to recover money
Do not use jargon to purposefully confuse the debtor
Be considerate and flexible to people's circumstances
Consider circumstances when agreeing on debt solutions
If you believe DCBL has not kept to these rules, then you can report them to the Financial Ombudsman Service (FOS). Your complaint will be taken seriously and they can revoke debt recovery licenses.
What are reviewers saying about DCBL?
The reviews of DCBL are some of the best in the business, with a 4.7 on Trustpilot. I would say that these reviews seem to be driven mainly by people recovering debt, not by people who are being chased for debt. If you filter the reviews then some of the truth comes out.
There seem to be quite a few reviews of disgruntled people and unfair practices. My advice would be to keep your wits about you when dealing with this company. Check your bank account and any fees that they may be adding.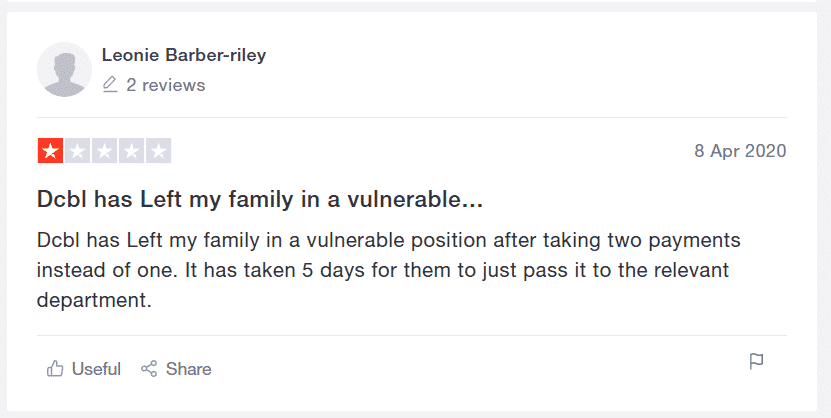 Will DCBL Bailiffs Make Me Miserable?
You would expect DCBL Enforcement and similar companies will always stick to the law, but the industry is littered with rogue companies that bend the rules or break them completely. Sometimes they apply too much pressure, bully debtors and bombard them with calls. Sleepless nights, mental health problems and fear of answering the door are becoming too common amongst debtors. It is even suggested around 50% of people with debt will consider suicide. Knowing your rights will help you fight back!
Stop All This Stress!
You can stop having to deal with this stress by using a debt solution.
With the right debt solution, a DMP an IVA or DRO could stop all contact from DCBL.
Fill out the 5 step form to get started.
Look Out for These DCBL Enforcement Behaviours
As mentioned previously, collection agencies and bailiffs stray from the rules. Here are a number of illegal practices to look out for when dealing with DCBL. If they use any of these, you should make a complaint.
If you want to complain to the bailiff company you can use our free letter template which outlines exactly what you should say.
Pressuring Callers
Some of these companies award their call centre staff with bonuses and commission if they manage to secure a payment or payment plan. This has resulted in staff becoming aggressive and threatening over the phone, which is illegal.
Frequent Calling
Debtors often start ignoring calls when they recognise it is DCBL calling. But if you do ignore their calls, they could add you to their automated calling software.
This software will attempt calls to your phone frequently and if you do answer the other mind might remain silent.
DCBL must stick to your call time preferences (pass them on to them!) and purposefully remaining silent when you pick up is considered an intimidation technique, which is again illegal.
Record the frequency of their calls to back up any complaint you make.
Friendly Fire
Another technique to keep your eyes peeled for is the good-cop-bad-cop routine. You could receive a string of aggressive calls from DCBL staff and then receive a really polite, considerate and friendly caller.
The shift in tone is supposed to make you more open to them and get you to pay. But as you might expect, rejecting this friendlier person can soon turn them nasty.
3rd Party Disclosure
DCBL may break privacy laws and disclose your debt to people other than you. They are not allowed to disclose any details of your debt – or event that you have debt – with anyone else.
This means they shouldn't be calling your family or at your place of work.
Deceitful Actions
Some debt recovery companies pretend to have the same rights as bailiffs to collect debt, such as the power to execute a county court order.
But DCBL really are bailiffs as well, which means the lines can easily be blurred when knowing what they can and can't do.
It is true that they can repossess items and execute county court orders, but they can only do so after going to court and getting the order. They cannot come inside your home at all before then. If they claim that they can, they are committing an offence.
How Can I Contact Direct Collection Bailiffs Ltd?
You can contact DCBL Bailiffs using the contact form on their website.
They have five regional offices. These are:
London:
Solar House,
915 High Road,
North Finchley,
London,
N12 8QJ
North West:
Direct House,
Greenwood Drive,
Manor Park,
Runcorn,
Cheshire
WA7 1UG
Midlands:
Colmore Plaza,
20 Colmore Circus,
Queensway,
Birmingham,
B4 6AT
Scotland:
Barn Cliuth Business Centre,
Town Head Street,
Hamilton,
ML3 7DP
Wales:
Sophia House,
28 Cathedral Road,
Cardiff
CF11 9LJ
Their website includes a map to each of these offices which can be helpful.
You can also submit complaints about DCBL through their email address: [email protected]
What Is the Bailiff Helpline Service?
There are different companies in the UK that offer advice when you need to deal with DCBL or other bailiffs. They offer a bailiff helpline that you can call at any time to get free debt advice when dealing with bailiffs or after a CCJ has been issued. However, there is no single bailiff helpline in the UK and some companies offering these services may have commercial motives. Always research the bailiff helpline you are calling first – or seek debt advice from a charity instead. Debt charities can be real life savers in this situation!
Get DCBL Debt Written Off!
There are different ways to get some or all of your DCBL debt written off. Different debt solutions will enable you to wipe off some of your debt, such as an IVA, debt settlement offer or Debt Relief Order.
You can also wipe the whole amount by claiming for a refund if your loan or credit card was issued without proper scrutiny of your ability to repay.
Another way to avoid paying your DCBL debt is to claim statute-barred. This is a law that prevents most debts over six years old from being collected.
If you have had an old debt that has not been repaid in part or acknowledged in writing over the last six years, you may no longer have to pay.You can learn more on our statute barred debt guide.
DCBL FAQs
Should I ignore a letter from DCBL?
No. You should never ignore a letter from DCBL. They are enforcement agents with court appointed powers and ignoring them will only escalate your debt situation.
Can private parking companies send bailiffs?
No. A private parking operator cannot issue bailiffs but they can chase a debt through the route of a CCJ.
Do you have to let bailiffs into your house?
No. You do not have to let bailiffs into your house. You can deal with them through the door or letterbox. Ensure that they show you their license first.
How to deal with DCBL?
The very first thing you need to do is make sure the DCBL can prove that the debt is yours. Mistakes do happen and they can't collect a debt from you if they cannot prove you owe it. As mentioned earlier you do not have to let them in your house unless they have a court warrant, so be ready to stand your ground and always ask them to show you their license.
References
Schedule 12, Tribunals, Courts and Enforcements Act, 2007
Part 1, Regulation 10, Certification of enforcement agents, 2014.
Gov.uk, CPR – Rules and Directions, 2018.
Are you struggling with debt?
Affordable repayments
Reduce pressure from people you owe
Stop interest and charges from soaring
Get started