Can a Debt Management Plan Stop Bailiffs?
For free and impartial money advice and guidance, visit MoneyHelper, to help you make the most of your money.
Can a Debt Management Plan stop bailiffs? The answer to this question depends on your situation and what stage your creditor is at in its debt recovery process. In the guide below, we explain the times when a DMP could potentially stop bailiffs knocking at your door, and when it may no longer be an option. We've also included some bonus tips to deal with bailiffs.
What is a Debt Management Plan?
A Debt Management Plan (DMP) is a type of informal debt solution for people who are struggling to keep up with repayments on multiple non-priority debts, such as loans.
If approved, you will make one monthly payment to your DMP provider, which will then split this money between creditors. Lower repayments are usually negotiated with creditors to make repayments more affordable and prevent financial difficulty. But this means you may have to extend your repayment period.
Don't worry, here's what to do!
There are several debt solutions in the UK that can be used to improve your finances. Choosing the right way to tackle your debt could save you time and money, but the wrong one could cause even more harm.
It's always best to find out about all your options from a professional before you take action.

Fill out the 5 step form to get started.
How do you apply for a Debt Management Plan?
To apply for a Debt Management Plan (DMP) you should first receive debt advice to make sure a DMP is the most appropriate debt solution for your circumstances. A personal assessment is usually available via debt management companies and debt charities, and they can also negotiate with creditors and set up your DMP for you.
If you use a commercial debt management company then you will have to pay initial and ongoing fees for your DMP, but many debt charities offer a comparable service for free. It is also possible to set up a DMP independently by organising it with creditors yourself.
As part of the application process, you will need to supply information about your finances to the DMP provider. They need to assess your income and essential expenses (mortgage, rent etc.) to negotiate more affordable repayments with creditors. After handing over these details, it can take a few weeks to agree on the DMP with creditors.
Can creditors refuse a Debt Management Plan?
Creditors are not obligated to accept a Debt Management Plan. They can reject being included in your DMP and choose to chase you for the debt in other ways, including potential court action.
However, if you can prove that you are doing your best to repay the debt without causing yourself financial hardship, and you are treating all creditors equally, there is a greater chance of creditors accepting the DMP.
Is a Debt Management Plan legally binding?
A Debt Management Plan is not a legally binding debt solution. It is a type of informal debt solution, as opposed to formal debt solutions which carry legal weight. The implications of this are that you or any of the creditors can withdraw from the agreement at any time.
You can read about the different formal and informal debt solutions here.
Can a Debt Management Plan stop bailiffs?
A Debt Management Plan has the potential to stop a creditor chasing you for the money owed using bailiffs. If you do not repay your debt, the credit could seek a County Court Judgement (CCJ) requesting you to pay. If you ignore the CCJ or cannot pay, the creditor could then ask to enforce the debt using bailiffs. Agreeing on a DMP before the debt escalates to this stage will prevent the creditor from needing to use bailiffs.
However, if the creditor has already started enforcing the debt with bailiffs then the opportunity to agree on a Debt Management Plan may have passed. Instead, you should try to organise a payment plan directly with the bailiff company using their contact details on the letter they should have sent you before their first visit.
You should try to avoid the bailiffs needing to pay you a visit because these visits are charged and added to your debt.
Feeling like Chandler?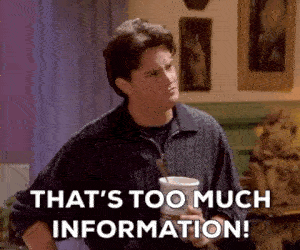 Is all this information starting to feel overwhelming? Don't panic! There's plenty of help available. You can get started below.
How can bailiff enforcement be stopped?
The most effective way of stopping bailiff enforcement is to deal with your debt before the creditor needs to use bailiffs. This may include agreeing to a Debt Management Plan, or it could be done by agreeing to another debt solution.
If you haven't agreed on a debt solution and the creditor is able to use bailiffs (they must have a CCJ first!), then you will receive a letter from the bailiffs. This letter is known as a Notice of Enforcement and gives you an opportunity to pay the debt or agree to a payment plan. The bailiffs charge their first fee when sending this letter and it gets added to the total owed.
It is best to try and agree to a payment plan with the bailiff company at this stage. If you manage to agree on a payment plan, the bailiff will not come out to your home and you will avoid having to pay any more bailiff fees.
Learn effective ways to deal with bailiffs
If you haven't managed to agree on a payment plan with the bailiffs, you should prepare for their visit. We've created a guide explaining what you should do when bailiffs are coming. You can find plenty more free support and information about debt solutions on MoneyNerd.
Are you struggling with debt?
Affordable repayments
Reduce pressure from people you owe
Stop interest and charges from soaring
Get started