Debt Repayment Tracker – Free Downloadable Spreadsheet
For free and impartial money advice and guidance, visit MoneyHelper, to help you make the most of your money.
If you pay monthly debt repayments to credit card providers, personal loan companies or another type of lender, you need to use this free debt tracker resource!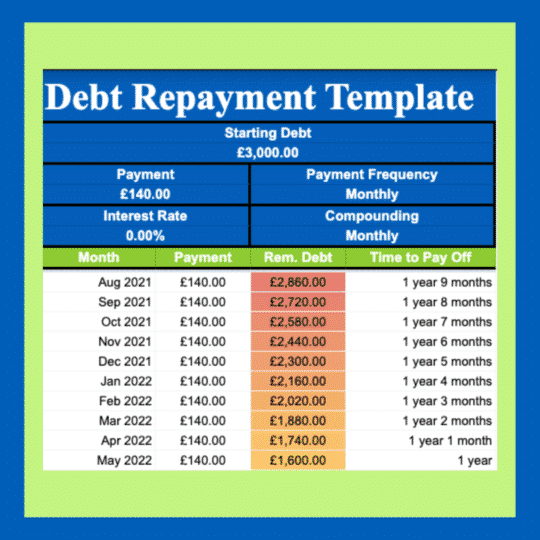 Why Do We Struggle to Pay Off Debt?
We typically struggle to pay off debt because either we should not have been approved for credit in the first place (the lender's fault) or because unforeseen circumstances get in the way of our repayments, such as a loss of employment.
A third reason is a lack of motivation. Many of us cannot keep motivated to pay debts back to our lender each month, especially when we have large debts and it doesn't feel like our repayments are making a difference.
If this is a problem for you, you might benefit from a debt repayment tracker.
What Is a Debt Repayment Tracker?
A debt repayment tracker is a resource that plans out all your debt repayments until the debt has been completely repaid. You can enter the amount of money you owe, as well as the amount of interest you pay, and then calculate monthly or weekly payments until you pay off the debt. Debt repayment trackers could be used for a few months or many years, depending on your personal circumstances.
The Benefits of a Debt Repayment Tracker
But, what's the point of this?
The benefits of a debt repayment tracker are simple. You can use it to visualise a path out of your debt, which can often be a hard thing to do if you plan on making repayments for a long time. It can be a source of information and motivation to keep making those repayments, and just as important, prioritising repayments.
If you are stressed or anxious about your debt, a debt repayment tracker could instil some calm and confidence into your situation.
Are Debt Repayment Trackers Easy to Use?
Debt repayment tracker spreadsheets are super easy to use. All you have to do is enter the details of your debt, including how much you owe, how often you pay, the interest rate you pay and your monthly repayment amount. Don't worry about having to make complex calculations based on the interest because the debt tracker will do the maths for you.
You can then keep it on your computer or pin it up to show how far you have come after making repayments.
Discover Our Free Debt Repayment Tracker Spreadsheet Here!
MoneyNerd is offering everyone the chance to download our free debt tracker spreadsheet. We've already made the tracker with the correct formulas, so you only have to enter your personal debtor information. Our tracker even comes with a colour code to show when you are nearing the middle and end of the debt repayment plan – for extra motivation.
Take a look at our free resource now and use it for free! Click the button below: