'eui ltd prem tr' Bank Statement – Who Are They?
For free and impartial money advice and guidance, visit MoneyHelper, to help you make the most of your money.
If you see "eui ltd – prem tr" on your bank statement, you may be confused and wondering what this is for.
EUI Ltd – Prem TR is a Debt Collection Company who will chase you for payment either on behalf of another company or for themselves if they have purchased the debt.
More often than not the direct debit payment labelled 'eui ltd – prem tr' is a payment to EUI Ltd for Admiral insurance payments.
Don't worry, here's what to do!
You could get rid of EUI Debt Collectors by choosing a debt solution.
Choosing the right way to tackle your debt could save you time and money, but the wrong one could cause even more harm.
Fill out the 5 step form to get started.
Who Are Eui Ltd – Prem TR?
EUI Ltd Debt Collection company are the debt recovery department of EUI Limited. EUI are a private limited company based in Cardiff. Their primary industry is insurance and they serve customers all over the world under the trading style of Admiral Insurance who are part of Admiral Group PLC.
EUI may be hired to collect debts on behalf of another company or they may have purchased your debt from another company and they are trying to recover the debt to turn a profit.
Are you struggling with debt?
Affordable repayments
Reduce pressure from people you owe
Stop interest and charges from soaring
Get started
Are Eui Ltd Legitimate?
Put simply, yes. In this case EUI are a legitimate company incorporated on 12th February 1992 and registered under company number 02686904 in the United Kingdom. Their current address is Ty Admiral, David Street, Cardiff, United Kingdom, CF10 2EH.
Anyone who gets a letter or a direct debit on their bank statement from a company that they may not have had dealings with before can be a cause for suspicion. It's really good practice to make sure that the company you have received a letter from are legitimate.
EUI Limited is also a subsidiary of Admiral Group plc and is authorised and regulated by the Financial Conduct Authority (Firm reference number: 309378).
EUI Ltd operates as an authorised intermediary for general insurance business. The Company sells and administers private motor insurance and related products.
Why are EUI Debt Collectors taking payments and getting in touch with me?
EUI Debt Collectors could be taking payment or contacting you for a wide variety of different reasons. Debt collection companies often collect debts for a wide range of clients.
Other companies will involve debt collection companies such as EUI Debt Collectors to reclaim any outstanding payments. In their initial correspondence, they will specify exactly who they are collecting the debt on behalf of.
For the most part, EUI are likely to be taking payments regarding an overdue or late payment from you with Admiral Insurance.
Feeling like Chandler?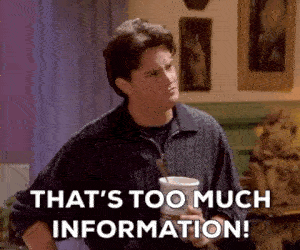 Is all this information starting to feel overwhelming? Don't panic! There's plenty of help available. You can get started below.
Are EUI Allowed to Chase me for Debt?
EUI Debt Collectors are allowed to chase you for debt, however the FCA have set out a series of rules and guidelines to prevent unfair lending practices. EUI must abide by these rules if they wish to continue to operate in the consumer credit industry.
These guidelines prevent debt collectors from entering your house without permission, using aggressive force to retrieve the debt or informing people other than you about the debt to name a few.
Watch my YouTube video bellow that outlines exactly what debt collectors cannot do:
What do I do if EUI Debt Collectors get in touch?
If EUI Debt get in touch, don't panic! It can be a cause of distress and worry if you get a letter saying that you owe money that you didn't think you owed. You may not think you actually owe the money in the first place.
It is very rare that companies like EUI Debt Collectors send out these letters in error, so more often than not, you will owe the money that they say you owe.
Check the details
When you get your letter, or you see a direct debit in your bank account from EUI Debt Collectors, make sure you cross-reference this with any information you can find, to ensure that the debt is correct.
In the instance where you might be confused as you actually do owe the debt, you can request a 'Prove the Debt' letter from them.
Get them to prove the debt using our free letter template that could see your debt written off.
Take notes
As you go down the process of paying EUI Debt Collectors, it's worthwhile taking notes of everything you do.
Note down the dates of each letter, if you end up having a phone call with them, take down the names of the people you speak to, if you see a direct debit take note of the amount and the date.
This will help you further down the line if they accuse you of discrepancies.
Should I pay up if I know I owe debt to EUI Debt?
If you know for sure that the debt is yours, and you are able to pay it, you should settle it as quickly as you can.
The sooner you do this, the sooner their letters and phone calls will stop. If you can't afford it, you may be able to negotiate a repayment scheme where you pay monthly instalments.
FAQs
Here, we will answer some of the more common questions when it comes to dealing with debt collection companies like EUI Debt Collectors.
What is EUI Ltd on bank statement?
EUI Ltd is a debt collector that is collecting debt on behalf of another company which is why you many not recognise it on your bank statement.
Can they visit my house?
If you continue to ignore EUI Debt Collectors, they will be able to send a representative to your home. Remember that their debt collectors are not the same as bailiffs, and do not have the same legal authority – including invading your home.
Are they the same as a bailiff?
They are not and as a result they cannot enter your house without permission. They can, however, employ a
bailiff
to come to your home if you continue to ignore them.
What happens if I don't pay them?
If you do owe the amount they are chasing you for, you ought to pay in full. If you don't pay, they could escalate matters by sending bailiffs, and eventually even getting a court date and perhaps issue you with a CCJ which could drastically affect your credit score. This is not advisable for a number of reasons.
Can I complain about them?
If you believe that EUI Debt Collectors have behaved in a disrespectful or unprofessional way, then you will be able to make a
complaint
. You can get in touch with them directly to complain. If they fail to respond to your complaint, you will be able to escalate the matter to the
Financial Ombudsman Service
.
Are you struggling with debt?
Affordable repayments
Reduce pressure from people you owe
Stop interest and charges from soaring
Get started