Link Financial Harassment? Here's What to Do 2022
For free and impartial money advice and guidance, visit MoneyHelper, to help you make the most of your money.
There are a number of reviews and forum posts from people claiming they have been hounded and harassed by Link Financial. If you've experienced any Link Financial harassment behaviours, we'll explain what you can do to make them stop. And if they don't, we'll discuss some other ways to make them back down.
Beating Debt Collectors
There are several ways to deal with Link Financial and improve your finances.
Choosing the right way to tackle your debt could save you time and money, but the wrong one could cause even more harm.
It's always best to find out about all your options from a professional before you take action.
Fill out the 5 step form to get started.
Who is Link Financial?
Link Financial is a debt collection company and a trading style of Link Financial Limited. They chase unpaid debts for other businesses in return for a fee and commission on any eventual payments. Alternatively, they might buy a debt owed to a company for way below its value. So if the debtor even pays half of what is owed, they'll still make a profit.
It's important to note that they are not enforcement agents, more popularly known as bailiffs.
You might have received a communication from Link Financial despite never dealing with them before. This can cause you to think they're a scam. But they're not. They work for other businesses you might have dealt with in the past. And they're authorised and regulated by the Financial Conduct Authority.
Are you struggling with debt?
Affordable repayments
Reduce pressure from people you owe
Stop interest and charges from soaring
Get started
Who does Link Financial collect for?
Link Financial can chase unpaid debts and arrears for any company across industries. In the past, they've been known to collect for some well-known businesses. Examples include retail businesses from the UK high street, popular utility companies and some creditors like Barclaycard.
Link Financial reviews
Many of the Link Financial reviews online talk about how the company is aggressive and persistent in their approach. A few reviews talk about experiencing Link Financial harassment.
Here are some examples of recent reviews:
"[…] if they continue to harass me I will take this issue to the financial ombudsman, the financial conduct agency and to the trading standards. Ridiculous company with an embarrassing reputation and non-existent morals."
Adele D (nicelocal.co.uk)
"Hounded me over a 2p debt, that's not an error, TWO PENCE! I paid, they deferred my debt of TWO PENCE to Moorcroft Debt Recovery who are just as useless and unprofessional […]"
We'll discuss what you can do if you experience any Link Financial harassment further down this guide.
Have you received a Link Financial debt letter?
Link Financial will send a letter to the people they're chasing on behalf of their clients. This letter will outline how much is owed and give them a deadline to pay. It's likely to suggest or threaten court action can be taken if they don't pay.
These letters are formally known as a Letter Before Action (LBA) because they give the debtor an opportunity to pay or agree on a payment plan before the company takes legal action. They're a prerequisite step in the process of taking someone to court.
What happens if I don't pay Link Financial?
If you don't pay Link Financial after receiving an LBA, you may or may not be taken to court. There's no sure-fire way of knowing if they will or won't start legal action.
Sometimes court threats can be genuine, and at other times, they're used as a scare tactic to get you to pay swiftly. Unfortunately, the fear of being taken to court causes a lot of people to pay quicker than they need to – and some of those people may have avoided paying at all.
We explain how you should react to one of these letters shortly. But first…
Feeling like Chandler?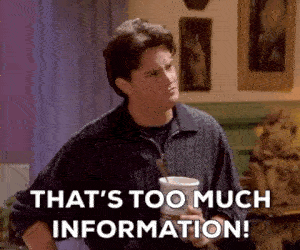 Is all this information starting to feel overwhelming? Don't panic! There's plenty of help available. You can get started below.
Link financial harassment
If you don't pay Link Financial and they don't intend to take you to court, despite threatening to do so, they may try to contact you more frequently and be more aggressive. However, Link Financial are guilty of harassment if they:
Call at unsociable hours
Call your employer
Make repeated calls and texts throughout the day
Start showing up at your home (don't let them in!)
How to deal with Link Financial harassment
There are a number of steps you can take to deal with Link Financial harassment. You can send them your contact preferences and even ask for all communications to be made in writing.
If they fail to keep to these preferences, you can make a complaint directly to them. If they persistently ignore your preferences or don't respond to your complaint, you can escalate it. It's best to report the behaviours and harassment of Link Financial to the Financial Ombudsman Service (FOS).
They will investigate and could punish Link Financial. It's best to supply the Ombudsman with as much evidence as possible, to prove you were being harassed and they broke the rules.
Do Link Financial take you to court?
It's possible for Link Financial to take you to court after ignoring one of their letters. However, they may choose to keep asking for you to pay instead, especially if your debt isn't of a significant amount.
Ask Link Financial to prove your debt
Instead of ignoring their letters, the best course of action is to ask them to prove the debt. They must send you the proof you owe the money before being asked to pay. We explain more on this and provide a free prove-it letter template here.
Don't pay Link Financial if your debt is too old to be collected!
The only time you shouldn't send a prove-it letter is when the debt is too old to be recovered. Many debts cannot be chased to the courts after six years. We explain this in detail in our statute-barred guide.
How do I find out if my debt is statute-barred?
The best way to know if your debt is statute-barred or not is to get professional debt advice. You don't have to use paid-for services. Instead, get in touch with a UK debt charity and get an advisor to look over your case and tell you whether the debt is too old to be collected or not.
You can always check yourself by looking at the criteria for a statute barred debt, but it's best to get a second knowledgeable opinion. You don't want to tell a company your debt is statute-barred when it's not (yet).
Get confidential debt help for free
After experiencing Link Financial harassment, you probably don't want to get into further debt. Read about the available resources and our top tips to help you stay out of debt.
Are you struggling with debt?
Affordable repayments
Reduce pressure from people you owe
Stop interest and charges from soaring
Get started