NCO Europe Debt Collection – Should You Pay?
For free and impartial money advice and guidance, visit MoneyHelper, to help you make the most of your money.
Have you had a shock in the mail with a debt letter from NCO Europe Debt Collection? You are by no means alone as these debt collectors are causing panic among UK residents with threatening letters.
We will reveal everything you need to know about NCO Europe and how you might not have to pay them anything. Don't make a payment just yet, and use this debt help guide to fight back!
It's not your fault. Complaints to the Financial Ombudsman have risen this year from 830 to 2,006, so it's safe to say that you're not alone.
Deal with your debt today and feel amazing tomorrow.
Don't worry, here's what to do!
You could get rid of NCO Debt Collection by writing off some of your debt.
There's several debt solutions in the UK, choosing the right one can take years off your debt, but the wrong one can be expensive and drawn-out.
Fill out the 5 step form to get started.
Who is NCO Collection Agency?
NCO Europe Ltd describes istelf as an outsourcing partner for financial organisations and institutions.
This means they provide debt collection services to businesses and creditors across Europe, and they have a registered business in the United Kingdom to chase debts owed by UK residents.
They will take a fee or commission by working on behalf of banks, credit card companies and similar businesses to recover unpaid debts.
The business is fully registered in England and Wales (company number: 03122581) and regulated by the Financial Conduct Authority. Their debt recovery tactics could break the regulations they are governed by.
Are you struggling with debt?
Affordable repayments
Reduce pressure from people you owe
Stop interest and charges from soaring
Get started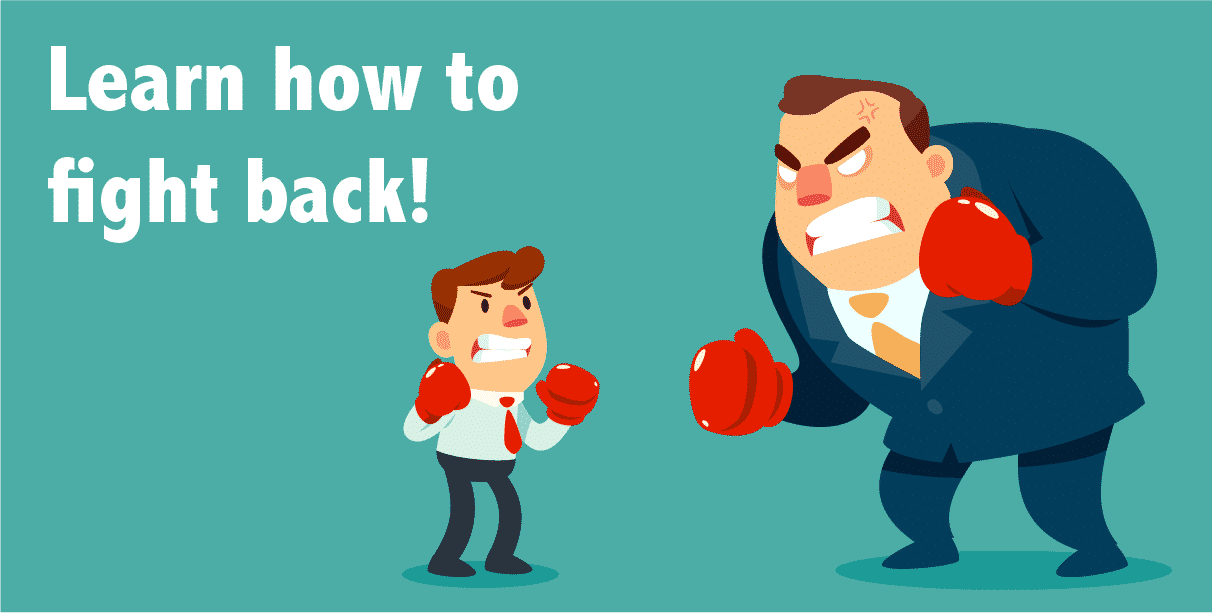 What Do NCO Europe Debt Collection Do?
NCO Debt Collection are debt collectors that chase debts for their clients, but how do they do that exactly? NCO Europe will send out debt letters requesting that the debtor pays the money owed or gets in touch to discuss a payment plan to clear the debt in an affordable way over time.
Have you received a letter from this debt collector? I'll buy it off you for £5
Note, there are lots of ways to clear a debt over time and the NCO Europe repayment plan might not be the cheapest or most advantageous option for you!
If you fail to reply or do not agree on a debt solution to pay the debt off, NCO Europe Debt Collection they will apply for a court order. They will asks a judge to issue a County Court Judgement (CCJ) that legally forces you to pay.
If you still refuse to pay after the court order, NCO Europe can then go back to the judge and request permission to use a bailiff to recover the money or your valuable items to be sold at auction.
NCO Europe staff – and any other debt collectors – are not bailiffs and cannot come onto your property under any conditions!
Who Do NCO Europe Debt Collectors Work For?
NCO Europe work for a vast number of clients. Many of them are in the financial services industry, such as loan creditors, banks and credit card providers. But they do work for other companies and they are known to chase parking fines too.
How Can I get in Touch with NCO Europe Ltd?
If you need to contact the NCO Europe team, you can make a phone call on 0330 060 1500. Phone calls are likely to be recorded. Or send them a message via email using this email address: [email protected]​ncoeurope.com.
You can use their website address to send a contact from directly. From the home page, click on the contact tab and scroll down to find the contact form. Include any reference number or similar details when making contact so they can identify you.
You can also send a reply to New City House, 57-63 Ringway, Preston, Lancashire, PR1 1AF.
But don't make your move just yet; we have a top tip to share with you on how to reply to their claims.
Feeling like Chandler?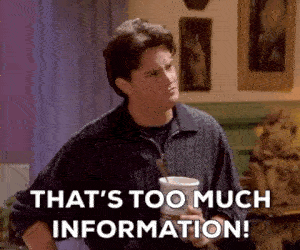 Is all this information starting to feel overwhelming? Don't panic! There's plenty of help available. You can get started below.
Do You Owe Money to NCO Europe?
When you receive a debt letter from NCO Debt Collectors, it is natural to think it is a scam. After all, you have probably never heard anything about NCO Europe before. But NCO Europe is not the company that you owe the debt to. You owe the debt to their client who has asked NCO to recover the money in the United Kingdom. They do this because the original company does not want to commit to chasing you as it could take too long and become expensive.
If you think you do not owe the money to the company that NCO Europe says you do, you should check your credit file to see if the debt is showing. But this isn't the best method to find out if you really owe money…
Read on to discover the best reply to an NCO Europe debt letter requesting payment for unpaid parking fines and other debts.
Check if you really owe the money
Are you sure you really owe the money? The first thing to establish is where the debt started and how much you really owe.
It is quite likely that the original debt, if there was one, has been inflated by various charges and interest. It could be substantially more than you believe you owe.
You should write to NCO Europe Debt Collection Debt Collectors and demand a copy of your original credit agreement. If they are unable to provide this you have no obligation to make any payment to them.
Follow my 'prove it' guide with letter templates and get them to prove that you owe the money.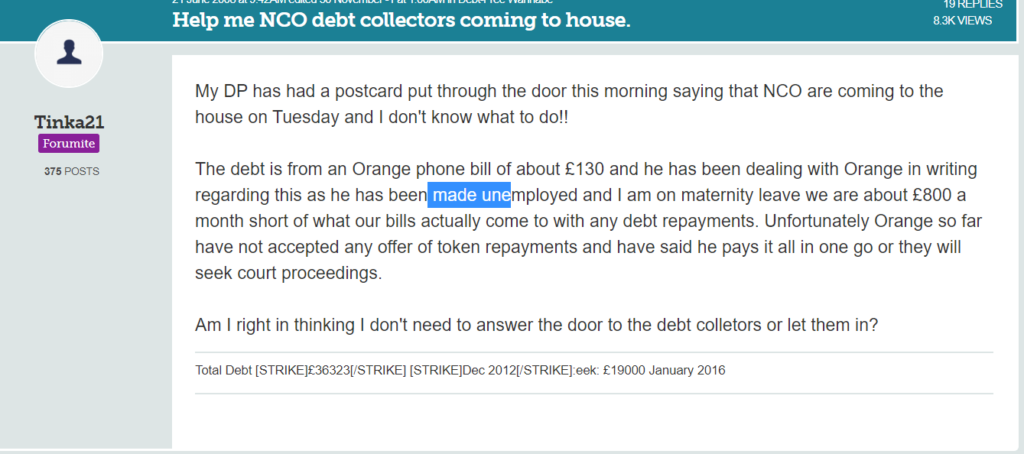 I Can't Afford to Pay NCO Debt Collectors…
Don't worry if you cannot afford to repay the amount of debt on your NCO Europe account. They should be open to agreeing on a repayment plan so you can repay the debt over time.
However, just because NCO Europe Debt Collection are offerrign you a way to repay over time, don't assume that this is the best option available to you.
You might be able to save hundreds of pounds and get better repayment terms by speaking with an insolvency practitioner or UK debt charities.
For example, an Individual Voluntary Arrnagement (IVA) could wipe 85% of what you owe and a Debt Relief Order could stop you having to pay anything!
What Laws Must NCO Europe Debt Collection Obey?
NCO Europe Debt Collection must abide by debt collection laws or they could face huge fines, or even lose their lciense to operate. You can use these to your advantage when dealing with NCO Europe and their staff.
Look out in case they violate these rules:
They must not frequently call and harass you
They must not try to enter your home
They must show understanding to your circumstances
They must not offer unaffordable repayment plans
They must not take payments without consent
They must respect your contact preferences (send them this in writing!)
They must not lie, deceive or try to confuse you with jargon
Pretend to have legal powers they do not
However, the tactics they use could break these regulation and if so, you should complain to the debt collection Ombudsman.
Debt Help and Support Is Free!
Remember that debt charities are always available to provide free debt advice to help you decide on a solution. Their debt advice can also be used to make a complaint if NCO Europe Debt Collection has not stuck to the rules. You might even win compensation.
Along with dedicated debt charities like StepChange UK, consider speaking to the Citizens Advice Bureau when dealign with NCO Europe.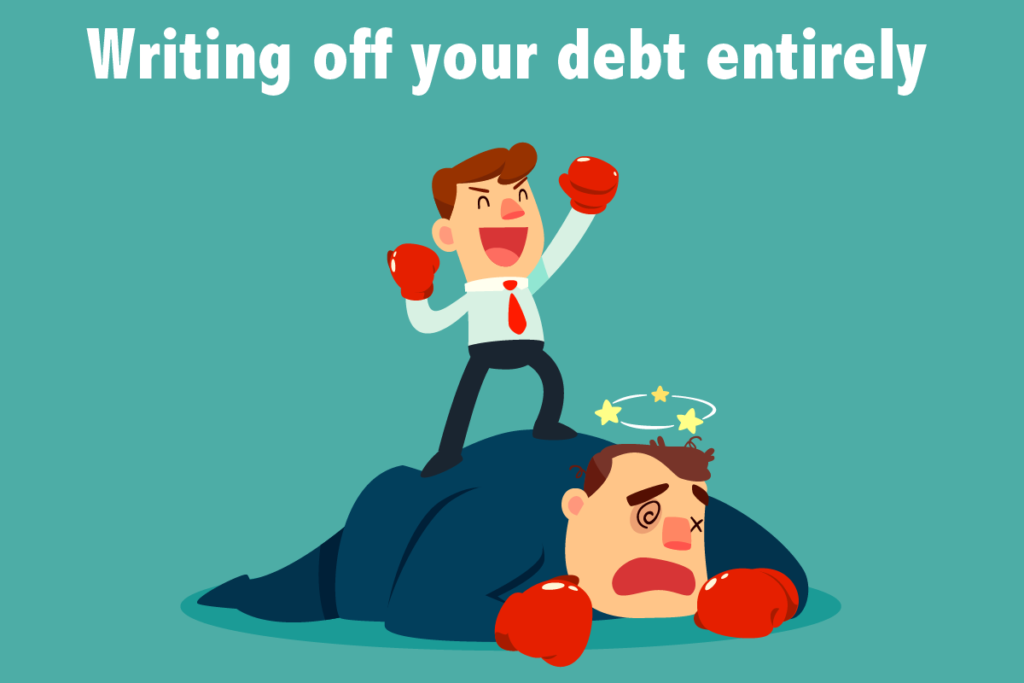 Is It Possible to Write Off NCO Debt Collection Debts?
NCO Europe cannot wipe off your debts because they do not own them. The company you owe are unlikely to wipe off the full amount, unless the debt is statute barred (more than six years old and too old to be recovered!).
Yet, there are some options to explore that can wipe some of the debt, and some we have mentioned already. These are:
IVAs
DROs
Bankruptcy
Settlement offers
You can learn more about these on our debt solutions guides.
NCO Debt Collectors Contact Details and Company Information
Company name: NCO Europe Ltd
Other names: NCO Europe Debt Collection
Company number: 03122581
Website address: https://www.ncoeurope.com/ (site contact form also available)
Registered office: New City House, 57-63 Ringway, Preston, Lancashire, PR1 1AF
Phone number: 0330 060 1500
Email address: [email protected]​ncoeurope.com
FAQs
Who does NCO Europe collect for?
NCO Europe collect for a number of companies such as credit card and loan providers, banks and utility bills but also for the HRMC and for council tax.
What do NCO Europe do?
NCO Europe are a debt collection company registered with the Financial Conduct Authority (FCA) which authorises them to collect debts in the UK.
Are you struggling with debt?
Affordable repayments
Reduce pressure from people you owe
Stop interest and charges from soaring
Get started
References
CONC 7.3 Treatment of customers in default or arrears (including repossessions): lenders, owners and debt collectors