Normal Rate Direct Earnings Attachment 2022
For free and impartial money advice and guidance, visit MoneyHelper, to help you make the most of your money.
The normal rate of direct earnings attachment in 2022 is set at a maximum amount of 20%. This is for the standard rate. There is a higher rate, set at a maximum of 40% of your income. The DEA cannot be set at a rate that will leave you with less than 60% of your net income.
I have some useful information to help you when facing a normal rate of direct earning attachment. I shall also be sharing what you can do if you disagree with the amount you're asked to pay. As always, please don't panic and ignore the problem. There are solutions and actions you can take to help your financial situation.
What is a Direct Earnings Attachment?
A Direct Earnings Attachment or DEA is a payment made directly from your wages. You don't have to make the payment yourself, instead, it comes out of your wages in a comparable way to Income Tax and National Insurance.
Will I Be Notified of a DEA?
You will be informed when facing a Direct Earnings Attachment. You should receive a letter to let you know. You will have the opportunity to propose an alternative to the DEA, such as setting up regular instalments to repay the debt you owe.
Why Do I Have a Direct Earnings Attachment?
You'll only receive a Direct Earnings Attachment if you have a benefit overpayment, such as a housing benefit, or have received a tax credit overpayment. A DEA only relates to debts owed to Her Majesty's Revenue and Customs (HMRC) and the Department of Work & Pensions (DWP). One of the ways that benefit overpayments or tax credit overpayments can be paid back is through your wages. This doesn't require a court order to be set up and therefore isn't court-enforced.
You may also have a DEA if you don't repay social loans as agreed to when you took out the loan. These loans include
Funeral payments
Winter fuel payments
Cold weather payments
Will My Employer Know About the DEA?
Your employer receives the details of the DEA and how much to take from your wages. Your employer will then make the payments directly to the Department of Work & Pensions, your local authority, or Her Majesty's Revenue and Customs.
Feeling like Chandler?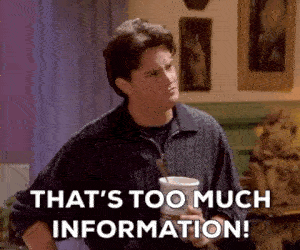 Is all this information starting to feel overwhelming? Don't panic! There's plenty of help available. You can get started below.
Do I Have to Have a Direct Earnings Attachment?
It is possible to prevent a DEA from starting. You'll need to contact the HMRC or DWP to discuss your situation and offer a solution that they agree to. This is how you can avoid a DEA, providing you can come up with a way to clear the debt and stick to the repayment plan.
If the DEA has already begun, it's unlikely that you can stop it until you pay the debt off in full. It's important to respond to letters before things get too far.
Will the DEA Stop If I Change Jobs?
A DEA goes with you to any new jobs you get in the future. Your new employers will be informed, and the regular payments created by them. The DEA deductions will appear on your payslip in the same way it did on your old payslip with your previous employer.
What Counts as Earnings for a Direct Earnings Attachment?
You may have a direct earnings attachment even if you aren't currently working. This is because there are other forms of earnings count as well as or instead of general employment. These include:
Statutory sick pay
Occupational pensions that are paid with salary or wages
Payments from compensation
Commission
Bonuses
Overtime
Allowances for special members of the reserve force
What Isn't Considered as Earnings for a Direct Earnings Attachment?
Not all income counts as earnings for a DEA. The following are excluded, and you won't have the DEA payment taken directly from them.
Statutory Maternity Pay and Statutory Adoption Pay
Paternity Pay (ordinary or additional)
Statutory redundancy pay
Expenses
Guaranteed minimum pension
Benefits, credits, and pensions you get from the government
Allowances or pay for HM Forces members
Don't worry, here's what to do!
There are several debt solutions in the UK that can be used to improve your finances. Choosing the right way to tackle your debt could save you time and money, but the wrong one could cause even more harm.
It's always best to find out about all your options from a professional before you take action.

Fill out the 5 step form to get started.
What are the Three Rates of a DEA?
The three rates of DEA that the DWP and HMRC can apply to take from your earnings are:
Standard Rate
Higher Rate
Fixed-Rate
As stated above, the standard rate is 20% and the higher rate is set at 40% of your net income. The fixed-rate is an option that is for debts that are higher or lower, giving some flexibility to the rate taken. GOV.UK has more information on how the deduction amount is calculated.
It's possible to apply for a lower rate if the amount proposed will leave you in financial hardship. Use the budgeting tool I have created for free use to work out your incomings and outgoings. You will need to prove the hardship you're facing so have a clear understanding of your finances. Use the information on your budgeting form when you contact the DWP or HMRC to discuss a repayment plan.
What is My Net Income?
The net income is the total income you have after deductions. This is also known as your take-home pay. The deductions taken off wages are things such as National Insurance, Income Tax, Student Loans, and Pensions. Look at your wage slip, your total income after deductions usually shows where it says Net Pay.
Will a DEA Stop Me from Getting Credit?
There is no record of your DEA on your credit file. It won't directly affect your credit score. However, if you are struggling to repay debts, defaulting on payments, or falling into arrears your score will negatively change to reflect this. You may benefit from looking into readily available debt solutions. I advise speaking to an authorised debt advisor such as the ones listed below
I hope you find this information to be of use when facing a direct attachment of earnings. Please refer to the articles below if you have more questions relating to making DEA payments and managing your finances.
Are you struggling with debt?
Affordable repayments
Reduce pressure from people you owe
Stop interest and charges from soaring
Get started