Can You Get a Parking Ticket While in the Car?
Featured in...
Have you just received a parking ticket while sat in your car and are wondering what to do next? Welcome! This article is here to help you.
Every month, more than 130,000 people who are dealing with fines and parking tickets visit our website seeking advice. So you're in the right place.
We are going to share clear and simple information about:
 The kinds of parking tickets you can get in the UK.
 What happens if you don't pay for a parking ticket.
 How to decide if you should pay or not.
 The best way to appeal a parking ticket.
 How to avoid getting a parking ticket while sat in your car.
We know that getting a private parking fine can be very annoying. But don't worry; we have lots of useful tips and examples to help you handle this.
Types of UK parking tickets
A Parking Charge Notice is basically an invoice from a private landowner or company. They are not actual fines, but the company can take you to court to make you pay. Parking Charge Notices are usually served within two weeks of the company obtaining contact details from the DVLA.

A Penalty Charge Notice is a fine from a local authority for a parking contravention (or a minor road offence) on council land. They are considered real fines and can easily be enforced and increased if you don't pay or appeal. Local authorities have 28 days to serve a PCN.
What happens if you don't pay a parking ticket UK?
If you don't pay or appeal a Penalty Charge Notice within 28 days, you will receive a charge certificate, and your fine will increase by 50%. This fine needs to be paid within 14 days, or the local authority may take you to court to make you pay. The local authority could use bailiffs to recover payment if you still don't pay. You may need to pay additional fees if you refuse to pay.
If you don't pay a Parking Charge Notice, the private company will chase you or ask a debt collection agency to do it. You may receive letters, calls and texts threatening additional fees and legal action.
From my experience, many private companies will take you to court to make you pay. If this happens, bailiffs could be sent to your home to recover your debt. I have compiled some information to help you understand the difference between Penalty and Parking Charge Notices.
Do You Have to Pay?
In many circumstances, parking tickets are not enforceable.
It's a bit sneaky, but last time I had a parking fine, I paid £5 for a trial to chat with an online solicitor called JustAnswer.
Not only did I save £50 on solicitor fees, I also won my case and didn't have to pay my £271 fine.
Click here to get the trial offer with JustAnswer.
Can you get a parking ticket while sitting in your car (UK)?
What type of parking ticket can you get?
How much will the fine be?
How long does a parking attendant have to wait?
Does a PCN have to be attached to a vehicle?
How is a PCN issued in the UK?
Who can the DVLA give my details to?
According to DVLA data sharing regulations, the DVLA can provide local authorities with your details when necessary.
Only private parking companies that are members of an Accredited Trade Association (ATA) can get the registered vehicle owner's details from the DVLA. Before paying a fine, check if the company is an ATA member by contacting the International Parking Community (IPC) or calling the British Parking Association (BPA) on 01444 447 300.
How can you appeal a parking ticket?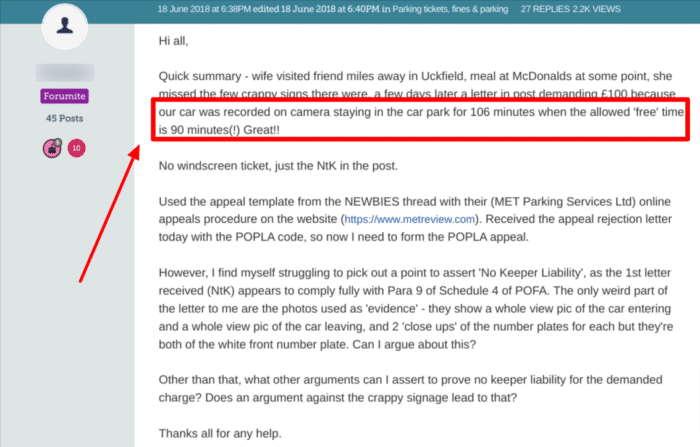 This MoneySavingExpert forum user escalated their appeal to POPLA. Later on in the thread, they mentioned using the argument that the 10 minute grace period was not given and that they were parked in the car park to have a meal at Mcdonalds. Ultimately, this forum user won their appeal and did not have to pay.
Can you get a parking ticket when sat in your car? (Quick recap)
Don't Get Scammed!
It is possible that the parking ticket you received is fake. Fake parking tickets can be placed on your car, sent by post or even to your email address.
Never pay a parking fine until you verify the ticket!
If you think a parking ticket is suspicious, check the sender, read the ticket carefully, and ensure the details are correct. In addition, you can tell a parking ticket is fake if it contains typos or is sent from a suspicious address. I've put together a guide to help you spot a fake parking ticket.
Want to know more about parking tickets?