Sonex Financial Debt – Should You Pay? 2022
For free and impartial money advice and guidance, visit MoneyHelper, to help you make the most of your money.
Sonex Financial Debt Collection is not like most debt collection companies, but that doesn't mean hearing from them won't cause panic. We explain what your options are after receiving a Sonex Financial debt letter.
Beating Debt Collectors
There are several ways to deal with Sonex Financial debt collectors and improve your finances.
Choosing the right way to tackle your debt could save you time and money, but the wrong one could cause even more harm.
It's always best to find out about all your options from a professional before you take action.
Fill out the 5 step form to get started.
What is Sonex Financial?
Sonex Financial is a unique debt collection company that works exclusively to collect debts from vulnerable people. They help businesses to identify when one of their customers is classified as vulnerable, and then they provide services to recover unpaid bills and debts from the vulnerable debtor.
They prioritise making a connection to the individual with debts to come up with a payment solution that works for everyone. In this sense, they work to help the client wishing to recover the money but also work to ensure the vulnerable person is looked out for, which is novel within the debt collection industry.
Are you struggling with debt?
Affordable repayments
Reduce pressure from people you owe
Stop interest and charges from soaring
Get started
Who owns Sonex financial?
In late 2021, Sonex Financial was acquired by the Lantern Group. The Lantern Group is another debt collection company operating in the UK, with similar methods and principles as Sonex Financial. For example, the Lantern Group's motto is "debt with a human touch".
Who does Sonex Financial collect for?
Sonex Financial can work for a vast number of different companies. They frequently work for household utilities and energy companies. When a vulnerable person has gotten into energy bill arrears, these energy companies use Sonex Financial to recover the money on their behalf, using Sonex's know-how of dealing with vulnerable people.
Sonex Financial reviews
Sonex Financial have many positive reviews online. Some of these reviews have even been left by the vulnerable people asked to pay the debt. This is evidence that they take a personalised and empathetic approach to debt collection.
Take a look at this example:
"I know that when a Debt Collection Agency call, you feel like dropping dead. The worry and Anxiety can absolutely cripple you […]
I've had more than my fair share of dealings with collection agencies and most are HORRIFICALLY insensitive. Please answer to Sonex. I am a real person who for multiple reasons developed a ridiculous high energy bill […]
These people didn't just arrange a payment plan to help their client. They made me the client and they left me smiling. They want to help, and have the solutions."
How do Sonex Financial chase debts?
Sonex Financial will likely write you a letter to inform you that they are working on behalf of another company, such as an energy company. They will tell you that they want to recover an unpaid debt or arrears owed to that company.
They will ask you to make the payment and tell you how you can do so. And they'll also offer personalised payment plans if you have financial difficulty. You'll need to call Sonex Financial Debt to discuss an individual payment plan that works for everyone.
The company's approach may be much less aggressive and intimidating than other debt collection companies, which will threaten legal action to make you pay in full quickly. However, Sonex Financial may still mention the possibility that their client could take legal action if you don't engage with them.
Feeling like Chandler?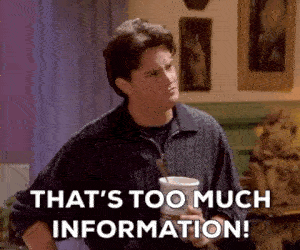 Is all this information starting to feel overwhelming? Don't panic! There's plenty of help available. You can get started below.
Should you pay Sonex Financial Debt Collection?
You might end up having to agree on a payment plan or paying Sonex in full. But before you make a payment or agree on a plan, there are some things you can try. Some of these things could result in you not having to pay a penny.
If the debt is at least six years old, it might have become too old to be collected. Some older debts cannot be taken to court to prevent the courts from getting clogged up with older cases, which drain legal resources. This is known as a statute barred debt. It doesn't go away but you can never be taken to court and you can ask Sonex Financial to stop asking for payment.
Alternatively, you can ask Sonex Financial to prove you owe the debt. They must then get a copy of the signed agreement you made with their client. For example, if they are recovering a debt for an energy company, they may need the agreement you signed with them to supply energy – and your account details. You're not obligated to pay if they don't provide this evidence.
"I think there has been a mistake"
If you believe there has been a mistake and Sonex Financial Debt Collection is contacting you instead of the real debtor, you should still ask them to prove the debt. If they have got the wrong person, they'll soon realise it when they start looking for proof of the debt and a signed agreement.
We make it easy to ask for proof of the debt. Download the MoneyNerd prove-it letter template to save yourself lots of time.
Sonex Financial Debt proved I owe the money
If Sonex Financial proved you owe the debt, you should probably make arrangements to pay. It's possible that their client has no intention of taking you to court and getting a judge to make you pay. But there is no way of knowing for sure, and it's a risk to assume they won't.
The good news is that Sonex Financial offer affordable payment plans to vulnerable people, whether you're permanently classified as vulnerable or temporarily vulnerable. You should speak to them and see what plans are available, or consider other proven debt solutions.
Get further help from debt charities
We hope you found valuable information above, but for more help and personalised advice, it's best to speak with a UK debt charity or Citizens Advice. Reach out for free and confidential help from those groups!
Are you struggling with debt?
Affordable repayments
Reduce pressure from people you owe
Stop interest and charges from soaring
Get started