TalkTalk Missed Payment – Here's What To Do 2022
For free and impartial money advice and guidance, visit MoneyHelper, to help you make the most of your money.
Dealing with a TalkTalk missed payment doesn't have to be a nightmare. Providing you contact their support, that is! However, when you ignore the problem, and TalkTalk sends you payment reminders, the situation gets harder to settle.
I take a look at how TalkTalk handles missed payments. The sort of support the provider extends to you and how to cope with the situation. Knowing in advance what to do when you can't meet a payment can make the situation less stressful. Read on to find out more.
A bit about TalkTalk
You've probably seen the ads on TV. But do you know how big the company is? TalkTalk is one of the biggest providers in the telecom sector in the UK. In addition, the company offers a range of services. In short, they are a telecom giant.
Originally a subsidiary of the Carphone Warehouse, TalkTalk became a standalone business in 2010. The company is now owned by Tosca IOM.
How TalkTalk deals with missed payments
You'll receive a 'payment reminder' by email when you don't or can't pay a bill on time. As a bonus, TalkTalk adds a late payment fee of £12.50 to your next bill!
When you don't pay after receiving the reminder, their support team will try to contact you again. But, in the meantime, you may lose your service or deal with a restricted service!
TalkTalk likes you to pay by Direct Debit. But this can have a drawback too. Especially if there aren't enough funds in an account to cover a scheduled payment! You may have to pay a TalkTalk late fee and bank charges!
What happens when I can't pay on the due date?
TalkTalk sends out your bill on the same date every month. The bill includes information on when the next payment is due. Once you've paid your first bill on time, you can choose a different payment due date by logging into your account.
However, you can only change the due date if the following applies:
Once your service is live
Providing you haven't changed your payment due date within the last three months
Your TalkTalk bill amount could differ when you change the payment due date. This takes into account the difference in the billing period. But an outstanding bill still needs to be paid on the original due date.
My advice? Try to pay what you owe to TalkTalk on the due date because if you don't, your account is marked 'overdue'.
I am struggling with finances and can't pay. What should I do?
Contact TalkTalk support when your circumstances change. Thanks to the pandemic, many people are in the same situation. They may be in a position to offer a solution. For example, you may be offered an extension on the payment due date!
When you ask for a payment extension, you get to pay what you can afford. But you must pay the total amount owed toTalkTalk by the date you committed to settling the amount!
If you can't keep to your agreement, contact TalkTalk support for help and advice. The key is to stay in touch and not ignore the problem. It won't go away!
Feeling like Chandler?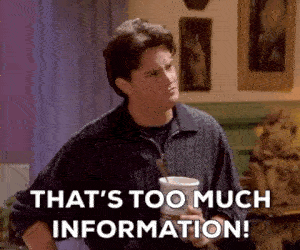 Is all this information starting to feel overwhelming? Don't panic! There's plenty of help available. You can get started below.
Can I get a better deal from TalkTalk?
Yes, you may be able to get a better deal from TalkTalk. But it requires a bit of thought and preparation. So I suggest you do the following:
Put together a plan and have all your current billing and package information ready before you call TalkTalk
Make sure you know what's in your package – this includes the broadband speed the provider promised and what you actually get!
Check whether you are paying for any extras
See if you're paying for calls you never use
Check what TV channels are in your package and what you actually watch
Work out what you pay for extra calls, films etc.
Check if you are still in a contract!
If you're still in contract with TalkTalk, you should try to renegotiate a deal with the provider.
The consequences of not paying TalkTalk
If you don't pay a TalkTalk bill, your account is closed. You won't be able to use their services. In addition, your details may be sent to a debt collection agency. Something to avoid at all costs!
My advice is to stay in touch with TalkTalk support from the moment you know you will miss a due payment date. Ignoring the problem makes things harder to deal with. Having a debt collector contact you is never pleasant because they are persistent and won't go away!
Where to get free debt help and support
When you struggle to pay a TalkTalk bill and need advice, contact one of the debt charities. They provide free, impartial advice. When you know what to do about an unpaid bill, the outcome is generally better.
Here are some of the non-profit organisations that provide free debt advice:
Citizens Advice Bureau
PayPlan
Don't worry, here's what to do!
There are several debt solutions in the UK that can be used to improve your finances. Choosing the right way to tackle your debt could save you time and money, but the wrong one could cause even more harm.
It's always best to find out about all your options from a professional before you take action.

Fill out the 5 step form to get started.
Don't try to cope on your own when you have money problems. The problem won't seem so bad with the right kind of support. Plus, you'll find it easier to get back on track with the right advice!
Lastly,
My advice is to do your best to make TalkTalk payments on time. And if you can't, contact their support team before a payment date is due! They could offer you a new payment date, an extension, and other advice.
Staying in contact with TalkTalk stops the problem from escalating. It's the best way to avoid debt collectors contacting you and having to pay late fees!
Thanks for reading my post on TalkTalk missed payments. I hope the information I provided is useful and helps you deal with the problem before things get out of control.
Are you struggling with debt?
Affordable repayments
Reduce pressure from people you owe
Stop interest and charges from soaring
Get started