TNC Collections – Should You Pay? 2022
For free and impartial money advice and guidance, visit MoneyHelper, to help you make the most of your money.
"Who are TNC??? Are they debt collectors?"
This is part of a comment from a forum user who received a TNC Collections debt letter. You can read the full quote within this guide. It's normal to be confused when you receive their letters as they are a company that works for other companies. We discuss these letters and if you have to pay TNC Collections here.
Beating Debt Collectors
There are several ways to deal with TNC Collections debt collectors and improve your finances.
Choosing the right way to tackle your debt could save you time and money, but the wrong one could cause even more harm.
It's always best to find out about all your options from a professional before you take action.
Fill out the 5 step form to get started.
Who are TNC Collections?
TNC Collections is a debt collection company, also known as a debt collector or debt collection agency. They work for other businesses and clients to recover unpaid invoices, bills and arrears. They do this by making contact with the debtor via text messages, emails, calls and letters. They are likely to threaten court action too.
You might have received contact from TNC Collections and believed it was a scam because you've never heard of them before. But remember, the company is working for other businesses, which you are likely to have had dealings with in the past.
Are you struggling with debt?
Affordable repayments
Reduce pressure from people you owe
Stop interest and charges from soaring
Get started
Who do TNC Collections work for?
TNC Collections offer its services to any businesses that need help recovering unpaid debts. So they could work for many different companies across different sectors. Their website doesn't name any of their previous or ongoing clients, so you need to rely on reviews to uncover who they are really working for.
When you search those reviews, you quickly find out that they do a lot of work to recover unpaid parking fines.
TNC collections parking tickets
The TNC Collections website also mentions that they help private car park operators to recover payment for parking tickets. These are private car park fines issued to motorists for not paying or overstaying in privately owned car parks, such as car parks attached to supermarkets and hospitals.
They do not chase council parking tickets as enforcement of these fines follows a different process.
TNC Collections reviews
Many of the online reviews and comments about TNC Collections refers to an unpaid parking ticket. TNC will demand that the fine be paid or will threaten court action. Here is what some people have experienced:
"I have today received a letter from TNC asking me to pay a charge of £140 which relates to an unpaid PCN issued by UK Parking Solutions. Who are TNC??? Are they debt collectors? Am I too late to appeal?"
Sarahlovesshoes (Money Saving Expert Forum)
"Long story short – I got two tickets on the same road, 3 months apart which is run by P4 Parking LTD. There are no yellow lines/bays etc. I've ignored the tickets. Today I've received a letter dated 11/06/2019 from TNC parking services, threatening courts and the other usual stuff […]."
Ishpisau (Money Saving Expert Forum)
Dealing with TNC Collections harassment
TNC Collections may repeatedly call, text, email and write letters. They may do this multiple times per day or at unsociable hours. These are tactics that are aimed to wear you down and get you to pay quicker.
If you feel like you're experiencing harassment, there are a few things you can do:
You can provide TNC Collections with your contact preferences, including methods and times
You can complain to TNC Collections (including if they ignore your contact preferences)
You can escalate a complaint to the Financial Ombudsman Services – and TNC could be fined themselves.
Feeling like Chandler?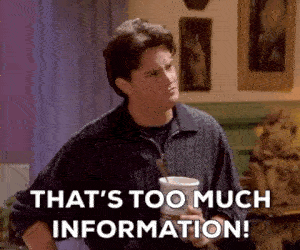 Is all this information starting to feel overwhelming? Don't panic! There's plenty of help available. You can get started below.
Can TNC Collections come to my home?
TNC Collections have no right to come to your property. Pretending they are enforcement agents – also known as bailiffs – is a major offence and should be reported.
TNC Collections debt letter
As you can see by the comments posted earlier, TNC Collections will write you a letter asking you to pay or potentially face court action. This is known as a Letter Before Action and is standard practice in the debt recovery industry.
These companies may be informing you that their client is willing to go to court if you don't pay, but they may also just be scare tactics to make you pay faster. There's no way of knowing 100% for certain.
Should you pay a TNC Collections debt letter?
You don't have to pay a TNC Collections debt straight away. You should explore your options before paying, which we have discussed in more detail below. What you do may depend on whether they're chasing you for an unpaid private parking ticket or another kind of debt.
Should you pay the private parking ticket?
Private parking tickets may have to be paid if the car park operator followed strict processes and takes you to court. They may or may not be willing to do this. You should see if they followed the correct process and bring up anything they didn't do correctly. For example, did they send you the ticket in time? And did they offer a mandatory discount for paying earlier?
You can learn more about this in our Parking Charge Notice guide.
Send TNC Collections a prove-the-debt letter first
If TNC Collections are chasing you for other types of debt, you should ask them to prove you owe the money. They must provide a signed credit agreement or contract to do this, which can be difficult if it's an older debt. Without supplying proof, you don't have to pay or entertain any more of their communications.
And if their client takes you to court, you can tell the judge that you asked for proof and nothing was provided. It's important to keep a copy of the letters you send.
Or check if your debt is too old to be collected
Before you ask for proof, it's important to check if your debt is statute-barred. This is when the debt is too old to go to court in any case, so you'll never have to pay the debt.
Further TNC Collections debt help is available!
More help dealing with TNC Collections and TNC Collections harassment is available through a debt charity. Or you can get easy-to-read info from our main debt help page.
Are you struggling with debt?
Affordable repayments
Reduce pressure from people you owe
Stop interest and charges from soaring
Get started