UK Search Limited – Should You Pay? 2022
For free and impartial money advice and guidance, visit MoneyHelper, to help you make the most of your money.
Receiving a UK Search Limited debt letter can be scary and intimidating. We provide clarity and reassurance of what you can do after being threatened by UKSL. Read on to uncover your options and learn how to fight back legally.
Beating Debt Collectors
There are several ways to deal with UK Search Limited and improve your finances.
Choosing the right way to tackle your debt could save you time and money, but the wrong one could cause even more harm.
It's always best to find out about all your options from a professional before you take action.
Fill out the 5 step form to get started.
Who is UKSL?
UK Search Limited, also known as UKSL, is a debt collection company in the UK. They work for other businesses to recover unpaid invoices and debts.
They do this by tracking down the debtor and requesting payment on their client's behalf, often threatening legal action in the process. Online reviews suggest they are aggressive and harassing, which can be reported to the Financial Ombudsman.
They may or may not charge the company an initial fee for their service. They will take a commission from any payment you make, which is what motivates them to get you to pay.
Most people who receive contact from UKSL assume it's a scam because they've never heard of them before. But they're working on behalf of a company you have had dealings with. They're a legitimate debt collection agency and are authorised and regulated by the Financial Conduct Authority (679773).
Are you struggling with debt?
Affordable repayments
Reduce pressure from people you owe
Stop interest and charges from soaring
Get started
Who does UK Search Limited collect for?
UK Search Limit try to recover debts for a wide number of clients across different industries. On their website, they claim to collect for companies in:
Retail
Telecommunications
Household utilities
Financial services
Payday loan companies
Insurance
Local councils
Housing associations
UK Search Limited reviews
UK Search limited reviews paint the company in a bad light, with most debtors discussing their aggressive attitude and lack of empathy. At the time of writing, UKSL has 1.2 stars out of over 200 Trustpilot reviews.
Here are some examples of debtor experiences:
"I would agree with the previous reviews regarding this company, their operatives are aggressive over the telephone and lack customer service skills. They demand monthly payments must be made on the same day of every month […]."
"Absolutely shocking company.. harassing me every single day.. the way they speak to people is appalling, leaving threatening voicemails demanding money from me. How in this day and age is this allowed."
Have you received a UKSL debt letter?
UKSL might call you, send messages and leave aggressive voicemails, but they will prioritise sending you a Letter Before Action (LBA) if they have your address. An LBA is a letter that demands payment for a debt by a deadline or threatens you with court action. These letters must be sent before a company (UKSL's client) can take you to court.
Sometimes the threat of court action is real and you might face legal action if you don't pay. But they are also used to scare you into paying, which can be a highly successful tactic by any debt collection agency.
There is no way of knowing for sure whether their legal threats are real or empty – but there is something else you can do.
Feeling like Chandler?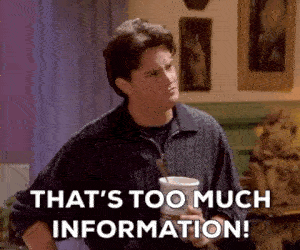 Is all this information starting to feel overwhelming? Don't panic! There's plenty of help available. You can get started below.
Do I have to pay UK Search Limited?
You don't have to pay UK Search Limited just because they sent you an LBA. There are some steps you can take before making a payment, and you might be able to use a loophole to avoid paying.
Read on to learn how to respond to a UKSL debt letter.
What to do when you receive a UKSL letter
Don't ignore a UKSL letter, even if you think there has been a mistake, such as mistaken identity. Instead, you should ask for proof that you owe the debt. This will help UKSL realise they've made a mistake if one has been made.
UK Search Limited is obligated to prove you owe the money before you have to pay. This doesn't just mean saying you owe it because a company said so. It means providing you with a copy of the credit agreement or other contract you haven't stuck to, signed by you. Unless they provide this you don't have to pay.
And if you are taken to court, you can show the judge that you asked for proof and it wasn't provided. This can help you win in court because UKSL hasn't followed the strict procedure.
Use our free prove the debt letter
MoneyNerd has made it easier than ever for you to ask UKSL for proof you actually owe the money. Download our free letter template now!
You might not have to pay anyway!
There is another loophole which will prevent you from having to pay, and you won't even need to send a prove the debt letter. If your debt is at least six years old, it could qualify as a statute-barred debt. This is when the debt cannot be taken to court; thus, you can never be made to pay it.
Learn more about statute-barred debts to see if yours qualifies!
UKSL proved my debt – should I pay?
If UKSL proves the debt by sending you adequate evidence then you should probably pay. If you're struggling to pay the full amount, they will be willing to set up a payment plan. Or you could explore the many other debt solutions.
If you ignore their letters after they provide proof you owe the debt, they could take you to court. There's no way of knowing exactly what they will do. But it's a risk to assume they'll just give up.
Can debt collectors come to your house?
Debt collectors are not the same as enforcement officers, who are also known as bailiffs. They have no right to come to your home and cannot threaten to take away your items. If they do this, you should report them immediately.
Get free debt help from a charity!
You can find further debt help and confidential support by speaking to a UK debt charity. Step Change is one example of a charity that can help you with all your financial worries.
Are you struggling with debt?
Affordable repayments
Reduce pressure from people you owe
Stop interest and charges from soaring
Get started