Zenith Collections – Beat Debt Collectors (Guide, FAQs & More)
There's nothing worse than getting a parking ticket when you're not expecting it. You can be going about your business weeks later and suddenly get a notice through the post. Of course, it can be tempting to just ignore such letters and hope the matter goes away, and sometimes it does. However, more often than not, ignoring parking tickets means a debt collection company such as Zenith Debt Recovery will try and retrieve the money you owe them. We take a look at what to do if the latter happens, exploring some frequently asked questions and a guide to getting help.
It's not your fault. Complaints to the Financial Ombudsman have risen this year from 830 to 2,006, so it's safe to say that you're not alone.
Deal with your debt today and feel amazing tomorrow.
Who are Zenith Collections?
Let's start with the most commonly asked questions, who exactly are Zenith? According to their website, they are credit control specialists. This means that they 'pursue and collect outstanding accounts at any stage of the collection cycle.' They collect for both commercial and private companies, including for things like overdue parking tickets.
Zenith is the trading name of Debt Recovery Plus Limited, a company that was incorporated in December 2008 according to Companies House. Their company number is 06774150, and the registered address is Debt Recovery Plus Limited, 78 York Street, London, W1H 1DP. They are also authorised members of both the International Parking Community (IPC) and the British Parking Association (BPA).
Beating Debt Collectors
There are several ways to deal with debt collectors and improve your finances.
Choosing the right way to tackle your debt could save you time and money, but the wrong one could cause even more harm.
It's always best to find out about all your options from a professional before you take action.
Fill out the 5 step form to get started.
Why are Zenith Debt Recovery contacting me?
As you've probably guessed by now, Zenith Collections are reaching out to you because of an overdue parking ticket. If they have contacted you, the chances are that you haven't paid a fine and have been ignoring letters requesting you pay.
However, you'll see that they are very persistent, and often will send fairly threatening letters claiming that they'll take you to court or inflate your total penalty. Obviously, this can be quite intimidating, but as we'll see, they actually don't have very many powers.
If they are in touch with you, it can be annoying, and it does have the potential to escalate. However, if you have a parking fine, you should deal with the parking company that issued it.
Sometimes, you'll hear from Debt Recovery Plus first, who will then 'refer' your case to Zenith. As we know, however, they are one and the same.
Can they visit my house?
As a debt collection agency, Zenith's debt recovery team can pay you a visit at your home. However, they usually have to send notice of such an event, and they don't have any powers once they're there. All they can do is continue to ask that you pay back the money you owe. They might try and intimidate you into paying, but they can't actually force entry to your property or seize goods.
Zenith isn't a bailiff, which means that they don't have any court-mandated powers. However, if things progress and escalate, the original parking company can attempt to issue a CCJ or send the actual bailiffs round. As such, it's worth taking their letters seriously.
Feeling like Chandler?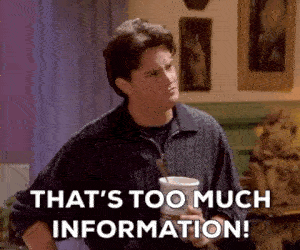 Is all this information starting to feel overwhelming? Don't panic! There's plenty of help available. You can get started below.
What should I do if I have an outstanding debt?
There are a few options you have when facing debt from Zenith. The first one is to simply pay the original parking company the amount that you owe. It can be annoying, but it's often the fastest way to deal with the matter. Don't pay Zenith, as they'll take on extra fees that you don't have to pay.
Another option is to speak with the original parking company. If there are any exceptional circumstances, they might take these on board and dismiss the penalty. However, Zenith won't be able to do anything about this, so there's no point reaching out to them about it.
If your parking ticket was issued at a retail car park, you could approach that retailer. They might be able to contact the parking company to request that the fine is removed. Again, there are no guarantees they'll do so, but it can be worth a try.
You can continue to ignore Zenith and see if they give up. They're unlikely to do so, and they'll probably send you a letter before county court claim (LBCCC). This basically means that they're trying to settle the matter in court, such as by requesting a CCJ.
Do I have to pay them?
Again, this depends on the exact circumstances of where and when your fine was issued. You might be able to get the penalty removed by speaking with the original company or the retailer that uses them. This can often resolve the matter and minimise the amount you have to pay.
If you are going to pay, you shouldn't pay Zenith. They are trying to profit from your misfortune. They'll escalate the cost of your ticket, pay the original company what they're owed, and pocket the rest. If you want to pay, go directly to the company that issued the fine.
Where can I get help dealing with Zenith Debt Recovery?
There are a few options when it comes to getting help. If you feel that you've received a call or letter from Zenith that is intimidating, harassing, or misleading, you can complain to Trading Standards. They might be able to help resolve the matter in some ways. You could also complain to the original company, who may take a lenient approach.
If you're struggling with debt in general, there are plenty of options. Check out our article on debt options for more information. One of the most common ways people with a lot of debt get help is through an individual voluntary arrangement, debt management plan or other forms of debt help.
Final thoughts
So, there you have it, some useful information about Zenith debt recovery. If you have a parking ticket and you're being chased for it by a company like Zenith Collections or Debt Recovery Plus Limited, you should always deal with the original company. It's always worth reaching out to them to see whether they'll take a lenient approach to your ticket. Remember, debt collection agencies will inflate the cost of your ticket purely so they can make money out of you – don't let them.